MCTV's 'Big 4' still going strong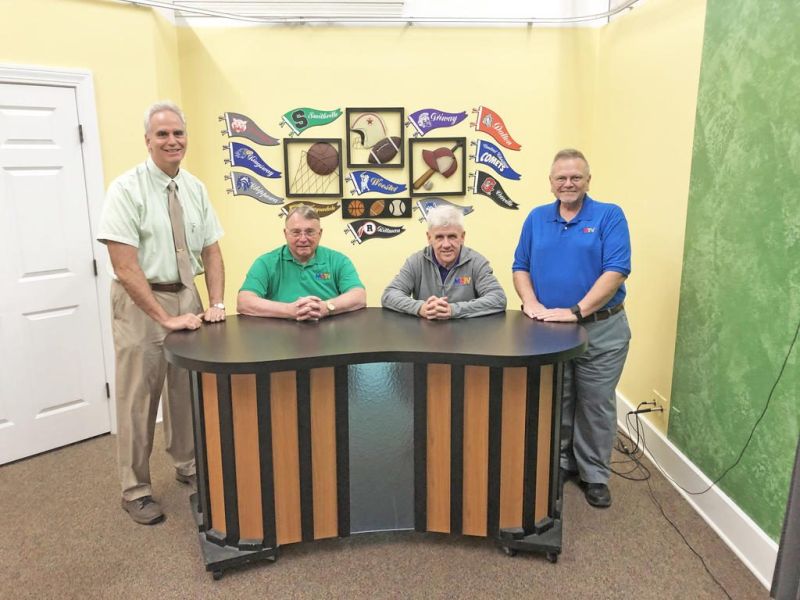 Wooster resident Jon Heavilin saw an ad that Clear Picture was looking for a sports announcer and stopped in to apply at the local cable company in town.
The year was 1976. Heavilin got the job, and 43 years later, he still hasn't put down the mic.
"I had no background as an announcer, but I was kind of curious, so I came up and interviewed," said Heavilin, who at age 75 still heads out to high school football games each Friday night. "I'm not sure whether I was the only one to interview or not, but they called me a couple days later and said, 'You've got the job. Oh, by the way, we need you to do color (commentary) Friday night.' I walked down the hill from my house on Woodland Avenue to Maurer Field and did the Wooster Generals game."
Heavilin is hardly the only senior statesman on the local sports broadcast team of the company now called MCTV.
Mark Glasgo said he "inherited" Heavilin when he was hired as the studio director in 1985. Glasgo recently celebrated his 35th anniversary at MCTV.
John Finn joined on as an announcer and studio host in 1988 and is in his 32nd year calling local high school and college games.
Jeff Davis, who's an MCTV ad salesman and cameraman, joined Clear Picture in 1988 and is in his 30th year.
One could make an argument that they each deserve a spot on the Mount Rushmore of local cable broadcasting for the unique roles they've all played for at least 30 years.
Each member of MCTV's "Big Four" has helped capture countless sports moments on video, which will be cherished by generations to come.
"I always call these three guys my workhorses," said Glasgo, who sets up the equipment and directs the broadcast team at high school and College of Wooster games in a wide variety of sports. "These three guys are out most game nights, either working together or at different games. Jon and John are announcing and Jeff is always on camera. Sometimes, we do two games and Craig and Carrie Wellert run another camera, or we get some other guys to help us."
MCTV has had lots of other well-known announcers over the years, ranging from Dan Wingate and Kenny Fisher to Jennings Carpenter, Keith Snoddy, Hugh Howard and Danny Wingate.
"We're a small group, which is nice because we all know each other well and get along," said Glasgo, who's been married to Cindy for 36 years and has a daughter, Tia, and 3-year-old granddaughter, Piper. "We're all friends and have a great time working together."
Heavilin worked with play-by-play man Bill Shoup as a rookie in 1976 but took over the play-by-play duties after Shoup retired the next year.
"The stands were very close to the field at Maurer," said Heavilin, who's been married to Jane for 48 years and has a son, Randall, and daughter, Nancy. "I was a lot younger, and my eyesight might have been better, but you could really see the players on the field. Then somebody built us a high table, which elevated us and made it even easier for us to see."
Heavilin said his allegiance to a team put his ability to cover a game in question. "At some point we began to spread out and do some of the other high school teams. I made a comment to 'Mac' (Wooster coach Bob McFarland) at one point that 'I bleed Blue and Gold' when I was interviewing him, so there was a question whether or not I could do a Smithville or Triway game or whatever. They gave me a chance, and I guess I proved myself."
Heavilin, a Mayfield Heights native, has held a laundry list of jobs, ranging from working for the YMCA, to Columbia Gas, and as a teacher, pastor and soccer official.
Back in the 1970s, local cable TV customers received a transformer and coax cable that they hooked up to their television to improve their reception of local stations, hence the name Clear Picture. An added bonus was the local sports coverage on Channel 9.
Finn's community involvement has been similar to Heavilin, holding so many roles some might wonder if he has a clone. Finn was The College of Wooster sports information director from 1984-2016 and its director of public information from 1999 until retiring in 2016. He's currently a pastor for Oak Chapel United Methodist Church and the varsity volleyball coach at Triway.
"(Being a sports announcer) is my first love," said Finn, who calls games and was the host of Scots Sports Capsule for about a decade. "This is all I ever wanted to do. I wanted to do broadcast, media, radio, television, whatever, and was thrilled with the sports information position at the college to be able to start doing this. The first game I did (for MCTV) was men's lacrosse and Mark said, 'Sounds good, keep going.'"
Finn, 64, has continued on as a game announcer for play-by-play and color commentary while also doing studio work.
"It's been a total blast," said Finn, who's been married to Sheri for 40 years, has a son, Patrick, a daughter, Shanna, and two grandchildren. "I've had a chance to do what I love with people who are great. Over these 30-plus years, I don't think we've ever had an argument, not even a disagreement."
Davis, 58, also started out doing on-camera work but realized it was best for the team if he stepped behind the lense.
"I wasn't as good as Jon and John, so I was more of a fill-in if somebody couldn't show up," said Davis, who's married to Patricia and has a son, Nathan, who attends Huntington University and helps out as a cameraman. "It was more of 'Let's get the product out there. It doesn't matter who gets the glory. Make sure the customers are being served.'"
MCTV added multiple cameras and replays about six years ago, which has really improved the quality of the broadcasts.
"Mark is a big key to what we do," Finn said. "He keeps it low key, yet he puts enough pressure on to make sure everybody's doing their job well. He also makes sure everybody who's been hired over the years fits well."
Glasgo doesn't tell his announcers what to say, but added with a smile, "If they're getting a little bit skewed in one direction, I might just kind of tap them on the shoulder and say, 'OK, calm down.'"
With 140 combined years of experience, Heavilin, Glasgo, Finn and Davis have covered some of the most memorable moments in Wayne County sports history.
Ranking at the top of the list for Heavilin was announcing Wooster football's run to the 1986 Div. II Final Four, which is still the furthest trip in program history. Eventual state champ Cincinnati Purcell Marion defeated the Generals 33-10 at Columbus' Cooper Stadium in the semifinals.
Finn will always remember covering COW basketball in the NCAA Div. III Final Four in Salem, Virginia.
MCTV doesn't make a direct profit off of broadcasting local sporting events, although it's certainly an incentive for customers to subscribe. It's always been about providing a public service, Glasgo said.
"The original vision of doing it was to get the kids on TV, and that hasn't changed," Glasgo said.
The crew responsible for local broadcasts hasn't changed much, either. As time has marched on, the VHS tapes, CDs and DVDs of MCTV telecasts worked on by Heavilin, Glasgo, Davis and Finn have become family treasures to many Wayne County natives.