Mennonite Relief Sale at Fairgrounds Aug. 6-7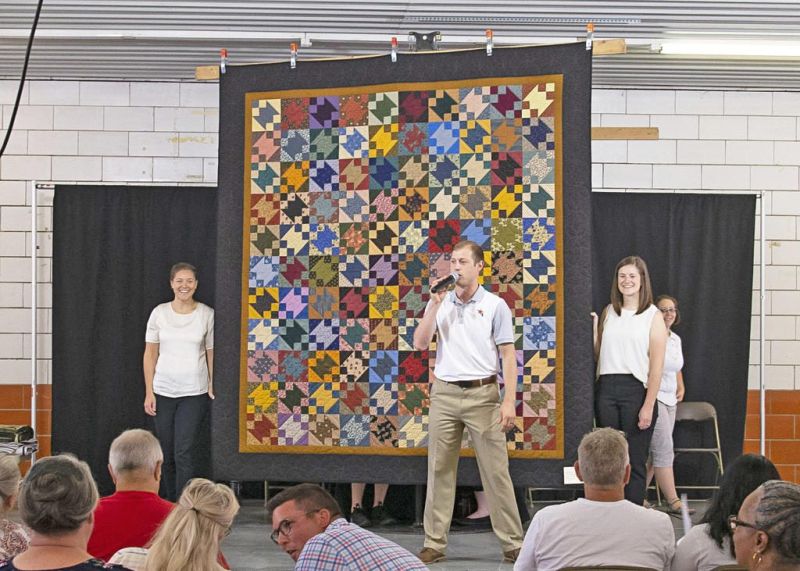 This year's Mennonite Relief Sale, scheduled for Aug. 6-7, is a way to turn goods and products into money that benefits the Mennonite Central Committee, critical now more than ever because much of the funds travel to places last to receive the COVID-19 vaccine.
The 56th annual sale will take place at the Wayne County Fairgrounds in Wooster on Friday, Aug. 6 beginning at 4 p.m. with silent auction items, booths featuring handcrafted items, baked goods, plants, used books, world crafts, the famous Quilters Corner, and plenty of food such as barbecue dinners, fried fish, French fries, sausage sandwiches, Laotian eggrolls, corn on the cob, noodles, pies, homemade ice cream, smoothies and lemonade.
Beginning at 6:30 p.m., the Mennonite Central Committee will present a program on all of its work, and American country and folk singer John Schmid will perform free of charge. A volleyball tournament will kick off beginning at 6 p.m.
The fun will continue again on Saturday, Aug. 7, starting at 7 a.m., with a pancake and egg breakfast, followed by the Run for Relief at 7:30 a.m. Booths will open with goods for sale at 8 a.m., and the auction featuring each of the handcrafted quilts that have been created over the past year will start promptly at 9 a.m. The children's auction will begin at 10:30 a.m. with additional kids activities planned after the auction ends.
Brenda LaTulippe, chairwoman of this year's event and a longtime advocate of Mennonite Central Committee, said the Ohio Mennonite Relief Sale is a volunteer directed and run organization with people coming mostly from Holmes, Wayne and Stark counties to help.
"We also have volunteers and donors from many other parts of Ohio and Western Pennsylvania," LaTulippe said. "There have been Mennonite Relief Sales throughout the U.S. and Canada since the mid-1950s, and they are a way for the local communities to donate handmade quilts, comforters, wooden items and other items and translate the sale of those goods and products into money that benefits the Mennonite Central Committee, which has been in existence for more than 100 years providing relief, development and peace in the name of Christ."
Although this is the first sale held since the coronavirus outbreak, plans are to continue to hold the event as big and as strong as years past at the Wayne County Fairgrounds. But if there are those still hesitant about being out in large crowds, there is a way for people to get involved with this year's sale from the comfort of their own living rooms.
"If you feel comfortable being out among people, by all means come on out," LaTulippe said. "If you don't feel comfortable being in a large crowd, you can still buy and/or bid on quilts. We have some quilts available via our Buy It Now option, which is available through Aug. 5. In addition, you can bid on quilts from the comfort of your own home because there will be a live online auction on most of the quilt items available through Proxibid."
LaTulippe said preparation for the next year's sale begins before the current sale is even held, and the organization is always looking for more volunteers to help with that.
"Our craftspeople are always planning what they're going to do next," she said. "For instance, quilts for this year's sale were submitted by May, so quilters have had a couple of months to decide what they're going to do for next year's sale.
"We have a relief sale board, which is made up of representatives from Wayne, Holmes and Stark county Anabaptist churches, which meets monthly, always working on the next year's sale. We have subcommittees that work on specialty areas. Many volunteers help set up, park cars, provide transportation, prepare food, serve food, staff the various booths and tear down the sale. We are also extremely fortunate to have so many wonderful businesses and individuals who donate products. We're a volunteer organization, and we can always use more volunteers."
To learn more about volunteering or the organization, visit its Facebook page or www.ohiomccreliefsale.org. For more information on Mennonite Central Committee, go to www.mcc.org.