'Milch ist Nicht Gleich Milch:' Not all milk is created equal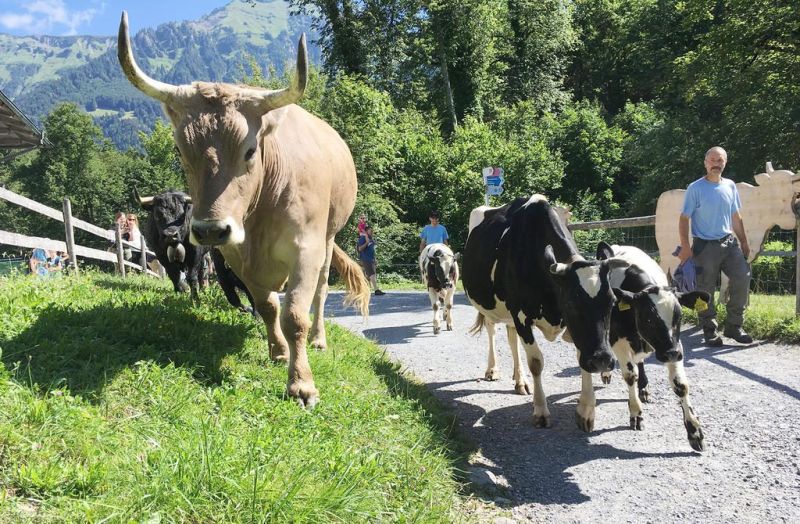 Does milk from a horned cow differ from that of one without horns?
The one way to find out is to enjoy the discussion by Judith Mudrak and many other speakers who will present as part of the 19th annual North Central Ohio Grazing Conference.
Dairy farming is an industry that never sleeps, so area farmers are more than grateful to learn any new grazing concepts they can to improve their farming methods and make life a tad easier, if that is possible for farmers.
The North Central Ohio Grazing Conference will take place at Mt. Hope Event Center Jan. 23-24, and the two-day event will feature plenty of activities, vendors, noon-day meals and keynote speakers. Sponsored by the North Central Ohio Grazing Council Small Farm Institute, the conference will focus on the community of farmers sharing their lives, experiences and ideas with each other.
"With the number of farms dwindling today, we feel it is important that family farms stand together and share their experiences and work together so we can remain profitable and viable in today's economy," board member Andrew Coblentz said. "There is a really nice line-up of speakers who will touch on a wide variety of topics, which is great for those who attend because they can learn a lot of different things that can help them develop their farm and be more successful, because the industry continues to change and grow and there is always something for farmers to learn."
The line-up of speakers is vast, and all speakers bring information any farmer can find helpful.
One of the more highly anticipated speakers will be Mudrak, who was born and raised in Switzerland. After moving to the U.S. when she married, she began the Southampton New Jersey chapter and Bern Swiss Chapter. She is an author and is currently working on a multi-language coloring book.
"Judith has organized and led grazing tours in Switzerland since 2006," Coblentz said. "She is an advocate for real raw milk in Switzerland, Germany and Austria, and she is incredibly interesting. She has been generating a lot of interest because her story is so unique, and many of the Anabaptist people in our area have roots in the Swiss culture."
Her topics are titled "Traditional Swiss Farming Tour" and "Visit Ukraine Agricultural Area and Market: Horned Cows … Or Not?" She also will present an open discussion on quality food for the homemaker. She has authored the book, "Milch ist Nicht Gleich Milch."
The book tackles a wide range of dangerous and disease-causing substances discovered in unnaturally produced conventional milk and its cumulative negative effect to the public consuming it. It also delves into animal confinement causing the loss of vital nutrients and milk from cows that are treated with genetically modified hormone, rBST, which causes cancer.
"Not all milk is the same," Coblentz translated from the title of the book.
"She even discusses the idea that there is a difference in the milk of horned and dehorned cattle," board member Ivan Troyer said. "It's a fascinating topic, and she provides some real insight."
Kent Solberg owns and operates a farm in Verndale, Minnesota. He has been involved in planned grazing and pasture-based livestock systems for a quarter-century. He is a member of the Sustainable Farming Association. He will bring his knowledge of cover crop and seeded annuals to integrate livestock into cropping systems and discuss how to improve soil health. His sessions will be "Maximize Returns Through Soil Health/Adaptive Grazing" and "Strategic Fencing for Managed Grazing."
Ashland veterinarian Dave Brennan will host two sessions including "Producing Quality Milk Has Never Been So Important" and "Keeping Your Milk Marketable and Your Farm Presentable."
Jeffrey Bewley will speak about lean farming and will share a presentation on cow-focused housing. Lean farming is a management philosophy focused on creating more value with less work with the aim of making continual improvements.
"Jeffrey is very passionate about cow comfort and has expertise in barn design, bedding and free stalls," Coblentz said. "He uses a cow-signals approach, and his goal is to maximize comfort, milking quality, cow longevity, and minimize lameness, injury and disease in cows."
Additional speakers will include local farmers Jesse Ramer and John Mark Weaver, who will present "Zero In on Performance Through Genetics & Quality Forages," and Doyle Stoller, operator of Stollers' Organic Dairy near Sterling, Ohio, who will present "Maximizing Efficiency and Profitability on Your Farm."
There also will be a panel discussion featuring Mervin Hershberger, Atlee Miller, Ramer and Weaver that will be moderated by Jerry D. Miller and will be an interactive opportunity for farmers to ask questions and learn about a variety of topics.
According to Troyer, giving people the opportunity to hear from the expert speakers is important, but so too is bringing farmers together so they can share their success stories with one another and glean from each other as they move forward on investing in and growing their farms.
"I don't think people realize how valuable it is to share with each other and find ways to avoid making some mistakes that are avoidable," Troyer said. "That part of this event is every bit as important as the speakers."
The cost for the event is $40 for two days if registered by Jan. 13 and $65 after. One-day registration is $25 if done by Jan. 13 and $55 after. Both include meals.
For more information visit the website at www.smallfarminstitute.wordpress.com. Registration forms for the event can be found on the site by clicking on "upcoming events" and then selecting the highlighted "2020 grazing brochure."
Anyone with questions may call Mike Gessel at 330-262-8875 or via email at sgessel@aol.com.
Mt. Hope Event Center is located at 8076 state Route 241 in Mt. Hope.