Millersburg Mennonite starts prayer time outside Pomerene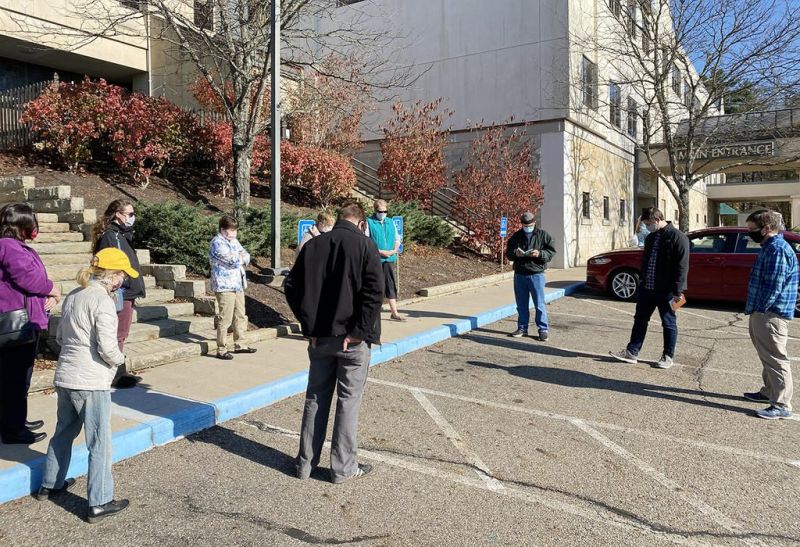 Keith Lyndaker Schlabach and his wife Rachelle haven't been pastors at Millersburg Mennonite Church for long, but that hasn't stopped them from reaching out to area church leaders and the faith community at large to make an immediate impact.
Recognizing the area essential workers who are diligently doing their jobs on the front line while battling COVID-19, Lyndaker Schlabach said they felt it would be uplifting for those in the trenches to know they aren't alone.
Thus, he created an opportunity for anyone in the faith community to unite for a time of prayer at Pomerene Hospital on Thursday, Nov. 12 at 11 a.m.
Lyndaker Schlabach said he has seen the way working with COVID-19 can wear on those who deal with it on a daily basis, and he understands that during this time of social distancing, people can feel isolated and alone. He wants those people in the hospital, both the staff and the patients, to know they are not alone and the community cares for them and appreciates their ongoing effort.
"I was thinking about ways our faith community could gather around folks who are doing such an important work in our community, and the hospital was the first place that came to mind," Lyndaker Schlabach said. "Right now so many people are stressed and working hard while social distancing, and many of the people in the hospital have been on the front line for so long. We want to let them know we support and care about them."
Lyndaker Schlabach said one of the things this community is known for is its faith, and he said this simple gesture is not a difficult one, noting prayer and lifting others up in faith is a big part of what this community is built on.
The process of creating the prayer time began with him contacting as many area pastors as possible. He started with the Holmes County Ministerial Association, but he then branched out well beyond those walls, inviting many other walks of faith to join. He then contacted Pomerene Hospital, which welcomed his offer of prayer.
Lyndaker Schlabach's hope is area pastors will take this to their congregations and invite them to unite as one during the prayer time.
The event saw people wearing masks and social distancing during the prayer time, and it also saw a number of Pomerene Hospital staff members watching from the windows. The prayer was one of asking for God's guidance and protection for the staff and to give them strength and courage as they work with others daily, as well for them to care for the people there and the well-being of everyone within the hospital walls.
"We are experiencing a great deal of division, isolation and anxiety right now, and the one thing that we can all agree on is that we can care for others the best we can, and for those in the faith community, that includes prayer," Lyndaker Schlabach said. "We want those people in the hospital, both the staff and the patients, to know we are praying for them and care about them and love them."
While the prayers are uplifting and meaningful to many at the hospital, Lyndaker Schlabach said this time also benefits those gathering in the parking lot. He said for each of those people who came to pray, it was a blessing to their mind, body and soul to be a part of providing prayer.
"Whether we are being prayed for or doing the praying, what this does is shift our hearts and minds away from the fear and anxiety and helps us focus on what is truly meaningful, and that is caring for others," Lyndaker Schlabach said. "It helps us recognize what is really valuable and what really matters, which is how are our neighbors doing."
Lyndaker Schlabach said simple acts like this can help alleviate burdens and bring a sense of peace to many people who are dealing with such feelings on a daily basis as they work with COVID-19.
"It's easy for us to start thinking we are in this by ourselves, it's this big grind and we have to somehow get through it on our own," Lyndaker Schlabach said. "The truth is we are all in this together. The pandemic has touched all of us and doesn't pick and choose who it affects."
Lyndaker Schlabach said the hope is this prayer time turns into a regular event. As of now, he said they will meet for prayer every Thursday at 11 a.m., beginning with Pomerene Hospital. He said the hope is it will eventually spread out to other facilities where essential work is being done such as nursing homes, schools and other organizations that are on the front line working to defeat COVID-19.
Lyndaker Schlabach said those coming to pray can remain in their cars and even invited those who can't attend to pray from wherever they are.
"I would love for this to take off and grow, and it would be wonderful if we could bring the faith community together for the good of others," Lyndaker Schlabach said. "Those working on the front line oftentimes don't necessarily feel the support, so this is a way we can let them know they are being thought about and people appreciate the job they are doing."
Any church or individual wishing to participate in the prayer time can email Lyndaker Schlabach at keith@millersburgmennonite.org or call the church at 330-674-7700 for the specific location for the weekly prayer.