Mocktail event highlights the 17th annual Holiday Happy Hour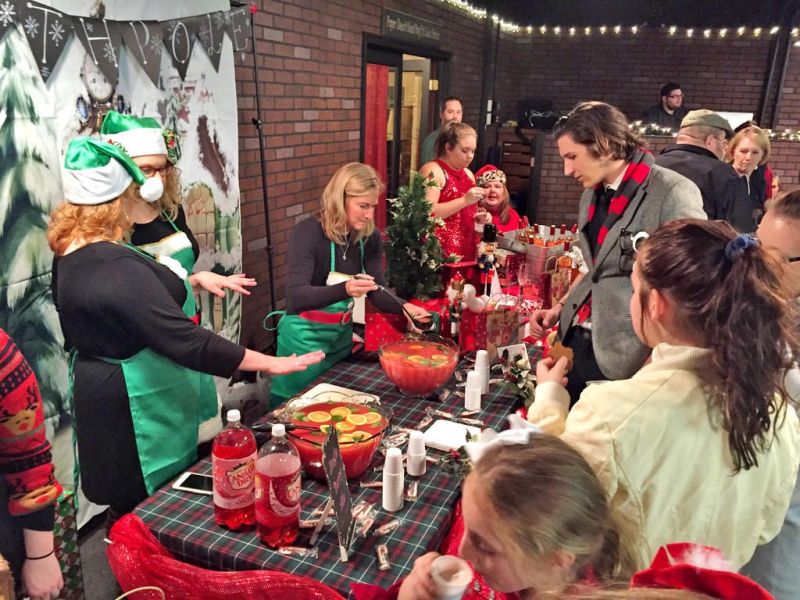 The 17th annual Holiday Happy Hour will take place Thursday, Dec. 6 from 5-7:30 p.m. at the Berlin Grande Hotel in Berlin. For the better part of two decades this event has been a celebration attended by people from all over the area.
The one thing that will be absent from this gala party? Alcohol.
The public is invited to come and enjoy this free, family-friendly event that has local teams competing in a mocktail drink contest.
While it's officially a contest, the purpose of the night is to educate people on the dangers of drunk driving. The holidays are always a time of celebration, but because alcohol is often involved, the dangers of someone getting behind the wheel of an automobile and trying to navigate their way home creates dangerous situations.
According to Suzanne Snyder, project director for Holmes and Wayne Safe Communities, there is great purpose in providing nonalcoholic beverages to the public.
"This holiday season we want all of our families home safe and sound," Snyder said. "Nobody wants to see our officers knocking on someone's door or a family getting a late-night call because of an accident. It is so important that people understand that drinking and driving don't mix. We can never state that message enough."
The Holiday Happy Hour also is designed to serve as a fundraiser for an area family in need. This year the recipient is the family of Megan Roberts, who recently underwent a successful heart transplant.
Roberts has been dealing with heart issues for a lengthy period, and Snyder said the committee was excited to be able to help the Roberts family out with a donation.
"She's been through a lot, but she is a real fighter," Snyder said of Roberts.
Holiday Happy Hour will feature nearly 10 teams that will create their own unique nonalcoholic beverage. In the past that has included hot chocolate mint tea made with Hershey Kisses, a host of bubbly fresh fruit drinks, smoothies, a drink made from cotton candy and many others.
In addition each team will create their own theme including a Hawaiian luau, the North Pole, the Clark Griswold family, a castle theme, cartoon Christmas characters and more.
"The teams continue to step up and create drinks and some pretty fantastic decorations," Snyder said. "I am super-excited to see what teams create this year. I love to see their creativity and excitement for this event, and that rubs off on the people who come."
Those attending can vote for their favorite drink while trying out each of the holiday concoctions the area teams have dreamt up. Plus those in attendance can get all of the recipes to use at their own holiday parties.
There will be both a People's Choice and Judge's Choice award for the best drinks and decorations with Holmes County Juvenile Judge Tom Lee, Holmes County Probate and Juvenile Court bailiff Brad Conn and Holmes County engineer Chris Young doing the honors this year as judges.
In addition Santa Claus will make a special appearance for the kids as well as the young at heart, and the Hiland jazz band will perform.
This year Snyder said the community stepped up with their donations to the point that instead of simply having a door prize drawing, they have decided to sell raffle tickets with all of the proceeds going to the Roberts family.
"We were overwhelmed by the donations from the community this year," Snyder said. "We received some really big, really exciting donations, and we probably have more than $1,000 worth of giveaways. It got to the point where we felt it would be nice to sell raffle tickets for some of the top prizes because they are really terrific and it was a great way to raise money for the Roberts family."
The raffle prizes include golf packages, a handmade quilt, a family getaway package for Snow Trails, gift cards galore, and a gift card Christmas tree decorated with $200 worth of gift cards and lottery tickets.
Snyder said tickets for the larger prizes will be $5 apiece while the smaller raffle prizes will be six tickets for $5.
"This is something new for us because we had the community come through in such a big way with their donations," Snyder said. "It's exciting to highlight that this year, and it is only because of the generosity of the community."
Another addition to this year's event is a public service announcement contest that will feature PSAs from area high school students promoting a safe, happy and alcohol-free holiday season. The winners of that contest will receive gift cards donated by Chuck Nicholson Auto SuperStore.
For the third year Commercial & Savings Bank continues to be the corporate sponsor for Holiday Happy Hour while Anazao Community Partners also is a major sponsor.
Snyder said there are so many themes attached to this event, from the message of making smart decisions with drinking and driving and the opportunity to help the Roberts family right down to the fellowship and unity of community, that it is easy to see why this event has become a favorite Christmas season gathering for many.
If anyone would like to donate a raffle prize to the event, they may do so by calling Snyder at 330-464-1489.