New book by students focuses on local Latino culture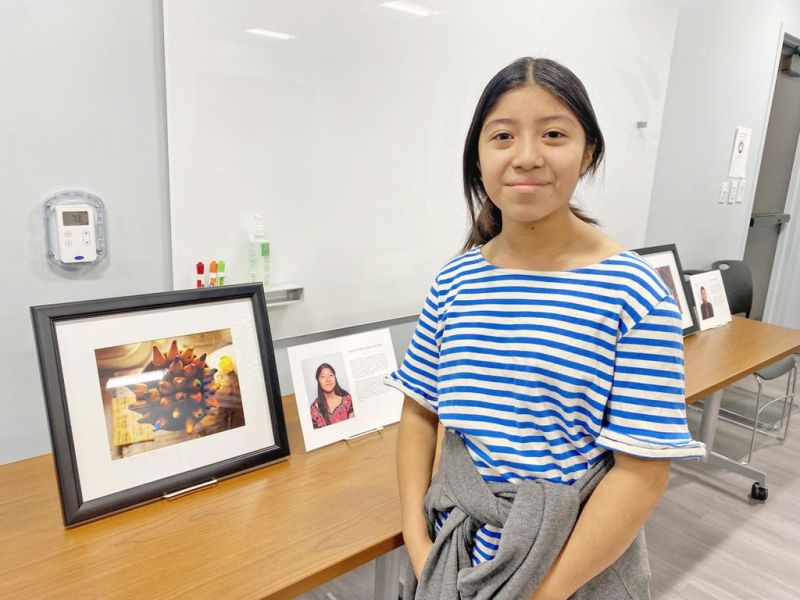 The main location of the Tuscarawas County Library in New Philadelphia hosted 10 Latino student photographers and their families on Tuesday, Sept. 20 as a new book, "Through Our Lens: A Glimpse Into Our Latino Culture," debuted and the photographic work of the students was on display.
The students gathered over the summer to learn photography and writing text to accompany their work. The resulting book is available to purchase. Adelante Arts Camp is a creation of the Tuscarawas Arts Partnership and has unleashed the creativity of 10 area Latino students.
"It began with the mural in downtown New Philadelphia in the alley near Daily Grind," said Wilma Mullet, executive director of Tuscarawas Arts Partnership, the organization that sponsored the classes and event. "Once the mural was finished, we thought, 'Why not follow the same concept but let's turn this into an arts camp for Latino youth?' That's how it got started, and it became the Adelante Arts Camp, which is all about creating an environment where students can explore different creative outlets, where students could just explore and find their creativity."
The students showed their interest in expressing themselves through art early on. "These kids love being artistic. They paint, they draw, they write, all on their own. We wanted to help provide an environment where they can really thrive and we can encourage their work beyond the camp," Mullet said.
The 50-page hardcover book is available now as a preorder until Oct. 20 through the Tuscarawas Arts Partnership online at www.tuscarawasartspartnership.org/adelante-arts-camp. The cost of the book is $70.
Sherrel Rieger came onboard for the project as an interpreter if needed.
"The Tuscarawas Arts Partnership created a grant last year, and the result was the Adelante Arts Partnership and the mural you see downtown," Rieger said. "Adelante means 'to move forward,' and this year they decided to do photojournalism. We selected 10 students we thought would be interested, and they knew nothing about photography. They came to the library two days a week for three hours all summer long, over eight weeks.
"They spent a lot of time learning how to use their cameras and learning about photojournalism. We asked in the beginning if they preferred the classes to be in Spanish or English, and they chose English."
Rieger said the students, in sixth through 12th grade, didn't need much help with language interpretation. "One of the purposes of the book is to show people — because the book is titled 'Through Our Lens' — what their life is like in our society. They really took it to heart and gave us wonderful images. They showed us their everyday lives."
One of the participants, Sara Pertrona Cedillo De León, said she was invited to participate in Adelante Arts Camp by program coordinator Jeff Bray. "He asked if I'd like to participate in the photography classes, and I accepted. We started in June."
Her photograph, a close shot of colored pencils, is featured in the book. Each of the students wrote companion text for their photographs, and De León described her joy at being able to learn to take pictures of her family and the events of her daily life.
Adelante Arts Camp participants are Araceli Ajanel Herrera, Santiago Hernàndez Hernàndez, Seperina Hernàndez Hernàndez, Yohayra Mejia Agustin, Brayden Mendoza-Ramirez, Yonny Mendoza-Ramirez, Sara Pertrona Cedillo De León, Daisy Raymond, Noelia Sica and Juan Ajanel Velàsquez.
"Adelante, to move forward," Mullet said. "In this case we are helping to move the art interests of the students forward. It started with the mural, and we already have plans for Adelante Arts Camp projects for the next two years."