New Scouts BSA group forms in Wooster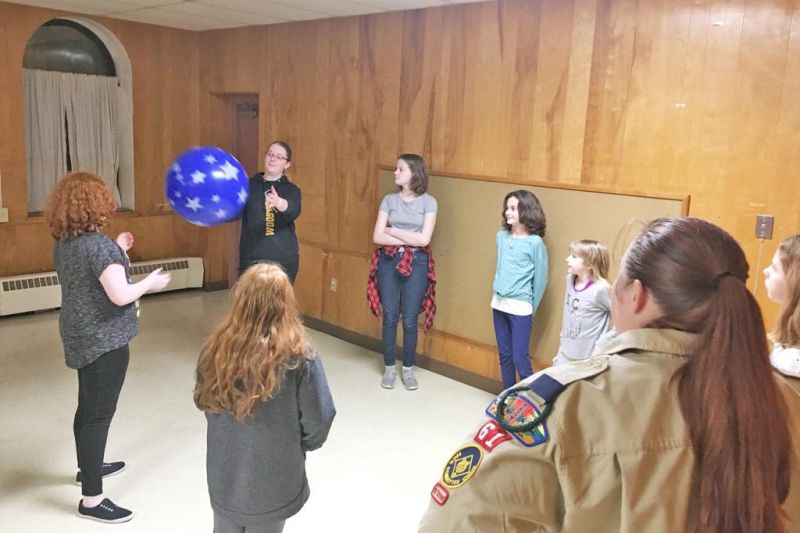 Boy Scouts of America is not just about boys anymore. In 2018 girls in kindergarten through fifth grade were invited to join the Cub Scout program. This month older girls are being welcomed into Scouts BSA, a Boy Scouts of America program for youth in fifth grade through high school.
An all-girl Scouts BSA troop is forming in Wooster and had its first meeting earlier in the month. Troop 64 is still actively recruiting members as well as adult volunteers.
"These new girls will have a shot at being a part of the first Eagle Scout class, which is the highest achievement a youth can reach in the Boy Scouts of America," said Brooke Johnson, district executive.
Elizabeth Cole will be one of the first girls registered in the new Wooster troop. She is a fifth-grader at Edgewood Middle School in Wooster. She is a Girl Scout and will continue to be part of both organizations.
"Scouting has so many fun things to do and so many learning opportunities," Elizabeth Cole said. She is looking forward to participating in active and outdoor activities in the new troop.
Colleen Cole is the volunteer leader, the Scout Master, for the newly formed Troop 64. She explained that in Scouts BSA it's all about the girls leading the way, rather than the adult Scout Master.
"In Scouts BSA the girls are going to be planning and leading their activities. They will elect their own leaders," Colleen Cole said. "They develop leadership skills and gain confidence."
Colleen Cole's son is involved in Boy Scouts, and she explained her whole family has enjoyed participating in some of his camping and other outdoor activities.
The troop leader is looking forward to providing her daughter with more of those outdoor activities in the new all-girls group.
The Scouting group also will focus on community-service projects, "wherever we see a need," Colleen Cole said.
Johnson said the Buckeye Council of Boy Scouts of America, which encompasses 14 counties in Ohio, contributed 90,000 community-service hours across the state in 2018.
Jesse Roper, the Scout executive/CEO of the Buckeye Council of Boy Scouts of America, explained the Boy Scouts has welcomed girls and young women for decades through some of its affiliated groups.
"The decision to further expand opportunities for girls and families resulted from input we received from our current Scouting families as well as prospective Scouting families," Roper said.
According to Roper, they found in surveying non-Scouting parents there was a high interest in Boy Scout programs for girls.
More than 77,000 girls age 5-10 joined Cub Scouts last year.
"We celebrate all youth-serving organizations that build character and feel the most important thing is to allow parents the ability to choose the programs that are best for their family," Roper said.
Tom McFadden is the chartered organization representative for Zion Lutheran Church. The Church is sponsoring the new troop.
"We've had an active troop here for years," McFadden said. "Actually this is our 100th year for Boy Scouts. We've had an active troop here since 1919."
McFadden said he thinks the new girls troop is great. "We are excited about it," he said. "I hope it flourishes so some of the other sponsoring organizations can start troops as well."
The next meeting of Troop 64 is Monday, Feb. 11 at 7:15 p.m. in the basement of Zion Lutheran Church, 301 N. Market St., Wooster.
Anyone interested is invited to attend. The troop is open to girls who have completed fifth grade or are age 11-18.
"In addition to benefiting youth, our community is also better when Scouting's programs are available to more youth and families," Roper said. "When children grow up to be caring and responsible citizens and leaders, that's good for everyone."
Those interested may contact Colleen Cole at cole.colleen@yahoo.com or 254-368-9472 or Johnson at brooke.johnson@scouting.org or 330-362-2233.