Obedient dogs are safer, happier dogs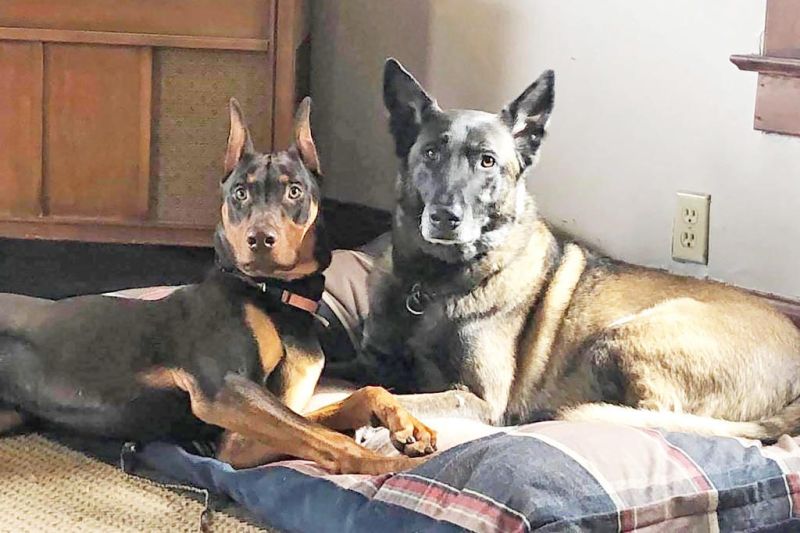 All across the country, animal shelters are seeing a significant increase in the number of pet adoptions. As people follow stay-at-home protocols, it seems many people have decided now is a great time to bring home a pet. Many feel they have the time to bond with a pet now, and many are in search of companionship and comfort during trying times.
If you are among those who have recently adopted a dog, it's important to start off on the right paw with dog training. Tom Shelley, owner of All Breed Training Services in Bolivar, said if you train a dog correctly from the beginning, you'll build a foundation of obedience and confidence that will last a lifetime.
Shelley likes to train dogs when they are puppies but said older dogs can be trained too. "The first 16 weeks of a puppy's life are the most formative," he said. "Dogs look at other dogs as one pack they belong to and humans as another pack. All dogs need basic training to help them feel safe and to know where they stand within their human pack."
Shelley said dogs get natural training from their mother. "A lot of people mistakenly believe that their dogs need to learn how to behave around other dogs," he said. "But most dogs are born with litter mates and spend the first six to eight weeks of their lives being trained by the mothers. They look like they're playing, but they are learning."
Shelley said what dogs don't know how to do is how to behave around people. "All of the behaviors they use when meeting and checking out other dogs, like sniffing rear ends, just aren't acceptable with people," he said. "So we need to teach them which behaviors are acceptable and which aren't."
Shelley has been training dogs professionally for 16 years. He pursued the career after suffering a severe injury to his leg on a construction job. At first his doctor thought they would need to amputate the leg, but five surgeries, four metal plates and 16 screws later, his injury is barely noticeable to others, even though he is missing 4 inches of his right tibia.
"My Workers' Comp nurse said, 'You'll never go back to construction work. Pick something else,'" Shelley said.
Shelley said he has always loved dogs and had heard about the distinguished Tom Rose Dog Training School in St. Louis, Missouri. "I traveled there to learn how to train dogs from someone considered to be one of the best. I graduated from the professional program in 2004, then returned to complete the master's program in 2006," he said.
Benefits of training
According to Shelley, dogs are pack animals, and there is always a hierarchy in a pack. Packs have a clear leader, and all the other pack members have a specific rank within the pack.
"The more certain a dog is about where it stands within the pack, the better it will fit in with the family and the happier and safer it will be," Shelley said.
Shelley starts all dogs with kennel training. The crate provides comfort and solitude and is one of the best ways to house train a puppy. It also gives your dog a place of his own.
"People have a misconception that kennels are somehow bad for the dog, but dogs actually love their kennels," Shelley said. "Kennels shouldn't be used for 'time-outs' for bad behavior. Instead, you should place your dog in the kennel when you are on the phone or any time when you can't keep a close eye on him. Think about it: The minute you get on the phone, the puppy starts running around, chewing and tearing things apart. But if the dog goes in the kennel when you're on the phone, he never has a chance to develop those bad behaviors. The idea is to prevent the dog from learning bad behaviors or getting hurt."
Shelley trains using a praise/reward/consequence method. "There are a lot of different ways to train dogs, but this is what I learned at Tom Rose, and it's what I've found to be most effective," he said. "I also learned that the three most important aspects of training are timing, motivation and consistency. You've got to teach the dog at the right time, the dog has to be motivated and you need to be consistent with the rewards and consequences every single time."
You can teach an old dog new tricks
While Shelley said it's best to train dogs when they are still puppies, older dogs can still learn. It just takes a bit more patience, and some breeds respond to training better than others.
Socialization is critical for training a dog, no matter its age. "Whether their dog came from a breeder or a shelter, I've seen people swear the dog they adopted was abused," Shelley said. "Probably not. It's more likely they just were not socialized properly."
Aggressive behavior, jumping on and slobbering all over your guests, cowering in a corner, incessant barking, these are all signs that a dog needs to be socialized.
"Poorly socialized dogs lack confidence," Shelley said. "The difference between a dog that's been properly socialized and one that hasn't is similar to the difference between two kids starting first grade. One is super excited, has brought a gift for the teacher and acts like it's the social event of the year. The other one clings to Mom, maybe cries and has to be practically pried away from Mom. You'll see similar behaviors between dogs that are socialized and dogs that aren't."
Should you hire a trainer or do it yourself?
Shelley said you don't have to have attended a dog training school to train your dog yourself, but it does take a certain level of experience and time, something Shelley said most people just don't have in abundance.
"Professional dog trainers realize that every dog is different and will be motivated by different things," Shelley said. "I like to use food rewards, but some dogs don't respond to that. Some dogs are motivated by toys."
Shelley said he knows how to train using toys, but it's a lot harder than using food.
Shelley takes dogs into his home to train them. This gets the dog away from kids and other distractions. Over the course of two weeks, he trains dogs in all the basic obedience skills: kennel training, house training, walking on a leash, not jumping, and sitting and waiting.
"We go for runs and walks," Shelley said. "I take them on trips in the car. We go shopping in stores that allow pets. I have them experience all sorts of environments and situations. So when I return the dog to its owners, it doesn't just listen in the house; it listens wherever they go."
Speaking of trips, Shelley flew to Denmark in 2013 with his Belgian Malinois, Chantelle, to compete in a world tracking event. The sport is called Schutzhund, and dogs compete internationally in three areas: tracking, obedience and protection.
Along with Schutzhund dogs, Shelley has trained many dogs in many different disciplines including shed dogs that find and retrieve deer antlers that have been shed by a deer after breeding. He is active in the local rescue community and has fostered several dogs and adopted a number of senior dogs no one else seemed to want.
Those interested in exploring dog training with a professional trainer can learn more by calling All Breed Dog Training Services at 330-987-6517.