Dogs have their day at this year's Holmes County Fair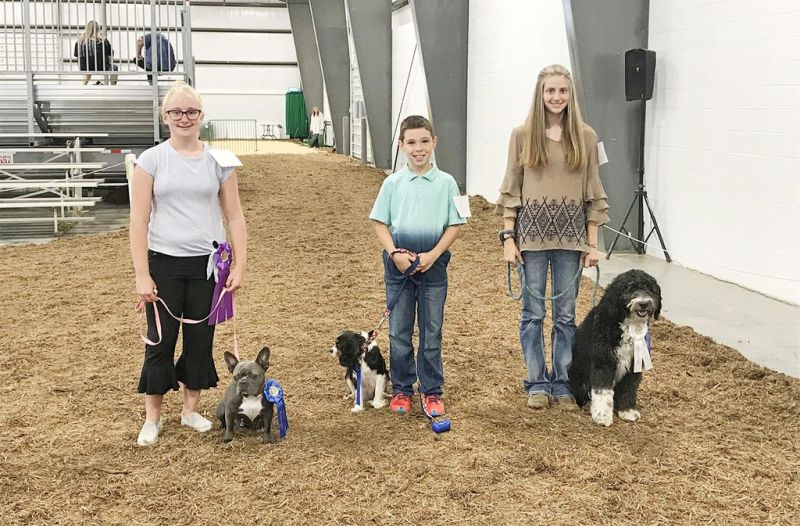 The participants in the Holmes County 4-H dog obedience program have worked long and hard to hone their skills in working with their animals.
While the dog project judging show took place on the Holmes County Fair's opening day on Monday, Aug. 10 in the expo center at Harvest Ridge, there was plenty of uncertainty swirling about as events were being canceled at an alarming rate due to COVID-19 issues.
However, when leaders of the dog show found out it was a go in a fair board meeting on Thursday, July 30, it was full steam ahead for the show.
"It's been a pretty wild ride in getting here, but here we are, doing the show," Melissa Boughman said.
With the many health and safety precautions that have been put in place due to COVID-19, they weren't sure where that would leave them concerning one large and very important part of their show.
"We were very concerned about the wearing of masks for our kids because they normally don't have them on when they work with their dogs at home," Boughman said. "Oftentimes, when you put a mask on, the dog won't recognize you and can get frightened and struggle to obey commands, so that was a big area of concern for us. Some of our dogs did not react well to having our kids wear masks in our practices, so we were excited when we found out they didn't have to wear masks when they were doing the show with their dogs. We definitely didn't want these kids to have a bad experience."
While they didn't have to wear masks when they did the show in the ring, they did have to wear them with their dogs on their way into the arena and while they waited, so the advisors told the kids to wear their masks around their dogs as much as possible so they could get used to them.
Wins in the dog show included supreme showman Clairen Varga, who was the prenovice winner with her French Bulldog Boston Terrier, Peggy. Tierra Slaubaugh won the Beginner A event with her Aussiedoodle, Waylon, while Caleb White took home the Beginner B top spot with his Cavalier King Charles, Sky.
For a fairly new program in the 4-H world, the two advisors have brought it along smoothly and quickly as it continues to gain ground and acceptance. Boughman said the goal is to someday soon have it accepted as a true 4-H club of its own.
"Right now we are not an official Holmes County 4-H club," Boughman said. "We have kids from various 4-H clubs who choose to commit to participating, but ultimately, we would like to get to the point where we are an actual club with our own kids."
The work they have done has not gone unnoticed, and there are many who appreciate their effort to create a new and exciting option for the 4-H kids.
"Melissa Boughman and Sara Miller have worked long and hard to grow this program, do some awesome fundraisers, and work with our youth and have really brought this program along quickly," said Janessa Hill, Holmes County Ohio Extension Office and 4-H educator. "They really do a lot for this program and have done much to try and make it bigger and better for the youth."
Boughman said the long-term goal is to usher in not just obedience, but also add rally and agility aspects into their show.
In raising more than $3,000 in their Bark on the Ridge fundraiser, they have begun to create a fund that will help them move in that direction, allowing them to purchase the agility equipment.
"I think that would go a long way in encouraging kids to come in to work with the dogs on more than just the obedience portion," Boughman said. "I think we have seen some growth, and adding to what we can do, that should make it even more enjoyable for the kids."
With both Zoom meetings and very few in-person meetings throughout the pandemic, Boughman said it has been a challenge to create an atmosphere that would allow the dogs to get used to the noise and atmosphere of having many people around. She said getting the dogs used to that, to being around each other and to becoming more confident around distractions is critical.
Boughman said there are many wonderful benefits of kids working with dogs that can help them in everyday life. She also said the pilot dog program that sees teens working with pilot dogs that are trained to help others is a growing part of their club. She said a foundation in Columbus provides each participant with a dog for one year, allowing them to handle, work with and train a dog, allowing the dog to eventually become a seeing eye dog for blind people.
"Our program offers so many neat things, so it will be great for the kids to get a chance to shine at the fair," Boughman said.