Ohio Haiti Auction over, but there's still much to be done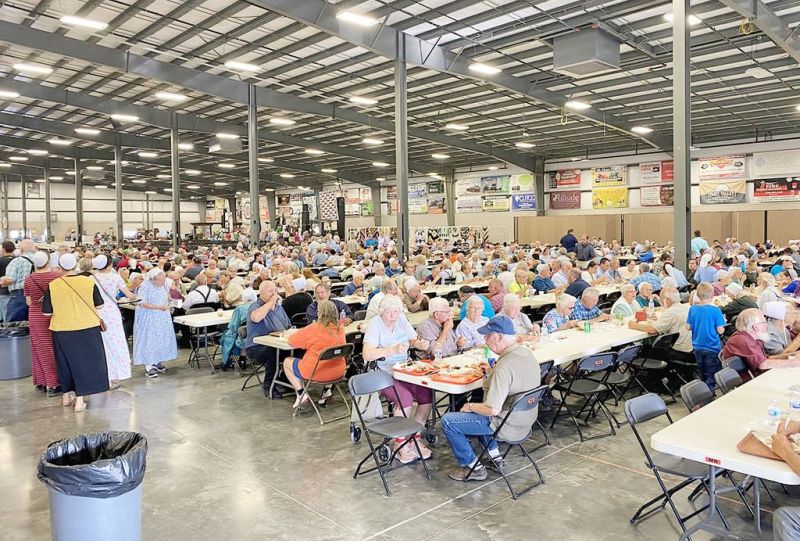 The 35th annual Ohio Haiti Benefit Auction has now come and gone, with thousands of supportive patrons connecting at the main event center at Mt. Hope Auction in Mt. Hope to celebrate the Haiti people and show their support for the people there struggling with poverty, disasters and more.
While the hard work put into the benefit may be done for this year, those who help put the show together understand there are miles to go in making a dent in aiding the people of Haiti.
"All of the board members and all of the people who come to support this event and help put it together have one goal in mind, and that is supporting the people of Haiti in a way that God has called us to help others," Ohio Haiti Benefit Auction chair Aaron Miller said. "We all share a heart for the people there, and it is especially important after the recent earthquakes. When something like that happens, it is devastating to a nation like Haiti because they lack the infrastructure necessary to overcome it."
The weekend began with a Friday, Sept. 3 evening meal of authentic Haitian rice and beans, catfish, chicken, and many sides, followed by congregational singing, music by Anchored Quartet, a keynote delivery by renowned Haitian supporter Stanley Fox and closing comments from Nelson Miller.
That set the stage for a busy Saturday that started with an enormous breakfast selection, followed by an auction that included dozens of hand-made quilts, indoor furniture, a major amount of firewood, lawn furniture, a 14-by-20-foot pavilion, tools, crafts and many other items that helped raise funds.
According to auction coordinator Aaron Miller, the ongoing support of the community continues to drive the effort of the benefit, as well as the commitment of many people who help make it possible.
"This event has become such a community effort, and so many people have shared the same passion we as a board have in aiding the people of Haiti," Miller said.
Miller said the auction committee meets nine times each year, and the 11 board members and the sub-committees set about performing their respective tasks with many hands making for lighter work.
"Our board works well together, and I would say we have around 100 different church groups who play a critical role in this weekend," Miller said. "We have people who donate from many neighboring states and quilts that come in from all over the place."
One month prior to the event, they have a contact meeting and delegate and prioritize various jobs concerning the event. Miller said that makes his job as auction coordinator very easy.
"These are good people," Miller said. "They have a huge heart to serve, and it's rewarding because we are all part of something way bigger than us. It's an amazing feeling to be a part of something that has so many people reaching out to help any way they can."
While many people are under the impression the funds raised at the Ohio Haiti Auction will go directly to the people of Haiti, that is not entirely correct. The money raised at the event each year goes to support the many Haiti relief organizations like Haiti Christian Union Mission, Gospel to Haiti, New Horizons Ministries, Open Hands Haiti and Mennonite Gospel Missions to Haiti.
It is through the ongoing effort of these organizations, which are dedicated to bettering lives and providing hope for the nation of Haiti and its people, that great works are being done. The benefit supports 18 different mission efforts, and Miller said helping the missionaries who are willing to go forth, spread the gospel and provide a helping hand to the people of Haiti is something everyone can do.
"The funds we raise get divided up among the different missions," Miller said. "They are the ones who meet the needs for the teachers, the orphans, the sick, the needy. Through that they try to portray the mercy, grace and love of Christ and to show them a different way of life."
Yoder said those supporting the Haiti missions realize that by themselves they will not make a massive impact for the people of Haiti, but when many people come together, the individuals can make a mighty presence felt by the people struggling in Haiti.
Yoder said while the auction has passed, there are still financial opportunities to help the cause.
"Just because the auction is over doesn't mean people can't still help," Yoder said. "The best way to help financially is to log on to our web page, and from there people can visit any of the mission groups we support, visit their websites and donate directly to their cause."
The Ohio Haiti Benefit website, which can be found at www.ohiohaitiauction.com, features each mission group, and there is a variety of missions to support including works that go toward erecting schools, medical and church buildings, clinics, children's homes, digging clean water wells, creating local business opportunities, agricultural opportunities and more.
To find the various mission groups, click on The Missions icon in the header bar of the home page.