Old area houses yield some mysterious finds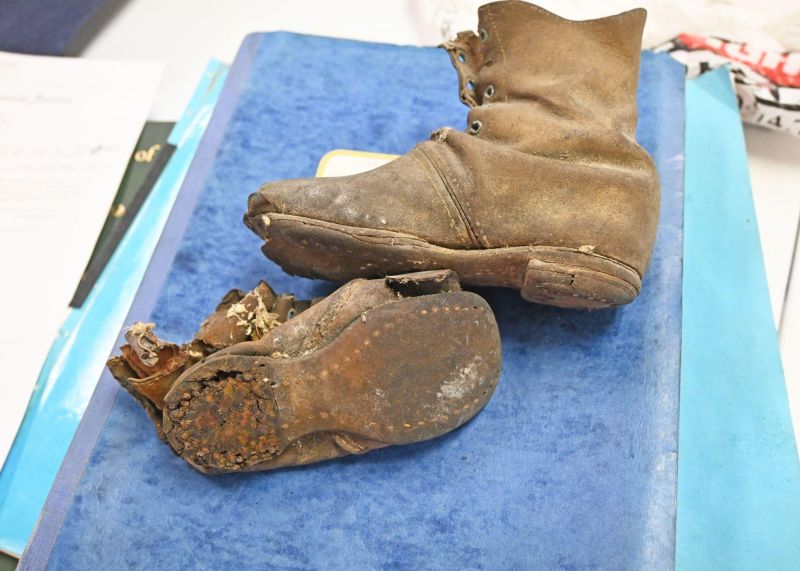 If walls could talk, maybe they could help explain the mysterious finds that have remained hidden for decades. These seemingly random discoveries are no accident in some cases.
Recently, Dr. Hugh Hothem, president of Hothem Enterprises in Wooster, was shoring up the foundation in one of his rental properties built in 1875 just over the Holmes County line near the tiny village of Greer. While he was turning posts to raise the basement, he was surprised when three very old, well-worn, handmade leather children's shoes plopped on the cellar floor.
After a little research, Hothem found the possible answer to this strange discovery. Hiding shoes in houses was a European custom that was common until about 1930. In fact, according to The Westport Historical Society blog, the practice of hiding shoes was once a mysterious worldwide practice, brought to New England by the settlers and then spread to other areas of America. The family who built Hothem's house immigrated to America from Alsace Lorraine in 1834 to work on the canals.
The term for these seemingly random finds is concealment shoes, according to Wikipedia. The discarded shoes were usually hidden above doors and windows, behind chimneys, and under floorboards. This practice was thought to bring good luck to the household or ward off evil. Because shoes were expensive, only footwear that was no longer useful would be used for this purpose.
Of the three shoes Hothem found, one was a matched pair, which is rare. Typically, only single shoes are discovered. The third was a child's boot with two of three buttons still attached to the turned-down cuff.
The matched pair of shoes was recently donated to the Knox County Historical Society. The boot remains in the attic under the floorboards.
"We already had a couple of similar shoes in our collection. We were glad to have them as we also have a horse-drawn mail wagon owned by a relative of the original owner of the house," said Jim Bishop, Knox County Historical Society museum curator.
There is even a museum in England that has a collection of over 2,000 concealment shoes, almost half of them children's, according to the Northampton Museum website.
When the Coens bought a historic Wayne County house, they found something unexpected while remodeling in the 1960s. Doug Coen grew up in this brick house built by Thomas Beckley in 1840. The house is built of locally fired bricks.
"It was a Teamster Inn with seven fireplaces," Coen said. "When work was being done on the house when I was a kid, they found several places under the floor and behind false walls that were removed. In those spaces were clothes and several old guns. Under the floorboards in the attic was a hollowed-out area that was large enough to hide several people.
"The house was always rumored to be owned by abolitionists. It was a very large farming operation on around 1,500 acres. It was an original land grant as well, and the original deed is on sheepskin and was given to the Wayne County Historical Society."
Coen isn't sure what happened to the guns and clothes. They were left in the house when it was sold. He thinks they may have been given away by the next owner because they are no longer in the house.
Up in Medina County, something unusual was found in the Col. H.G. Blake House. This historic house was built in 1840 and listed on the National Register of Historic Places. Kathy Kraus, historical presenter and professional artist, was called out to the house about 15 years ago for her opinion.
"The original owner of the Blake House in Medina was part of Abraham Lincoln's cabinet," Kraus said. "When the lady who owned the house went down to the basement and was able to just squeeze through the crawl space between the beam and dirt where an addition had been put on, there was a hollowed-out room in the dirt. She went inside and found 12 mismatched plates. Some were kitchen china, others pottery. They were stacked with debris hardened on them. Since it was a bonafide Underground Railroad Station, it was obviously a place where slaves hid."