Community celebrates 35th Habitat build with Maurer family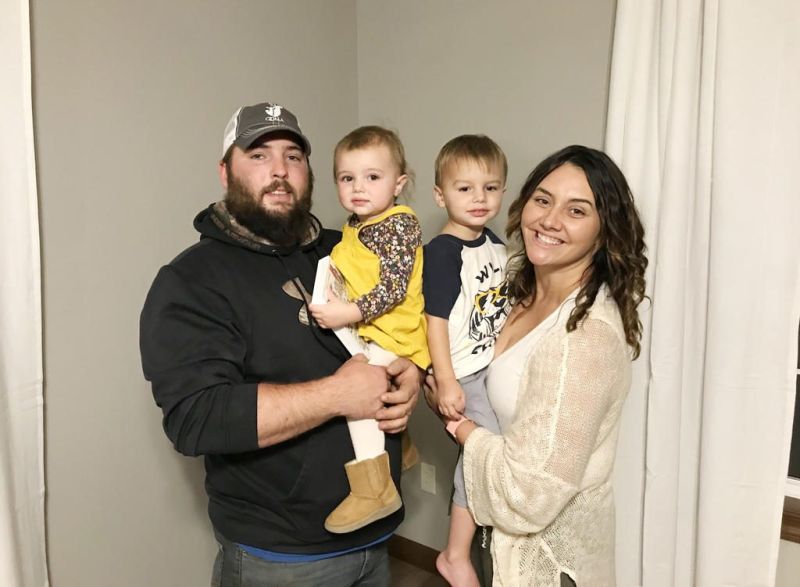 On Tuesday, Nov. 5 in Millersburg, Kyle and Breanna Maurer and their children, Remington and River, joined in celebration with a packed house to dedicate Habitat for Humanity Holmes County's 35th home build.
With a huge number of Habitat board members and volunteers, family members, and other well-wishers crammed into the first-floor kitchen and living room, the Maurers received the keys to their new home.
They wasted little time in making the house a home by moving in following the evening ceremony.
"We are all excited about moving in as soon as possible," Kyle Maurer said. "We love [Breanna's parents, Allen and Deb Hoxworth], dearly, and they have been incredibly gracious in taking us in while we build, but we feel so blessed to have this opportunity and are just really ready to have a home of our own. The sooner we can get in and adjusted, the better."
As is always the case, the Maurers spent countless hours helping to build their house, putting in plenty of sweat equity, putting down flooring, painting and doing whatever they could to help.
"Not only do you have a new home, you get to feel the satisfaction and experience the investment of actually helping to build it," Kyle Maurer said. "I think that helps you appreciate the house more and appreciate the people who volunteered to help."
Habitat's Pete Hilty, board member and construction supervisor, said the build went very smoothly as volunteers pitched in throughout.
"Our subcontractors were really great. They honored their schedules and commitments, and our volunteers worked really hard," Hilty said. "We are blessed to live in a community where people are giving, and we have so many wonderful contractors who know what they are doing and are willing to lend a hand. It's an honor for me to be able to present this hammer and keys, knowing that this family is being blessed and have put such a great effort into making their dream come true."
Breanna Maurer actually helped design the house, adding a number of ideas and her thoughts on what she would like to see in the plan. She said helping to create what she called a dream house was a lot of fun and inspired her to help finish it.
"They gave us a lot of options, and they also allowed us to put our own personal touch into the house," Breanna Maurer said.
She said they had spent a great deal of time praying about finding a home, and they were shocked when Habitat called them and told them the news that they would be family number 35 in Holmes County to receive a house.
"We had to be very patient, but it was so exciting and fun to watch it all come together and to see so many people volunteer to help us build. We had people we didn't even know come and help, and through that we feel like we have made some really neat friends," Breanna Maurer said.
During the dedication ceremony, Habitat for Humanity Holmes County President Nate Troyer provided the welcome, followed by a prayer of dedication from board member Ryan Hershberger.
Pastor Wes McElravy of Millersburg Christian Church provided a call to worship and read scripture before Habitat family support member and secretary Jenny Lauriha gave the introduction of partner families.
Executive director Mary Neutzling then presented Bibles to each of the family members, and Hilty presented the hammer and keys to the Maurers.
Tiffany Stefano, Habitat vice president, ended with a closing prayer.
Neutzling said watching the joy of families blesses not just the family who is moving into a new home, but also the many people who volunteered to make it happen. With each new home build, the board is revitalized and amped up about ushering in the next building project.
"Holmes County is very fortunate in that it is a very giving community," Neutzling said. "People give of their time, their energy, their love and their products like nowhere else if you just ask. It is such a blessing to be a part of an organization and community that shares such a love for others."
Neutzling went on to talk about the idea behind Habitat that volunteers are not building a home for a family, but rather with them. She said families can't build a house by themselves, but they can invest in doing what they can alongside those who do have the knowledge and wherewithal to erect a home. She said Kyle laid 1,200 square feet of flooring in the house late at night after work, Breanna painted and both did a number of other things to help the build.
"Their work ethic has been incredible," Neutzling said.
Neutzling went on to talk about the relationships that are being built through each building project, and even though the home is now built, the relationships continue as Habitat volunteers serve as family support members. Neutzling will visit the couple several times throughout the following year to make sure everything is in order and to answer any questions that might arise.
In addition the entire year prior to the build is spent teaching couples who are first-time homeowners the many nuances that accompany being a home-owner including financial counseling.
"This takes a lot of individual talent and effort from a lot of people to build a home, and we have seen some true blessings come from those efforts," Neutzling said. "It's exhausting but energizing at the same time."
As well-wishers filtered throughout the house and eventually went home after congratulating the Maurers, the family was more than ready to take the next step in their lives in their brand-new home.
"It is our dream home, and we are so ready to move in and make it our own," Breanna Maurer said. "We are so incredibly grateful for everyone who played a role in making our dream come true."