Holmes Fair Board 'on pins and needles'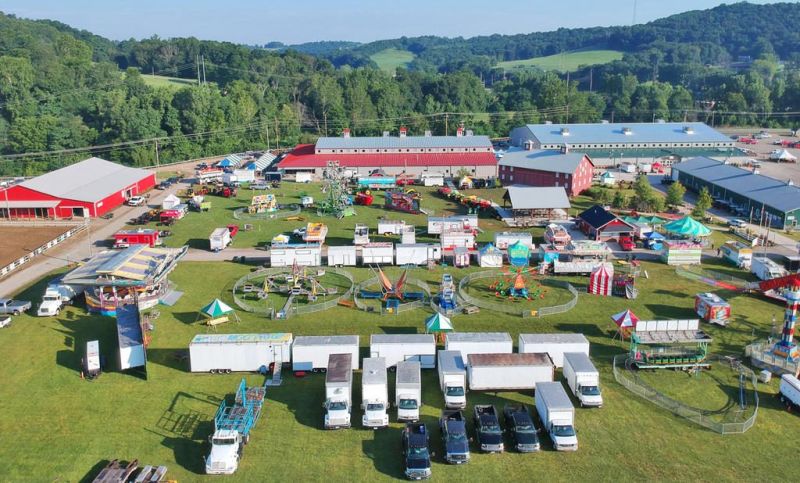 The more the Holmes County Senior Fair Board makes plans for the upcoming fair at Harvest Ridge, the more they seem to have to change things.
After canceling the grandstand events because of state mandates, the board felt it was in good shape as the fair draws near Aug. 10-16. However, on Tuesday, July 28, Gov. Mike DeWine sent the board scrambling to play catch-up once again when he passed along a new set of entertainment activities that could not take place.
"It's a horror story, really difficult to plan anything right now because we just don't know what will happen next," said Kerry Taylor, fair board president.
Among the Holmes County Fair casualties were commercial vendors, Stage on the Green events, home arts and flower exhibits, the Be You Livestock Show, and pedal tractor pull. That comes after the fair board had already pulled the plug on all grandstand activities.
With everything going on and so much up in the air, the Holmes County Fair has been on pins and needles as the fair board continues to weave its way in and out of state regulations that have come down from DeWine.
Initially Taylor said via a letter that the health and safety of fair patrons, exhibitors, vendors and staff was a top priority as the board balances conducting a fair during this time, and that hasn't changed.
That conclusion forced the board to go in a direction nobody wanted to go but one they felt was necessary to fulfill the safety guidelines.
"All grandstand events have been canceled for this year," Taylor said. "This tough decision comes because of safety concerns with the inability to maintain 6-foot distancing in seating."
This mandate was emphasized during a phone conference with DeWine and Ohio Fair Managers Association members on Wednesday, July 22, but in a matter of a couple of days, things were altered even further.
In addition, financial concerns related to the inability to fill seats represent a risk the board cannot afford to take. Those who have already purchased reserved grandstand seating may obtain a refund by presenting their tickets during fair office hours.
With so many things being cut from the fair, Taylor said the option of allowing free admission is looking like the most logical option. As of now, the board is hoping no further cuts will be made, the most important being food stands and camping.
"We have been blessed with a wonderful, hard-working group of fair board members, and we will do whatever it takes to do as much as we can in adhering to the state mandates," Taylor said. "It's been a nightmare, but we are very determined, especially when it comes to the Junior Fair."
With the newly implemented State of Ohio mandate, face coverings will be required unless someone meets one of the listed exclusions offered by the state. The board continues to work closely with local health officials and state mandates for fairs to provide a safe, fun-filled week. Fairgoers will see additional signage, sanitizing stations and distancing requirements, as well as other subtle changes.
One thing that remains and is the most integral part of the fair is the Junior Livestock Fair. Knowing how much time and expense has been put in by the many county 4-Hers, Taylor said that is the most important focal point of the fair.
As of now, the Junior Fair portion of fair week will move forward as scheduled earlier.
All livestock shows and the sale nights will go on, and additional seating will be available near the show arenas to provide social distancing.
"We are on pins and needles right now because everything changes so quickly," Taylor said. "As long as we can continue to provide camping for families, where they can practice social distancing more easily, we will proceed with the junior livestock portion of the fair as scheduled. If we can't have camping, that makes things a lot different because it would make caring for the animals much more difficult. Right now we can't assume anything."
The board reminds everyone that due to possible additional mandates, the public is encouraged to monitor the Holmes County Fair Facebook page or the website at www.harvestridgeohio.com. A current revised schedule is now posted.