Honoring veterans on Memorial Day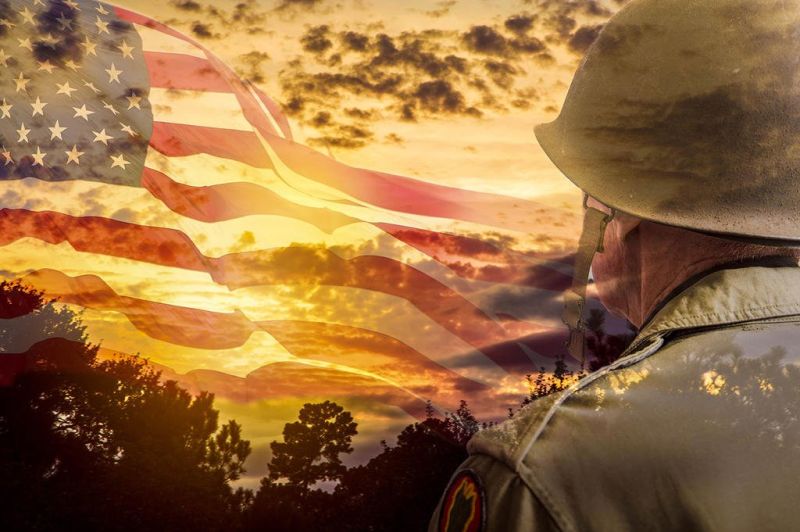 Each year towns throughout the area commemorate Memorial Day and honor veterans at a number of ceremonies. Due to COVID-19, those ceremonies are being canceled, but there are still ways to honor and support veterans and families who have loved ones who served and have since passed on.
Millersburg American Legion Post 192's annual Memorial Parade and Memorial Day service have been canceled due to COVID-19 restrictions. Members of the post are honoring veterans privately while citizens are encouraged to display flags.
In Shreve, American Legion Post 67 is organizing a caravan of veterans to be driven past an honor guard on Monday morning. Veterans should be at Post 67 by 8:45 a.m. to participate.
At Shreve's Newkirk Cemetery, there will be no Memorial Day service, but flags will be at half-staff on Sunday and Monday, and flags will be placed on the gravesites of veterans.
Winesburg has canceled its Memorial Day Parade and Public Memorial Service due to the COVID-19 outbreak. The community is encouraged to take time on Memorial Day, May 25 to remember veterans who gave their lives to protect the freedoms that mean so much to all of us. There will be a private observance at Westlawn Cemetery by area veterans honoring veterans who have passed away. Veterans who would like more information can call John Schneider at 330-231-0383.
Schneider has read a list of past veterans at each ceremony at Winesburg for years, and this time, even if nobody is around to listen, he is going to the cemetery to read those names again.
Although there will be no parades, speakers or band music this year, VFW Post 494 is still planning to honor its comrades' Memorial Day observances in the Sugarcreek area for 2020. The Post Honors Team will visit cemeteries including Dundee, Ragersville, Sugarcreek, Union Hill and Walnut Creek. A short ceremony will be held at each location. Post members will post flags on all veterans' graves the week prior to Memorial Day. Post Commander Dan Crenner encourages everyone to fly the American flag, and the post has flags for sale for anyone wanting one.
While Memorial Day ceremonies have been pushed aside this year, it doesn't mean there aren't ways to celebrate and honor those who have served.
Schneider said this provides a good opportunity for families to sit down together and explore some of the many wars that have involved the United States.
That list includes The Revolutionary War, War of 1812, Mexican War, Civil War, Spanish-American War, World War I, World War II, Korean War, Vietnam War, Persian Gulf War and more current wars on terrorism in Afghanistan and Iraq.
"This could be a real history lesson," said Schneider, who served in the U.S. Army from 1966-69 as a noncommissioned sergeant E-5. "Just because we aren't gathering doesn't mean we shouldn't take the time to honor our veterans who have served their country and freedom. Families should take the time to reflect within their family circle about the history of the United States, starting at the Revolutionary War."
From there, discussing any of the wars that have ensued will give adults a chance to pass along history to their children, history that is vital to the ongoing hopes of honoring veterans and those who died in service.
"As generations pass, the significance of these wars and the people who served seems to be lost," Schneider said. "Exploring these wars and the meaning behind them would be important."
Schneider said whether people believe a war was justified or not, it is still important to recognize the value of the lives who served.
While living veterans may read the names and others like the Sugarcreek VFW will honor veterans in their own way this year, it isn't for their ears. Schneider said he has two brothers who were veterans who have since passed, and they aren't going to get anything from the commemorative events.
"These ceremonies are for the living, for us showing tribute to those who served and thus bolstering our patriotism," Schneider said. "The celebration is for the living."
Another way to celebrate is by tuning into the National Memorial Day Concert on Sunday, May 24 at 8 p.m., an event that will be broadcasted on PBS. The concert will feature performances and tributes filmed from around the country to honor the troops and our veterans, as well as to honor the many people who are serving on the front line in the battle against COVID-19.
The 90-minute tribute show will be hosted by Tony Award winner Joe Mantegna and Emmy Award winner Gary Sinise.
The program will feature musical performances, special messages and segments that highlight stories of ordinary Americans who served under extraordinary circumstances, serving with uncommon valor during trying times.
Aside from that, one way to honor the nation's veterans is to go on social media and share personal stories.
Veterans around the world and those who have impacted the freedoms of this nation are deserving of acknowledgement for the time, sacrifice and commitment they have shown in defending freedom.
While social distancing has negated many of the usual Memorial Day celebrations, that doesn't mean there aren't opportunities to show appreciation for those who served and to share their stories and their deeds with others.
Whether it is through photographs, short videos from children, grandparents or veterans themselves, Tweets, thanking veterans for their service, or whatever method people choose to convey their gratitude, social media has provided ample ways to celebrate veterans.
Whether posts are dedicated to those veterans who have passed away, to those still living who are accomplishing great things today or those who have served at great lengths in the past, social media provides the next best option to celebrating at a Memorial Day gathering.
Sharing these stories of veterans and their many sacrifices and special accomplishments is important to continue the legacy they have helped build in defending freedom and serving their country. It also is important because it provides an avenue of sharing these pieces of history that need to be passed down to future generations.
The American Legion also provides some insight into ways families can celebrate Memorial Day.
American Legion national commander James Oxford suggested families make signs expressing their gratitude for military sacrifice. Taking the time to create a sign and taking a photograph of friends and family holding up the signs and sharing the images on social media is one way to celebrate this Memorial Day and let U.S. veterans know their effort and sacrifice will never be forgotten.
Oxford said another American Legion remembrance practice is to light candles at dusk on May 25. Different-colored candles can symbolize different remembrances.
A red candle is lit to remember those who shed their blood in combat and made the ultimate sacrifice in defense of our country. A white candle can remind others of all of the POWs and MIAs who are not yet home from wartime service. A blue candle can symbolize the eternal love of those who did come home but have since passed on.
Whether lighting one or all of the candle colors in honoring our service members, light a candle for the fallen to let the world know Memorial Day matters, even if ceremonies and public observances have been canceled.
Also, the Ohio Western Reserve National Cemetery in Seville will remain open Monday from dawn until dusk for public visitation. Families and friends are welcome to place flowers and/or flags at gravesites.