Orange Crushers create a chance to compete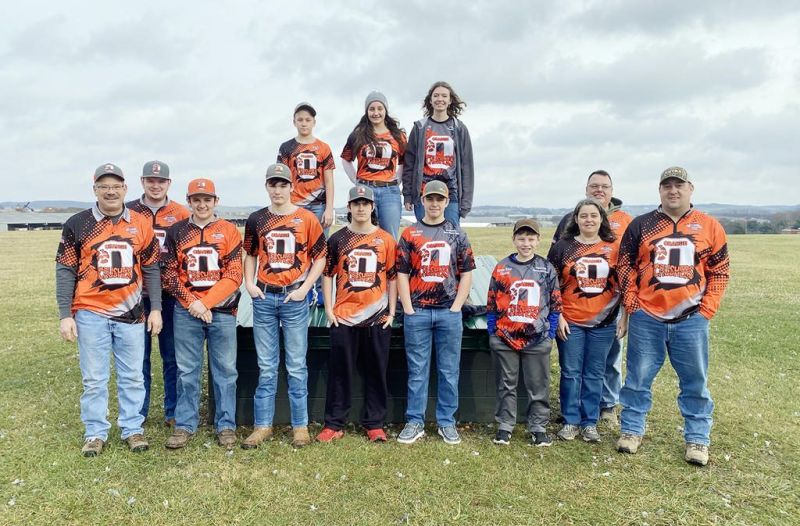 The mind and eyes focus, as sharp as a hawk hunting its prey. The breathing slowly ebbs, and the heartbeat calms, the hands steady as the trap shooter awaits the moment when a clay pigeon is released. Then countless hours of training take over to calm every nerve and subdue the angst. The clay target disintegrates as the trap shooter rejoices in another score for his or her team.
Welcome to Scholastic Clay Target Program, a quickly growing sport that invites youth of all levels to compete in shooting events like trap, skeet and shooting clays.
The Orange Crushers Youth Shooting Team from Sugarcreek, which practices at Sugarcreek Sportsman's Club, is currently inviting youth from fifth grade through the college level to join them to learn and perfect the art of trap shooting.
The OC began four years ago when President Tim LeMay and others felt drawn to establish a shooting program that would teach young people not only the art of shooting at targets, but also leadership, teamwork, hard work, and qualities like respect and learning to have fun in a group setting while building relationships.
LeMay said the group started because they saw a need to implement a pastime for young people who wanted to compete but weren't at an elite athletic level. He initially went to Garaway High School with a proposal to start a club, but when that didn't pan out, he asked the leadership team at Valley View Community Church, where he attends, if they would consider making it a youth ministry.
"It's not about pushing the Word on people but showing people how we live our lives and how we want to raise our young people to show respect to everyone and to understand the value of doing things the right way," LeMay said.
According to Vice President Kevin Troyer, the competition is tremendous, and the teamwork they promote is a learning tool while the sport lends itself toward being more accepting of both the athletic and less athletic students.
"There are a lot of kids out there who might want to participate in a team sport but don't think they are athletic enough to do so, and this is a team sport that isn't determined by sheer athleticism, but more on hand-eye coordination and a steady hand," Troyer said. "It really is a fun sport that promotes the team concept, yet you don't have to be a great athlete to participate and excel. We are after the kids who are into the great outdoors, who like to hunt and fish and still have a desire to compete. There's a lot of kids out there who typical high school sports won't appeal to but will feel right at home with us."
LeMay said while they are currently the home for students from Garaway, Ridgewood and Indian Valley, they hope to push westward into East Holmes and West Holmes.
"We are looking to grow and would welcome young people from out west because there aren't any local clubs in the areas there," LeMay said.
Both Dover and New Philadelphia have shooting clubs, so those in that area would be required to join one of those clubs, something LeMay said was put in place so clubs didn't create super clubs by recruiting from far away.
According to LeMay, the main purpose of the team is to teach young people the proper technique in shooting, with a major emphasis on the safety aspects of using a gun. In addition, the goal is always to teach the students proper technique, providing plenty of practice time that helps the team bond and prepares them to make a run at nationals.
"It's definitely a unique sport, and we really like to promote the team aspect," Troyer said. "We always tell our kids to play for the team first and the individual performance second. Our goal is always to reach the nationals and shoot well, but the experience is awesome."
According to Troyer, last year's national competition in Marengo, Ohio was the largest event ever held in this sport. He said during the 10-day event with members of the Scholastic Clay Target Program in attendance, more than 1.5 million accumulated shots were fired at targets between competitions in skeet, trap, international sporting clays, handguns and several other components of the tournament.
"It really has taken off and is a terrific, growing sport," Troyer said.
Anyone interested in joining the Orange Crushers can call LeMay at 330-204-3804, or to watch an evening of training firsthand, visit Sugarcreek Sportsmen's Club every other Friday at 6:30 p.m. beginning March 4. For more information visit the group on Facebook.