Orrville Area Chamber holds 107th annual meeting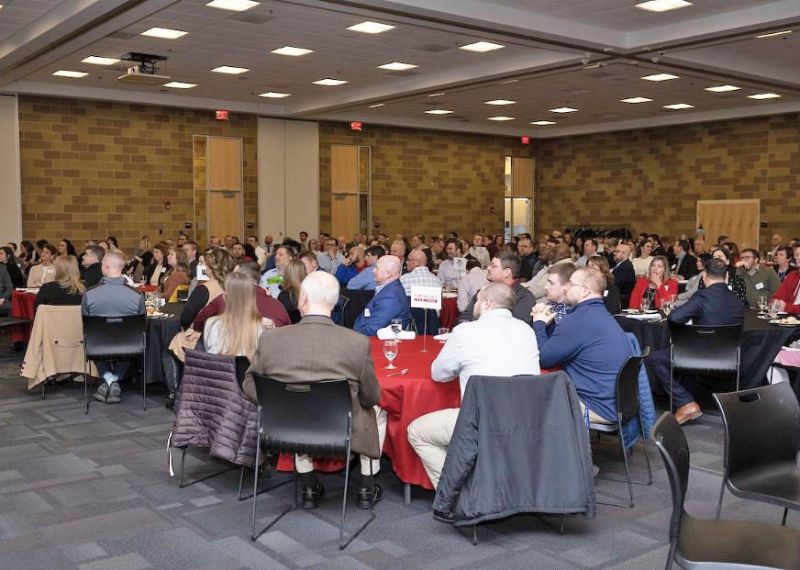 "Moving Ahead Together" was the theme for the State of the Chamber: 107th Annual Meeting of the Orrville Area Chamber of Commerce. The event was held at the University of Akron Wayne College with more than 200 guests on Feb. 10.
Dan Franks, president of the Orrville Area Chamber, began by thanking all sponsors.
Dr. Heather Howley, director of regional campuses at the University of Akron, welcomed and addressed the crowd. "Thank you to our fantastic chamber. You bring our community together, keep us on the move, and keep us thinking about the future."
Kristin Endsley, past board chair, recognized the 16 board members and staff for their contributions. She acknowledged outgoing board members Joe Kennedy (Plume and Paper) and Bryan Troyer (Moog).
"When we say Chamber of Commerce, we really mean the membership. As staff, we are here to serve and represent the membership and our community, but the chamber itself is the body of members," Franks said.
The theme of "Moving Ahead Together" resonated through the event as the chamber stated its plans for 2024.
"I want to make it clear that this chamber is committed to being actively involved in our community and supporting others who are working to make our community even greater," Franks said.
Franks announced HR Roundtables will be brought back in 2023.
Pete Kandis, chamber board member, announced the Chamber Wellness Series that kicked off last month will be a year-long, monthly program.
"As we move ahead together, that means we won't be doing things all on our own. We will partner with others to bring the greatest good to the community," Franks said.
The chamber and the Orrville Area United Way are joining forces and bringing back Day of Caring, but in two days. "This initiative will present work projects and needs of individuals and nonprofits in our community and provides our business community the opportunity to meet those needs," Franks said.
Day of Caring will take place May 3 and Sept. 16.
The chamber also is partnering with NAMI of Wayne and Holmes Counties to bring their Artists Among Us series to downtown Orrville, which will feature the artwork of local people in recovery from mental illness. The chamber is seeking interested businesses to provide some space.
Bryan Troyer, chamber board member, discussed the growing Young Professional program, which offers quarterly workshops for professionals age 18-40 in the Orrville Area.
"As a chamber we do our best to be responsive to the needs of our members," Franks said. "It's been a considerable amount of time since the chamber last conducted a wages and benefits survey for our area."
The survey will be distributed by the beginning of March with results delivered in April.
The chamber announced a new Individual Membership level. "This new membership level is for retired individuals who want to continue to support the chamber as a way of bettering our community," Franks said. "Donna Dale and James Davis are our first individual members.
"After a lengthy absence, we will be bringing back Leadership Orrville this year. Our leadership program is unique in that it will not only develop leadership skills with those who attend, but be focused on building a sense of community among the students and for the entire Orrville area. The chamber is doing things, not just talking about them. We're providing resources, meetings, networking opportunities and training sessions to move all of us ahead together."
The Red Circle sponsor for the event was The Commercial and Savings Bank while Black Circle sponsors included The J.M. Smucker Company, The Will-Burt Company and Ventrac. Lunch was catered by Village Catering and sponsored by SmithFoods.