Our take: Seasonal classic takes its place in local tradition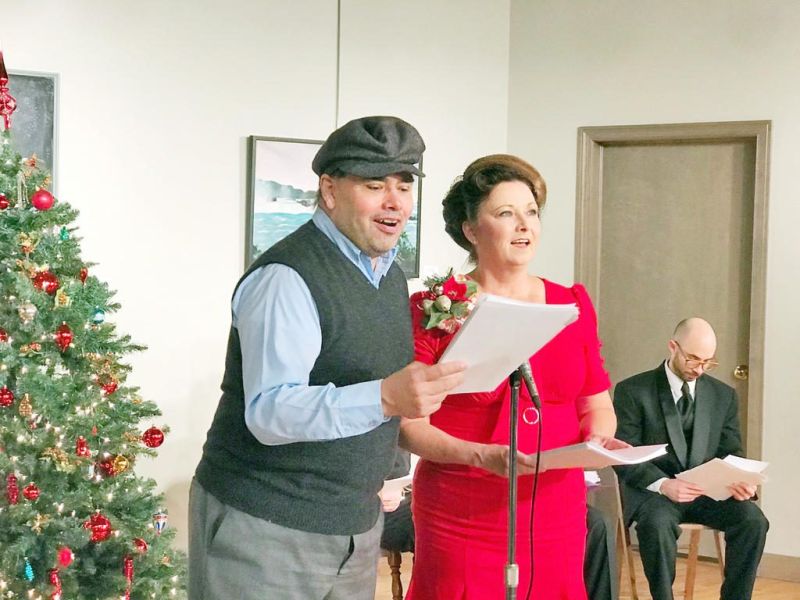 "It's a Wonderful Life, a Live Radio Play" will come to the Gallery Stage at the Tuscarawas County Center for the Arts on Nov. 30 and Dec. 1 at 7:30 p.m. with an afternoon show on Dec. 2 at 2:30 p.m. The show is the latest from Black Box Theater Ensemble, which can be counted on for well-executed productions on an intimate scale.
The Center for the Arts, with its new galleries and redesigned spaces, is the perfect backdrop for the cast's fine work. If you have been unable to visit the center since the renovation, it has a much more serious feel and is truly emerging into the full bloom of its early promise of being a true center for every genre of art in the area.
The cast of the radio play version of "It's a Wonderful Life" couldn't be better suited to the material. Bart Herman, Elizabeth Lehigh Thomakos, Dave Cleveland, Sarah Jane Spies, Jerry Marlowe and Alex Walker cover the vocal characters while Halle Holmes provides perfectly timed sound effects.
The story line is familiar enough as it closely follows the 1946 Frank Capra film of the same name. The much-loved movie, one of my personal favorites, is well adapted for the staged script presentation by Joe Landry and has made the holiday rounds since 1997.
This is not the first adaptation for "radio" as the movie was presented as a radio broadcast version in the 1940s and starred many of the film's actors including Jimmy Stewart and Donna Reed. This show, obviously, is not actually broadcast, and that is the challenge for director Don Irven.
A radio script is made to be an audio experience as theater for the ear with the listener furnishing the images in their own mind as they listen to the voices and sounds of the world unfolding in their imagination.
This show adds a visual dimension to an auditory experience, and the question becomes "what to do with this dimension?" This may seem obvious, but there is a definite disconnect between what the audience is hearing — the story being told by voices and sounds — versus what you are seeing, which is people moving around on a stage space, to and away from several microphones positioned downstage. What you're hearing doesn't match what you're seeing. How do you cross that disconnect and bring those dimensions together so the audience isn't distracted by either?
I caught a rehearsal this week, the first for which the cast had use of the performance space, and I can tell you they have overcome this challenge. If they were that good in a rehearsal on a stage they hadn't plied before, the final show you get to see will be very good indeed.
Cleveland and Walker in particular are skilled in switching off voices and characters while remaining animated and engaged with the audience. Spies also brings memorable vocal presentations of the numerous characters she brings to life while Thomakos as George Bailey's wife, Mary, and other characters brings variety and interest to the female voices.
Marlowe could not be more perfectly cast as Clarence, the angel sent from heaven to guide George back to his senses, and Herman does a grand turn as young and older George. Every cast member has plenty of experience, and they know how to handle the material.
None of it would fly without Holmes. There are few things that can derail a show faster than missing or off-time sound effects, and she makes sure that doesn't happen in this sound-dependent show, a godsend for the cast, surely.
Tickets for "It's a Wonderful Life, a Live Radio Play" are $15 with a group rate of $10 per ticket available to parties of three or more. Seating is limited. Call 330-339-2787 to reserve a spot.