Pandemic renews interest in personal fitness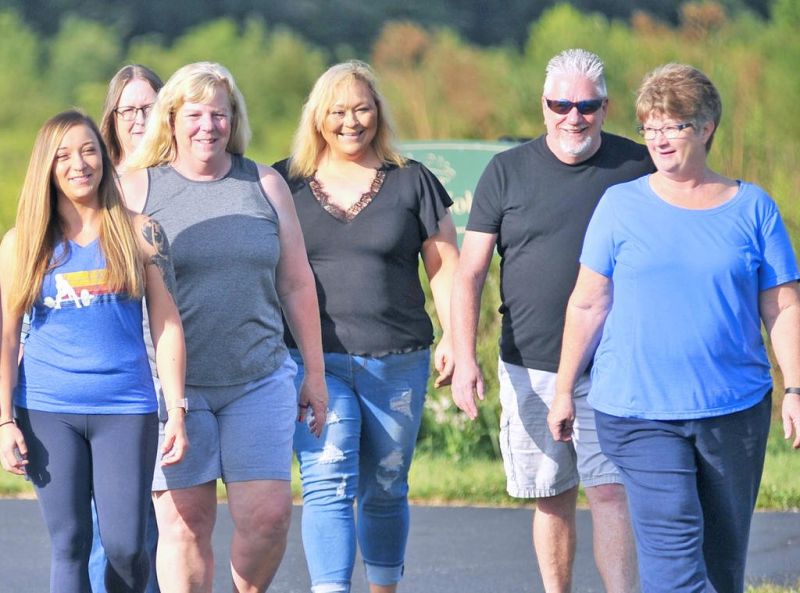 While the COVID-19 pandemic has made life difficult in numerous ways, it has spurred many to evaluate their level of personal fitness and take steps to shed a few pounds.
"Over the past year, due to COVID-19, people have been more concerned about their health," personal trainer Seth Scrimo said. "No one knows what is going to happen with the delta variant, but since the pandemic started, I have seen more people wanting to improve their level of fitness."
When husband and wife Scott and Kathy Falb decided to embark on a fitness journey during the pandemic, they called on Scrimo for help.
"We quit smoking about five years ago and gained a ton of weight," the couple said. "We weren't quite ready to go to a gym yet, and we saw in a previous article that Seth would come to us. We worked out in the basement, and it has been really beneficial."
The turning point for the Falbs came with the arrival of their granddaughter.
"We wanted to be able to get up and down off of the floor without having the aches and pains associated with the extra weight," Kathy Falb said.
Mindy Cavin decided it was time to get serious about weight loss when she started working from home during the pandemic.
"I was working from home and barely moving. Then I started having additional health problems." Cavin said. "I started on July 15 and have lost 18 pounds. I can now walk 40 minutes without stopping. I used to be lucky to walk 100 feet."
Kailey Sherrick has shown that dedication to a consistent fitness routine can pay off. She started working out in 2019 — prior to the pandemic — and hasn't stopped.
"To date, I have lost more than 40 pounds and 15% body fat," she said. "I am in the best shape of my life."
Sherrick also diversifies her routines by alternating between weight training and cardiovascular sessions.
Terri Carathers has lost a total of 120 pounds so far, thanks to the custom fitness routines Scrimo developed for her.
"I was using food as a comfort after some serious life events. Seth taught me how to love myself again and use food as fuel instead of an emotional crutch," Carathers said. "I work remotely, and Seth sends me exercises and a food plan every day. If he doesn't hear back from me, he will check in to see how I am doing."
Pam Fry had a hip replacement and was placed on high blood pressure medication.
"I was in really poor health, and I realized that I needed to do something about it," she said. "I started in June, and I have lost 13 pounds so far and have gained flexibility and the ability to move and walk. My blood pressure medicine has been cut in half. I plan to keep this up for a long time."
As summer winds down, it is a perfect time to make changes to existing workout routines or begin one.
"We aren't dealing with the heat that we were a few weeks ago," Scrimo said. "This is a good time of year to get outside and go hiking or walking. For people trying to get into better shape, the fall is a great time to find new exercises."