Lakeville firemen finish 25-year paving project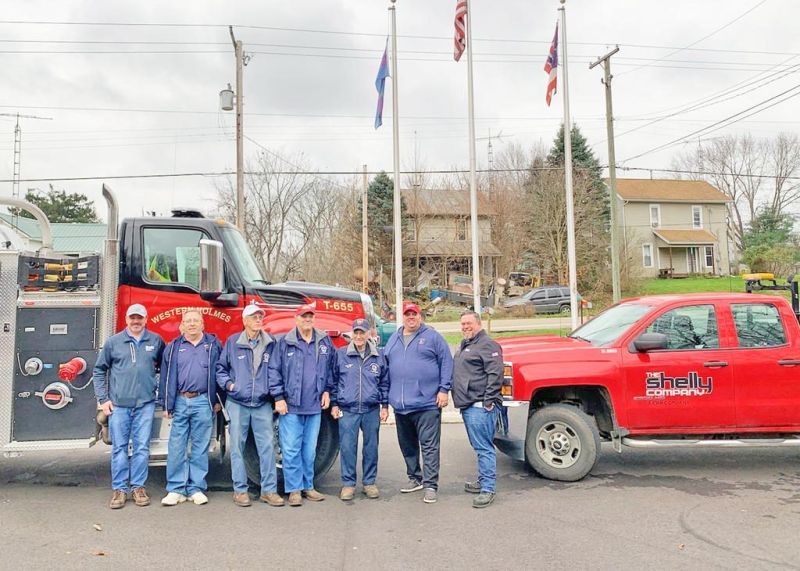 New asphalt is paving the way for Western Holmes County Fire District's Lakeville station.
Up until 1992, Lakeville Volunteer Fireman's Association was operating out of an old, cramped garage. At that time the volunteer firefighters and community decided it was time to update the facilities.
A campaign began, spanning 25 years that culminated in a celebration of the final paving project on Wednesday, Nov. 16. The reception was held for all the fire department employees and volunteers and for everyone who donated.
"This was the last step of the original plan for the firehouse," Lakeville VFA Capt. Kevin Kick said. "It's been a long time coming."
The committee that worked over the years to get the project started included Kevin Kick, firefighter Dave Kick, retired Chief John Rush and retired Assistant Chief Don Wigton. Between them, these firefighters have over 160 years of experience.
With the addition of daytime paid staffing two years ago, multiple projects around the fire station took precedence over the paving project, depleting some of the funds that had been allocated.
"With full-time staffing, there was a need for additional facilities including showers and laundry," Kick said.
At the same time, construction costs have soared. "We had to come up with a new plan to make (the paving) happen," he said.
After being approached by Kick, The Shelly Company donated approximately $13,000 to the project, which jumpstarted the final phase and enabled it to ultimately be finished.
The paved driveway is a crucial part of the station house. Fire trucks and ambulances are heavy, making them hard to manage on dirt and gravel. Western Holmes' Tanker 655 has a 2,500-gallon water tank and a weight of over 50,000 pounds when fully loaded with water and equipment, making it sink in gravel.
That's no longer an issue — the asphalt is rated to withstand the weight of fire apparatus — nor is that of snow removal, which becomes much less complicated and costly.
The newly leveled parking area also makes the firehouse easier for community members to use. The facility is truly a community center, often used for Scouting events and meetings, 4-H gatherings, and area faith-based groups. It also serves as a regional collection area for recycling with bins for glass, plastics and cardboard located behind the firehouse.
Rush was the chief when the fundraising campaign began. He said everyone pitched in to help. The first fundraising venture was daylong trap-shooting events held on Sundays.
"The mouse game was a big fundraiser early on," Rush said. "We'd take it around to fairs and festivals all over the area."
This was a betting game using a live mouse that would run around under the numbered game board. When the mouse popped his head up at a numbered hole, that number would be the winner.
"Sometimes the kids would try to cheat by covering holes," Rush said. "You had to keep an eye on them. We also washed and waxed cars. There was a local guy who had an airplane, and we washed and waxed that too."
When trees needed to be cleared from the site of the present day station, the volunteers and community took that as another opportunity for fundraising. "We cut, split and sold all that for firewood," Kick said.
Rush said after the fire department property was cleared of wood, the firefighters would go elsewhere in the community where needed to cut wood. "We kept at it until the building was paid off," he said.
The department's annual chicken dinner is an ongoing event that not only assisted with the firehouse and paving, but also helps with facility improvements.
Lakeville Volunteer Fireman's Association has continued to grow in staffing and expertise to serve the needs of its community. The citizens they serve have consistently stepped up to do whatever it takes to keep the department at the ready — whether by volunteering to fight fires, helping with fundraisers or dropping by the station with a home-baked pie for the staff.
Lakeville Volunteer Fireman's Association is a living example of true community, appreciating those who serve, stepping up to help and simply taking care of what needs to be done.