'Peanut butter and jelly time' at Chestnut Ridge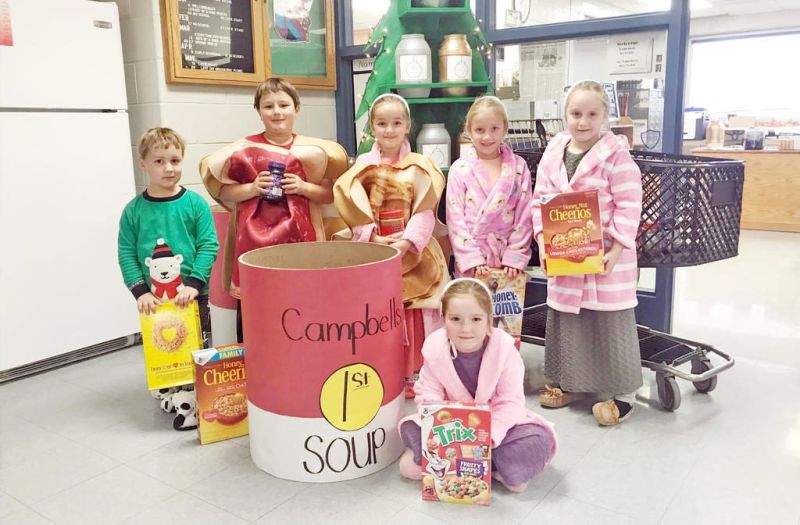 During the week of Nov. 18-22 at Chestnut Ridge School near Walnut Creek, peanut butter and jelly was the theme that kicked off the annual week of Holmes County Share-A-Christmas grocery and donation fundraising at the school, where it turns out jelly is a student favorite over peanut butter.
With Walnut Creek Cheese donating shopping carts for each class to bring in as many grocery products as possible each day, the classes were involved in a fundraiser that saw them bring in jars of peanut butter and jelly, cereal, breakfast food, and other items like soup, pancake mix, spaghetti, pudding and more.
The tally for the PB&J contest was 99 jars of peanut butter and 60 jars of jam, and students voted and chose jelly over peanut butter 138-89.
The students even got to wear their favorite robes and slippers for a day, and what made it even more enjoyable for the kids was that as the items were collected, they all went into the office of principal J.T. Luneborg, who confessed he is a bit of a neat-freak and likes his office in order.
With boxes of cereal everywhere in his office, the kids had a fun time making his life and office a wreck.
"It's just a fun week for the kids to get involved with something that is really important, and it helps them realize the importance of getting involved with community service," said Darlene Yoder, Chestnut Ridge secretary. "Mr. Luneborg told me before we started that we could fill up his office and he would go up to Mt. Hope and hang out there at school. He's been in and out, and he has been a good sport. Some of the kids even piled up a bunch of cereal on his chair to make sure he wasn't going to sit down any time soon. He hasn't sat down in there for a while."
The kids brought in soup cans to fill large soup-can containers dedicated to each class on Friday, Nov. 22.
In addition to the grocery fundraising, there also was a giving tree in the main lobby, where large painted jars of silver and gold allowed students to bring in their change, the winning class getting to enjoy a soap carving party with Rachel Kaufman.
Last year saw the school bring in around $2,800 for the change game, which all went to Share-A-Christmas. The year before it was $1,700, but Yoder said the kids were eager to give it their best shot at raising even more this year.
"I think it's neat that the kids are so eager to help Share-A-Christmas when much of that is going to help other kids in need," Yoder said. "We talk a great deal every year about generosity. It is one of our main character traits, and November is Generosity Month, so being able to promote that character quality is really important, and this event definitely goes a long way in doing that."
Once the event is complete and all of the cereal, soup, peanut butter and jelly, and all of the other food items are brought in, members from Share-A-Christmas will come by Nov. 26 as they make their annual run all over Holmes County to collect the items each of the local schools brought in.
Yoder said the week is for the kids, but they also have gotten support from other community members who recognize the value in what they are doing in their efforts to help others.