Pennell passes WHHS FFA torch to Crilow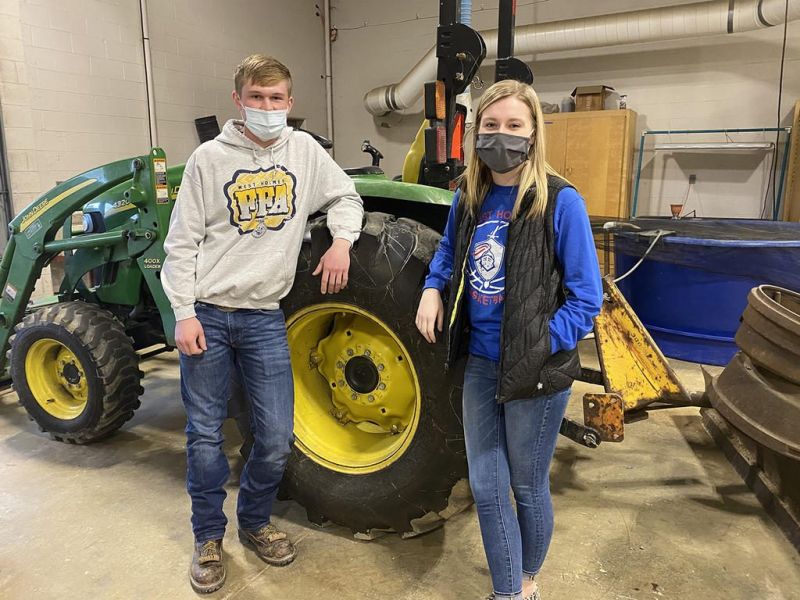 West Holmes FFA President Jayme Pennell has chalked up a lengthy list of accomplishments during his four years as a member of the FFA team. Among them are back-to-back appearances at the FFA state competition in Extemporaneous Speaking, where he placed first at districts the past two years.
Pennell also has served as the West Holmes FFA president the past year, and with the group's recent vote, he now has a replacement in place when May rolls around.
Late in February, the West Holmes FFA elected new officers who will take over at the annual FFA banquet in May. The list of electees includes President Cora Crilow, Vice President Ally Ogi, secretary Chloe Shumaker, reporter Alysa Pringle, treasurer Maren Drzazga, sentinel Becca Schuch, student advisor Leah Reining and historian Emily Sheely.
For Crilow, the opportunity to lead is something she has been wanting to do for a while, and getting a chance to see Pennell handle the job was enlightening and encouraging.
Having served as the FFA secretary last year, Crilow got a chance to see how things operate with the officer group. She feels confident she and the rest of the officer crew can continue to lead and guide the group as they navigate through what they hope will be a coming year that is far less encumbered by COVID-19 restrictions.
"I think I have a lot to offer the FFA, which is one reason I wanted to run for president," Crilow said. "I want to give back. I know it is a lot of hard work and dedication, but I want to give the members what they gave me, and leadership growth is such a big part of what FFA wants to promote."
Crilow said being part of the officer group this past year has opened her eyes as to the challenges 2020 brought with it.
"It has been a different and challenging year this year, and we have had to get pretty creative at times," Crilow said. "As a group you work hard to create new and fun ideas, and it can get a little discouraging when you develop all of these plans only to have them shut down. I think we got super-discouraged halfway through the year, but then it felt like that spark got reignited."
One thing that helped the FFA get through the past year is the leadership group has been very tight-knit and willing to listen and learn with one another.
Pennell said being able to work together to problem-solve and create fun and educational opportunities for the members is both challenging and exciting, and being able to stretch themselves and lead is an important role in FFA growth for each individual.
"One big thing I have learned through FFA and during my time as president is that you have to lead by example," Pennell said. "If you want to talk a member into trying something new or stepping outside their comfort zone, you have to do it yourself and be willing to walk through it with them."
Pennell said he can remember in his early years of FFA when he came in raw and uncertain. He said he can still recall a number of seniors stepping up and helping him through some challenging times until he got his feet under him and gained experience.
"I wouldn't be where I am now if I didn't have people pushing me to excel," Pennell said. "I really try to focus on not only giving information out, but just to make sure they know someone is there because it can be kind of intimidating coming into FFA. I hope I've done a good job with that."
Pennell said he knows Crilow will be up to every challenge and that she will be another in a long line of great West Holmes FFA presidents who have taken on that leadership role.
Crilow said that as the FFA moves forward, she will take away one key piece of knowledge from the experience.
"I've learned to never take all of the little things for granted," Crilow said. "We kind of took some things for granted last year and then struggled as they disappeared from our schedule. I think it is very important to be thankful to have the things we do have, and we can continue to build relationships together. We lost some things I never imagined we would lose last year."
With an eye on a much more normal year for 2021 and beyond, the West Holmes FFA continues to promote leadership in ways that will benefit each member long after they have left high school.