Phillips, Ascencio put wraps on Antique Festival reigns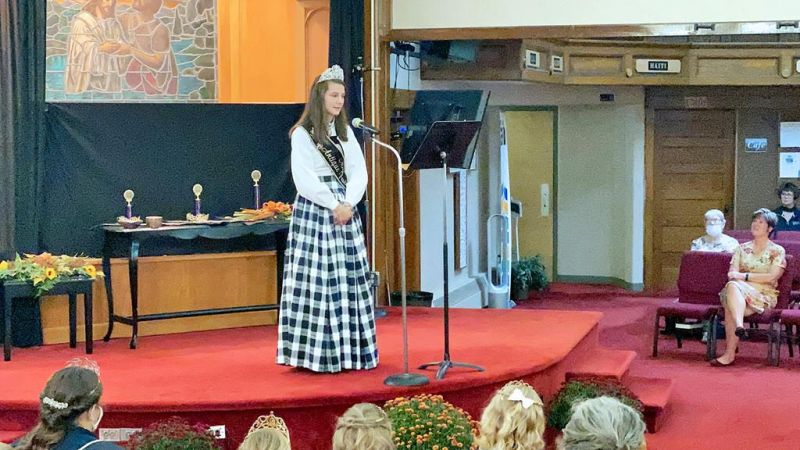 One thing this year's reigning queen and princess of the Holmes County Antique Festival can say about their time serving as royalty is they are the longest reigning queen and princess in the festival's 59-year history.
After Ashly Phillips won the Holmes County Antique Festival queen title and Gabriella Ascencio took home the princess tiara in 2019, both thought they would serve one year in the role, traveling around Ohio and representing their festival and the community of Holmes County at a variety of festivals and parades.
Little did they know that two years later they would be crowning new royalty. Due to the pandemic, their roles were greatly diminished in 2020, and with the cancellation of the Antique Festival last year, both were granted a second year to serve as things reopened in Ohio, the two returned to doing all the thing associated with serving as festival royalty.
On Sunday, Oct. 10, the pair performed their final service as Antique Festival royalty, riding in the grand parade through Millersburg in front of a big crowd. It was a fitting moment for the pair.
"I traveled for a few months in 2020 before COVID had really taken effect," Phillips said. "Then for about a year we did absolutely nothing because everything was closed or canceled."
Phillips said during that year, her senior year at West Holmes High School, she focused her attention on figuring out her career path rather than traveling around the state.
Eventually, she picked her queenly duties back up and had to balance those with her job as a Millersburg Police Department dispatcher. She said she is looking forward to the time when she can enter the police academy and work toward becoming a police officer.
Having won the princess title a decade earlier, Phillips is among a growing number of young women who have served as both princess and queen of the Antique Festival. Pam Akins and Rachel Day, who chair the princess and queen contests, said Phillips was excellent in serving as both princess and queen.
"I'm not sure Pam ever expected me to return to run as queen, let alone have to put up with me for three years instead of two," Phillips said, then adding event emcee and former queen Keri Rodhe into the mix. "I'm not sure I can ever thank you three ladies enough for supporting me. You have all made such an impact on my life."
Ascencio felt the same pain in having a year swept away from serving as royalty.
"I knew I was still princess, but it felt like I gave up my reign, even though I didn't," Ascencio said. "When my mom told me that we were finally going to return to traveling and going to festivals, I was like, 'Yea, finally.' It seemed like forever, but it was great to be able to get back to traveling and doing the things I had looked forward to doing for so long."
Ascencio said the culmination of her time serving was tremendous, noting her trip just a few miles down state Route 39 to Sugarcreek to participate in the Ohio Swiss Festival was a highlight, but for an unusual reason.
"I was in a truck with Ashly, and two other queens were in a truck behind us, and all of a sudden we hear all of this screaming," Ascencio said. "There was a little spider in their truck, and they were freaking out over it. It was pretty hilarious."
Ascencio said her time spent serving as princess was well worth the time spent, some of it waiting patiently. She said when she entered the princess contest two years ago, she was a quiet, shy kid, but in serving her duties, she learned how to become more outgoing, how to speak in front of people and it helped her confidence grow.
"I'm a much different person now than I was when I started," Ascencio said. "It's been a great experience."