Possibility on horizon for Holmes County tourism impact study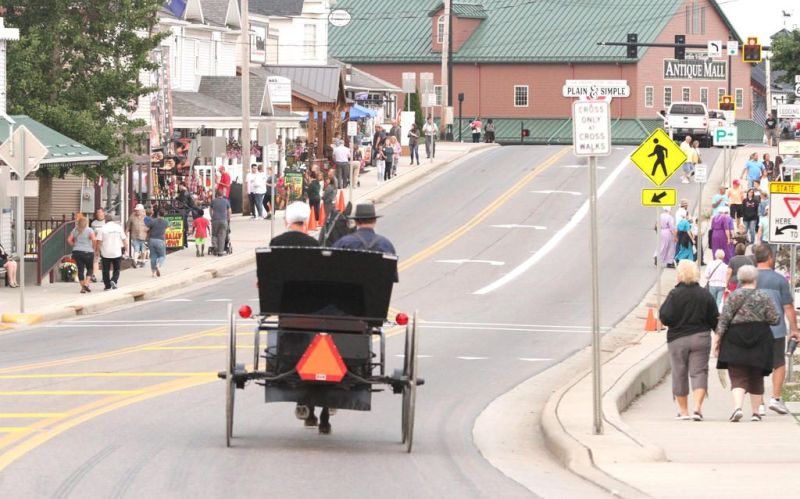 What drives tourism in Holmes County? How much does an overnight tourist spend compared to a day traveler?
These are important questions Holmes County Chamber of Commerce and Tourism executive director Tiffany Gerber hopes will be spelled out should the county team up with The College of Wooster to create an economic tourism impact study.
According to Gerber, over the years COW Master of Business Administration program has tackled a number of projects similar to this one. While it is still in the exploratory phase, she is excited about the research the county could attain from such a study, noting it would be incredibly valuable.
An economic impact study based on tourism in Holmes County would look at figuring out several key factors. First, what does tourism truly mean for the county?
"What is our tourism story and how many businesses are truly part of that equation," Gerber said. "It would be great to have that higher-level vision help us identify that."
Secondly, what is the pertinent information that needs to be tracked so the county can fully monetize and promote itself around the state and beyond? Gerber said they recognize they need to know the number of visitors who come to Holmes County on an annual basis. She said it has been many years since an exact number of visitors has been identified.
Finding that number helps the chamber identify how much is spent in the tourism industry, how much new money comes into the county and how long people are staying.
Gerber said the tourism bureau would feed the COW MBA students all of the pertinent metrics like bed-tax dollars, sales-tax information and a host of other data that will go into the project, and a model would be built off of that information.
"All of that is valuable because in the end tourism helps us generate jobs and drives the economy," Gerber said. "This type of study would really help us learn more about exactly how tourism is impacting our sales-tax dollars."
Gerber took the plan to the Holmes County commissioners, seeking their approval and possible funding.
"I think this will be great research and very valuable information for the county to have," Holmes County commissioner Rob Ault said.
Despite the project being in its infancy, the commissioners approved the project, committing $10,000 to it. Even though the funding is there, Gerber said they will not proceed until everything is certain, and that means possibly giving the money back to the county should the project not move forward.
"We are still in the negotiating phase," Gerber said. "The College of Wooster still needs to approve us as a project, and we are just in the very early stages. I just sent them our information for review."
According to Gerber, each county receives a state-funded impact plan, but she said Holmes County is such a unique county in how it operates that some of the research is not pertinent to where the chamber wants to take its study.
Gerber said the state of Ohio's county-by-county study is good in some ways, but the metrics don't necessarily work for Holmes County.
"Holmes County is unique in several ways," Gerber said. "Tourism not only makes up about half of our economic impact, (but also) our tourism product is different than in other areas when you consider the furniture makers, and quilters, and cottage industries. We don't fit into the model that works for other areas."
Brett Gallion, chamber board president, made the connection with The College of Wooster having known about this program.
Gerber said as of now the only fixed number the bureau can use to gage whether tourism is up or down is the bed-tax numbers. She said even that is not totally accurate because it discounts a great deal of spending that comes from visitors who come for the day and don't stay overnight.
"We only have half the story," Gerber said.
Those numbers would change dramatically if this research model was conducted.
"As a tourism bureau, this gives us a starting point, and we can base future numbers off of this in comparison and feel confident that they would be accurate," Gerber said. "We want to put a value on tourism. It's not that tourism is any more or less important than traditional manufacturing or anything else. It is because it is such a big part of the story we need to capture its value to our county."
Gerber said she hopes to find out soon if COW is willing to take on this project. It is currently in review with COW's MBA team, and it comes down to whether or not the committee there feels it can do justice to such a research plan.
Gerber also brought up a question as to whether the timing was right on designing such a program, coming off of such a unique and strange year that was unlike any other. She said they would have the option of digging back into 2019 numbers, sifting through 2020 or making the model and applying it to 2021.
"We are considering every option, so the time line is way up in the air right now," Gerber said. "Right now the ball is in their court. If they choose not to take this project on, then we have to take a step back and figure out where to go next. Do we use a professional company? That is a much bigger investment, but all of this would be invaluable to us as a county."
Gerber said Holmes County is unique in that it recognizes tourism as an economic indicator. She said the county is fortunate the commissioners, business owners and other decision-makers are well aware of the important role tourism plays in the county's economic outlook and development.