Preparedness Month helps deal with the 'what ifs'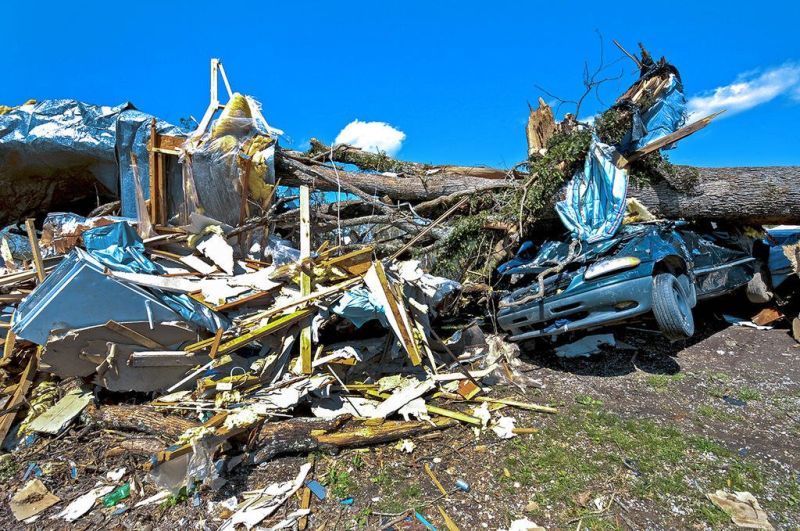 "It will never happen to me."
"No way will that ever take place in our community."
"We will deal with it when the situation arises."
All of these are comments that have come from people who thought they were safe. All can be lethal thoughts when disaster occurs. Being prepared can save lives, pain and suffering and ease angst, so there are plenty of reasons people should take action during National Preparedness Month this September.
Just like in sports, everybody should be trained to have a game plan, whether it is national security or a homeowner and family. In the event a disaster hits, every second will count. The lessons — and the safety plans created during National Preparedness Month — can help every household be better prepared for disaster should it occur.
Learning how to protect oneself is the smartest step anyone can take to help their community. The more people that are prepared, the faster your community can recover from the effects of any disaster.
Fear and panic increase the losses brought on by the disaster. Simple preparedness activities like floodproofing the house and securing items that can shake loose in the event of earthquakes can reduce the damage.
According to Jason Troyer, Holmes County Emergency Management Agency director, people can never be overprepared, and planning actions steps in disasters like floods, fire, tornadoes and even a family visiting a large city, or the county fair need talked about before they happen.
"Once something terrible occurs, it's too late to prepare," Troyer said. "I think one of the things we battle here in Holmes County is that mentality that it won't ever happen to me or to us. We've seen plenty of reminders lately that it can happen to us, so everyone needs to be prepared, because planning is essential."
Some disasters are easily identifiable, such as fires or tornadoes. Troyer said right now one of the biggest hidden struggles isn't with the physical act of a disaster but dealing with the aftermath. Troyer said with the cost of construction and material rising, many people don't realize that a homeowner policy written not long ago may not come close to covering the replacement cost of a home destroyed in a disaster.
"We have to be aware of what inflation and shortages in material is doing to replacement costs for our homes and buildings," Troyer said. "I encourage every homeowner to have a conversation with their insurance company about whether their current policy is up to today's standards in replacement costs.
"It can be devastating when a person's home is destroyed, and their policy hasn't changed in years. Suddenly, they can't replace the home they live in."
Troyer said that whether it is dealing with county disaster response teams or a family planning at home, one word makes all the difference, and that is communication.
"That's so key," Troyer said of communicating. "In a way, we have all of this incredible new technology that we think helps us communicate, but nothing can replace sitting face to face and talking through a plan. There's less chance of confusion, it promotes teamwork, and it is something that needs to takes place all the time to ensure plans are created and understood by everyone."
He said much like the county must get each part of its disaster response team on the same page, so too do families. "Whether it's the county or a family, getting together to discuss planning is critical because everyone at some point has to take ownership," Troyer said.
Troyer said one of the biggest dangers of homeowners is thinking "that will never happen to me." Then it does, and they aren't prepared.
Here are several focal points to help families approach preparedness:
Safe at home
Have a plan in place for household emergencies such as fire, gas leak, or any other situation which may require leaving your house abruptly.
Hold a family meeting every few months and discuss the plan. The plan should include where you will all meet after leaving the house, how to escape rooms other than through a door, to leave all belongings inside and never to go back into the home, even for pets, until emergency personnel give the all-clear. Practice the plan, which is especially important for parents with small children.
Minimum supplies
on hand
Fire extinguisher, with at least one in the kitchen. One in the garage is a good plan as well. Smoke and carbon monoxide detectors are a must and should be placed strategically in the home for maximum alert.
First aid kits can be lifesavers, or at the very least comfort providers. Homeowners are advised to at least have one in the home and one in the car, making sure all items in it are dry, stocked and not expired. In addition, make sure each includes items for large wounds, burns, stings and allergic reactions.
Winter's car cache
With fall nearing, winter will be here soon enough, and now is the time to properly assemble an emergency kit for each automobile. That kit includes bottled water, a blanket, a well-stocked first aid kit, emergency breakdown kit including flares, reflective triangles and jumper cables, a phone charging pack, a flashlight with extra batteries, duct tape and a collapsible shovel and kitty litter that can be utilized to get a vehicle out of icy situations.
Troyer said being prepared is a mindset and it takes effort and planning to be prepared for emergencies. He added that being prepared is both a physical and mental exercise, and in addition to preparing with the necessary plans and tools, one needs to also prepare mentally, whether it is dealing with an emergency four oneself or understanding what steps need to be taken when happening upon someone else's emergency.
"People need to take the time to be prepared and stay safe, because nobody knows when something might happen," Troyer said.