Preparing for fair is year round for Sheldon, family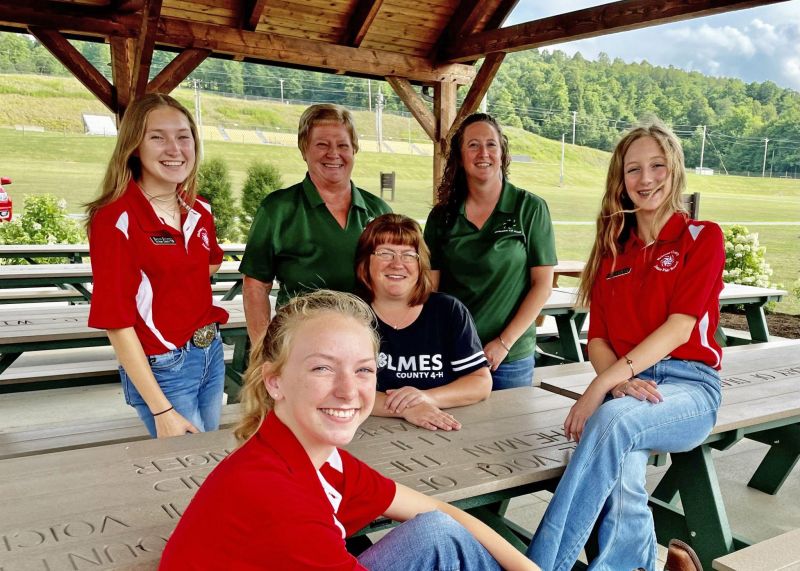 Even though Tara Sheldon and her family are on the grounds of Harvest Ridge for all six days of the Holmes County Fair, their times together are brief.
Often they gather in the event center's bleachers to watch a family member show, said Tara Sheldon, the fair's secretary. "Or we have a quick meal together. Then it's on to the next thing."
This year will be no different for a family whose service to the fair stretches back four decades.
Sheldon was elected as a fair director in 2010, and her dad, James "Skeeter" Martin, also served on the board in the 1980s and '90s. Benches outside the Shreiner Barn are in his memory.
When the gates open Aug. 8, Sheldon said she will pretty much live in the fair office. She handles all the fair contracts for vendors, exhibitors, concessionaires and campers. Her mom, Pat Martin, is office manager for Harvest Ridge.
Sheldon's husband Brent is an excavator and donates his time to prepare the grounds for grandstand shows. Daughter Jenna serves on the Holmes County Junior Fair board, and son Breck shows market hogs.
Sheldon's sister Erika Schuch is on the Holmes County 4-H Advisory Committee and coordinates the 4-H booths at the fair. Her husband Jason donates hauling equipment for moving jobs at the fair. Their daughters, Becca and Andi, are junior fair board members.
Last year Becca Schuch led the effort to start the Holmes County Fair Celebrity Showmanship, which the junior fair board is continuing this year.
All the children are members of Lakeville County Farmers 4-H Club and take livestock projects. Becca and Andi Schuch and Jenna Sheldon also are FFA members.
"It's really a whole family thing for the fair," Sheldon said. "As a kid, I spent a lot of time at the fair, and it gave me a lot of opportunities to grow and meet people."
Her daughter shows the same passion for being there.
"Growing up around the fair made me love where I was and everything about it," Jenna Sheldon said. Her favorite role on the junior fair board is announcing at the livestock shows.
She aspires to one day follow in her family's footsteps and serve on the senior fair board.
Preparing for the fair is year round. Tara Sheldon said she and her family spend long hours at Harvest Ridge prior to opening day. They also camp at the fair.
At the end of several busy weeks, they don't take much of a break. "The fair ends on Saturday, and on Sunday the signs come down and we clean up," Tara Sheldon said. "Then it's back to work on Monday."