ProVia produces a frozen cornucopia for Love INC effort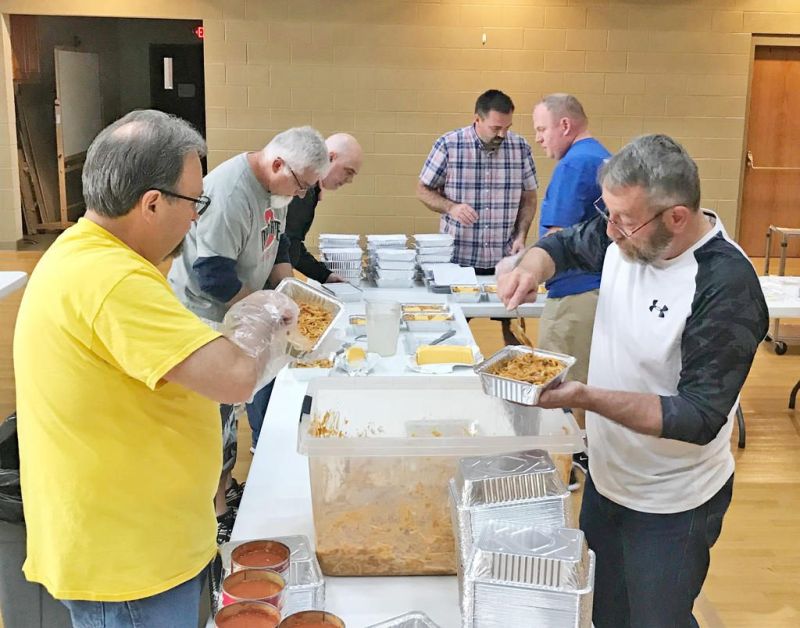 Love INC recently teamed up with ProVia to spark the new frozen meal program.
Love In the Name of Christ of Greater Holmes County has had high hopes of reaching out and creating further impacts on area families through the building of relationships with area businesses.
Recently they got a lift in their efforts when ProVia not only sponsored the advent of the new frozen meal plan in unity with several area churches, but also had their employees volunteer at Martins Creek Mennonite Church's life center to put together 1,200 frozen meals to get the area distribution churches off and running.
The event was part of an effort to help meet needs for parents who are struggling financially to put food on the table for their family.
Brian Miller, president and CEO of ProVia, said investing in the program was easy because their leadership team saw the bigger picture.
"What Love INC does is not only address the short-term problem of where a meal is going to come from on any given day, but they also address things like financial aid and developing relationships with families to create skills that help them get back into the work place. It isn't just a simple hand-out," Miller said.
Throughout the morning ProVia volunteers worked diligently on mixing ingredients and preparing the meals in tins. Fortunately they had invested in the leadership of Linda Schlabach, owner of Log Cabin Catering, who not only supplied her recipes, but also was on hand to help guide them through the process.
"I am having fun," Schlabach said, this time supervising and allowing someone else to prepare the food rather than herself. "As a business we love helping others, and we have seen the work Love INC is doing and were thrilled to be a part. It is exciting to see where this program grows from here."
Each of the meals — including yumazetti, beef and noodles, chicken supreme, and cheesy potatoes with ham — were made and packaged with enough servings to feed four people, meaning the outreach for the meals is close to 5,000 people.
Joe Klink, marketing director for ProVia, said creating service opportunities like this is extremely important to the company. The leadership team there has done some projects over the past years that have made quite an impact on many people.
"We always keep our eyes open for possible service projects, and this one was something we were excited about," Klink said. "Vicki talked about funding for the freezers, for the initial meals and labor, and we were able to help in each of those areas and agreed to sponsor it."
Not only did they do that, they also used their in-house production company to produce a how-to video for the freezer ministry that can be shared with churches and other ministry groups on what the freezer meal program is about and how they can get involved or even start their own.
"This isn't about giving us the credit," Klink said. "This is about the amazing work taking place at Love INC and serving in a manner that is pleasing to God and helpful to others."
Miller said the company's leadership team has an annual day of service and team-building. After hearing Vicki Conn speak at their symposium earlier this year, the leadership team felt led to take a roll in Love INC's effort to meet the needs of families in Holmes County who are dealing with tough times.
"They are doing such great work, and when Vicki shared her vision of starting a frozen meal program, we felt it was something we could help initiate," Miller said. "Our goal was to kick-start the program by creating the first meals that would go to local churches who can then distribute the meals."
Not only that, ProVia also purchased 10 stand-up freezers for participating churches that volunteered to be a part of the ministry. Those were purchased and installed from Millersburg Electric. Those 10 freezers were installed at seven churches including Ripley Church of Christ, Nashville United Methodist Church, Millersburg United Methodist Church, Killbuck United Methodist Church, Trinity Fellowship, Abundant Life Ministries and Martins Creek Mennonite Church.
Conn said Love INC will collaborate with each of the churches to make sure their freezers remain stocked and ready to feed the people.
"We have such great food pantries in our county," Conn said. "This program doesn't replace those; it adds another layer to the food ministry in our county. We hope that we can talk to families who use the freezer meal program about how to take the next step and use what they receive from area food pantries and create their own freezer meals, and that way it becomes a relational thing with the families."
Once done, the meals were loaded into a large traveling trailer freezer and stored until each of the participating churches came to Martins Creek Mennonite Church to pick up 120 meals, which they will now store in the freezers purchased and donated by ProVia. Whenever a family is in need of some quick meals to help them through tough times, the meals will be a true blessing.
This event ushers in what should be an ongoing frozen meal program for Love INC. Each church will now be encouraged to and taught how to prepare frozen meals in bulk. Conn said they will provide recipes for each of the four dishes created, or a church can come up with their own recipe that can be frozen.
"Each of the participating churches has pledged to purchase their additional containers and continue the program, and Love INC will always be available to help them should they have any questions," Conn said. "There may be churches out there who don't have a freezer but would like to help by providing a day of cooking for one of the churches that does have a freezer. That will help our area churches continue to replenish their meals."
Any church wishing to do so or any family desiring to take advantage of the frozen meal program can call the Love INC office at 330-473-6017.