Puppies are in spotlight for the Girl Scout Silver Award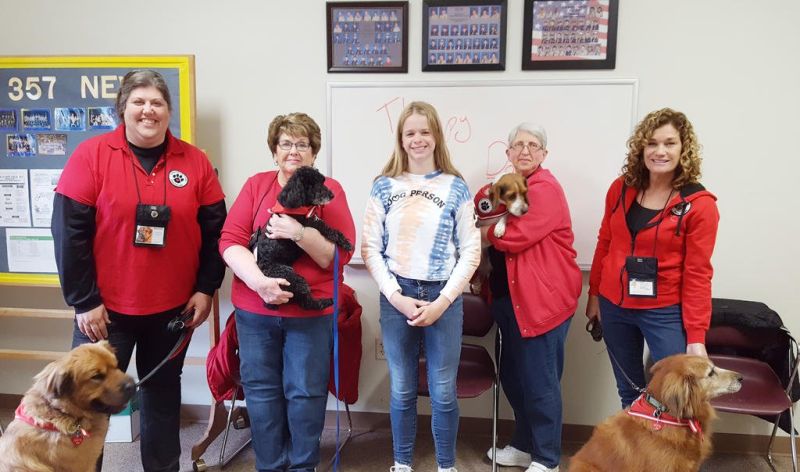 Part of working toward the awards one can achieve in Scouting involves creating community-based projects that benefit others. Choosing an award topic and then putting all of the details together to make it happen helps youth grow their leadership skills and develop a better sense of ownership in the projects they choose.
Local Scout Brenna Barbey is currently working toward her Silver Award for Girl Scouts. She has opted to bring more awareness to dog therapy, and she is trying to get more dogs and handlers in Holmes County, where there are only three right now including Carrie Elvey and her therapy dog Darwin, Rita Boyd and Bailey, and Annelle Mullet and Kona.
Barbey, a member of Girl Scout Troop 777 of Killbuck, has a family tradition of Scouting. She follows in the footsteps of her older brothers, Eric and Ben, who are both Eagle Scouts, and Brock, who is currently working on his Eagle Scout project.
"They've taught me a lot over the years," Barbey said of her brothers. "Scouting definitely runs in our family."
Barbey opted to explore the therapy dog route for her Silver Award because she felt there was a void in the county for therapy dogs and she wanted to help people realize a whole lot of good can come from these therapeutic animals.
"I thought it would be really interesting and important to do something with kids and dogs," Barbey said. "I decided to do a project with therapy dogs because they make such a big impact in the community and play an important role. I wanted to create some opportunities for people around here to learn more about therapy dogs because there is a real need for more of them."
Barbey said she has had a dog her whole life, and that made this endeavor very close to her heart.
"I think it is a very valuable thing to do because I have watched people with therapy dogs and seen the impact they can make," Barbey said. "The dogs really do help people calm down and feel better."
The Silver Award is for grade 6-8 students and the highest award for Cadets. The Scouting girls seeking their Silver Award are required to find something in their communities they feel needs improving and take the steps to make the change sustainable.
Barbey chose to delve into the animal kingdom to promote the utilization of therapy dogs in Holmes County. She has created several opportunities for those interested in dog therapy.
On May 17 at Holmes County Library's Reading Under the Stars, there will be therapy dogs available for kids to read to. On May 25 from 1-3 p.m. at the Millersburg Dog Park beside the library, there will be a Therapy Dog Awareness Day, where people can come and get more information on being a therapy dog handler. Barbey will have homemade dog cookies and handkerchiefs for dogs who sign up for training.
On June 29 from 1-3 p.m., Barbey hopes to again secure the dog park for her event, where she will host another awareness and training program. A member of Alliance of Therapy Dogs will be available for testing purposes on that day for those interested in bringing in a dog they feel would make a good therapy dog.
"It's a chance for people to bring in their dog to see if it would be a good fit to be a therapy dog," Barbey said. "Plus it is fun to give the younger kids a chance to read to therapy dogs, which is just a lot of fun."
Barbey, who is one of the older girls in Girl Scout Troop 777, likes providing leadership among her younger peers.
While Barbey will at some point zero in on an idea for her Gold Award, that will have to take a back seat as she shores up all of the details to complete her therapy dog days, which will earn her Silver Award.
Anyone interested in learning more about therapy dogs may do so by visiting www.caringtherapycanines.com and Alliance of Therapy Dogs at www.therapydogs.com.
For more information people can call Boyd, who is the Holmes County coordinator for Caring Therapy Canines, at 330-893-2402. Any young girl interested in joining Girl Scout Troop 777 may call April Parks at 330-473-3822.