Pvt. Emmet Schwartz returns to New Philadelphia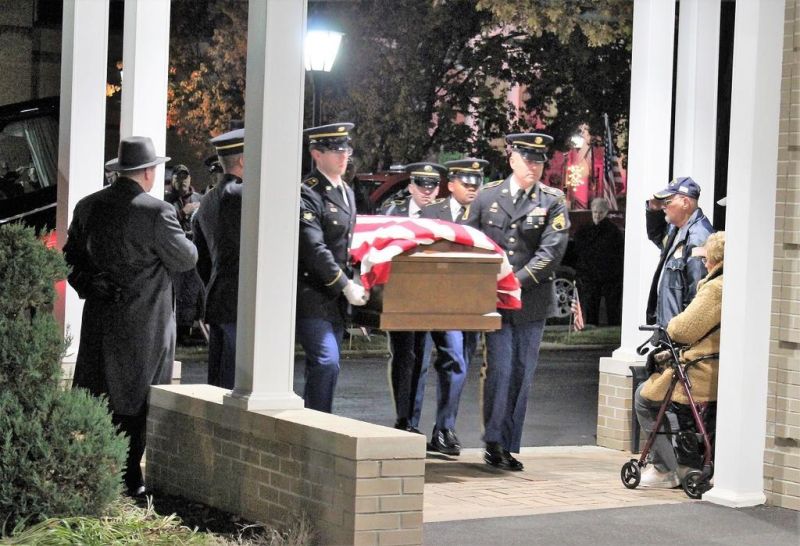 The return of a true American hero began on Friday, Nov. 19. The hour was late, and the temperature dropped below freezing. Still, hundreds of people gathered along the route of the motorcade carrying the remains of Pvt. Emmet Schwartz on the last leg of his journey from burial in an obscure gravesite in Europe to his hometown of New Philadelphia.
The motorcade left New Philadelphia earlier in the evening and traveled to the Cleveland Hopkins International Airport to meet the plane that carried Schwartz's remains to Ohio. They then traveled down I-77 to the New Philadelphia exit.
Jeffrey Latimer of the Atwood Lake area wanted to bring his two daughters, Megan, 16, and Sarah, 12, to Geib Funeral Home on Friday night to show their support for the return of Schwartz. They all carried an American flag, and the girls had made signs reading "Welcome Home" and "Thank you for your service."
"My father had a Purple Heart for World War II, and this gentleman served in World War II. We came to show our respect," Jeffrey Latimer said.
As the motorcade reached the funeral home, the hearse circled around the building, and the casket was carried in the front door of the funeral home by the U.S. Army Military Funeral Honors Team while the members of the New Philadelphia VFW Post 1445 Honor Guard stood at attention.
"Everybody has been wonderful," said Elizabeth "Sue" Schwartz, daughter-in-law of Schwartz. "When we came in Friday night, we were just ecstatic about how the people stood with hands over heart, flags waving. It was super great for being that late at night, and then when we got to the funeral home, there was all those people there. It was just unbelievable, very heartwarming. It just goes to show Americans still love their country."
Until he was officially declared recovered in July 2021, it was doubtful Schwartz would ever return to his hometown.
Schwartz was 24 at the time of his death. He was killed in action while serving in the vicinity of Brandenberg, North Rhine-Westphalia, Germany on or around Dec. 27, 1944.
Schwartz was considered missing in action until December 1951 when he was declared nonrecoverable.
His unidentified remains were buried in Rhone American Cemetery in France but were formally identified through DNA testing in July 2021.
It was the lifetime goal of Sue Schwartz's husband, the late James Schwartz, to bring his father's remains home.
"Jim always thought (his father) was a POW. He had that tattooed on his arm — the POW emblem. He just had faith that it was going to happen. He was a very devoted Catholic, and he prayed a lot that his dad would be found," Sue Schwartz said. "The process started in 2017. Jim gave DNA, and the two cousins gave DNA, and that was the start of it. In the meantime Jim passed away. The girls' DNA matched, and Jim's did not match, but he was starting with cancer, and we think that was the reason."
Emmet Schwartz was born in New Philadelphia on July 29, 1920, a son of the late Solomon and Eva Wolfe Schwartz of New Philadelphia. He was a member of the Broadway United Methodist Church at New Philadelphia.
Emmet Schwartz was a 1939 graduate of New Philadelphia High School and was employed at Hercules Motors in Canton. He was inducted into the U.S. Army on May 2, 1944, and was transferred to Company F, 2nd Battalion, 121st Infantry Regiment, 8th Infantry Division on Dec. 11, 1944.
At the time of Emmet Schwartz's death, he was survived by his parents, wife Louise and son James Schwartz. He also was survived by four brothers, George, Phillip, Edward and Leroy Schwartz, and two sisters, Josephine Hostetler and Anna Glaser. Since his passing in 1944, his parents, brothers, sisters, son, grandson Mark Schwartz and several cousins are now deceased.
Today, Emmet Schwartz is survived by Elizabeth "Sue" Schwartz, grandson Michael Schwartz, and many nieces and nephews.
A public memorial service that was scheduled to be held outside on Sunday, Nov. 21 was moved to nearby Emmanuel Lutheran Church due to inclement weather.
Pastor Harley Wheeler of Broadway United Methodist Church in New Philadelphia conducted the service. Presentations were given by New Philadelphia Mayor Joel Day, commissioner Al Landis, State Rep. Brett Hillyer, and representatives of Congressman Bill Johnson, Congressman Bob Gibbs and Sen. Sherrod Brown.
Steve Chenevey, commander of the Carl C. Stoller VFW Post 1445 in New Philadelphia, announced an additional honor for Schwartz at the memorial service.
"It's an honor to be here to honor Pvt. Schwartz by naming our new annex after Pvt. Schwartz," Chenevey said. "Our annex contains a food bank for all veterans of Tuscarawas County, and though Emmet is gone, with his name being associated with our food bank, his name will carry on with us as long as we're able to do our jobs for the veterans of Tuscarawas County."
Also speaking were Ralph Reynolds, POW/MIA chairman for VFW of Ohio, and Fred Lavery, Ohio VFW past commander.
Reynolds read a list of Schwartz's many awards. They included a Bronze Star, Purple Heart, Combat Infantry Badge, Marksmanship Badge, World War II Victory Medal, American Campaign Medal, Army Presidential Unit Citation, Army Good Conduct Medal, European-African-Middle Eastern Campaign Medal, and prisoner of war/missing in action.
"This is a very special day to remember, honor and give thanks to our veterans who have made the ultimate sacrifice for our freedom and liberties and to never forget our missing service men and service women," Reynolds said. "We have the utmost respect and gratitude to the family; this has been an enormous sacrifice for the family, and to be here today to join in such a great day to receive and fulfill the family's wish to have their loved one home and buried on home soil — 77 years, it's been a long time waiting. But neither the family, community nor the veterans have forgotten Pvt. Emmet W. Schwartz. We are here today to honor and to place an American hero, Pvt. Emmet W. Schwartz, at his final resting place — home."
Reynolds is confident Schwartz's legacy will not stop.
"His legacy will continue as we educate and teach our youth in the community about the POW/MIA and continue our demand for accountability for our missing, to bring them home," Reynolds said. "I'd like to thank the many people responsible for bringing home a true American hero that gave his life for his beliefs and his country and reunited a family's faith in our people to always give support and to do what's right."
The New Philadelphia High School band ensemble participated by playing "Semper Fidelis" and "America the Beautiful" at the service.
After the service the public was invited to pay their respects to Schwartz at the courthouse rotunda. Schwartz was then laid to rest later in the week on the grave of his late son, James Schwartz, in a private family service.