Quality describes field of Holmes County Fair royalty hopefuls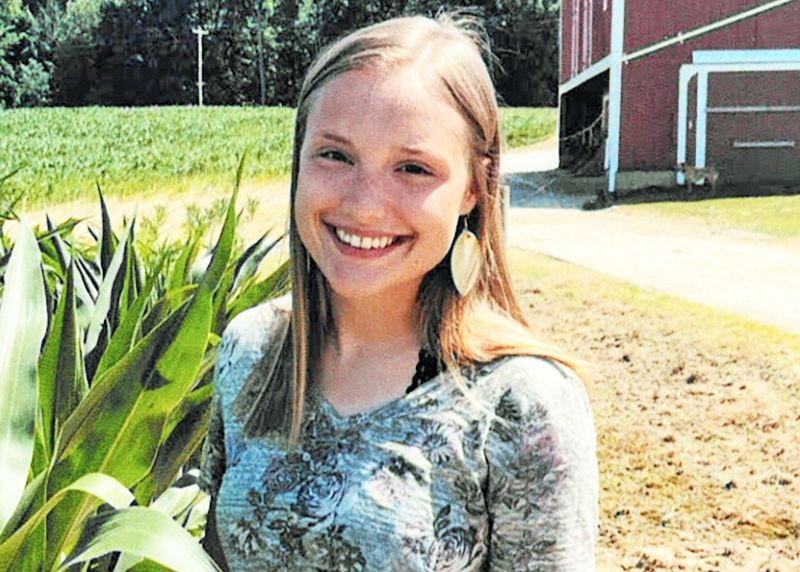 Every year there is a logjam of talented, dedicated, knowledgeable and worthy teens participating in the annual Holmes County Junior Fair queen and king contest, and this year is no different.
Eight area teens will vie to join the 2020-21 royal court and represent Holmes County and its fair as they travel the state visiting other fairs and festivities.
A.J. Jones, 16, a senior at West Holmes High School, said he feels he would make a good choice for Holmes County Fair king for four reasons including being a role model for younger kids; his vast involvement in 4-H, school and the fair; his willingness to accept new challenges; and his willingness to be responsible.
"My generation gets a bad reputation for being lazy, rude and cocky," Jones said. "I want to prove to adults that I'm not like every other teenager."
Ashley Tate,16, is a junior at WHHS. She said she wants to serve her community and fair because she likes the idea of promoting a fair that cares more about people than it does prosperity. She said gaining new insight and experiences is inviting and believes she could give a lot back to the community.
"I didn't realize how important the fair was to me until I heard that it might not even happen this year," Tate said. "That was a scary thought: my favorite week of the year, the week I and so many others worked so hard for, just gone. It is reassuring to know that no matter what happens we will pull through it as a community."
Bree Houin, 16, is a senior at WHHS. She said in chess the queen is the most powerful piece on the board and believes her ability to adapt to any given situation and move in any direction simulates the chess queen.
"Being fair queen is not about me and what I have accomplished," Houin said. "The fair queen's responsibility is to identify the potential in other pieces on the board and help those pieces reach their full potential. I want to use this opportunity to create memories and experiences for others, not myself."
Brant Burgett, 17, is a senior at WHHS. He said being a leader in his Nashville Jolly Farmers group and his various experiences in 4-H in the show barn have more than prepared him to excel in the role as fair king.
"I believe 4-H and the other organizations could be beneficial to so many kids in so many ways," Burgett said. "Stepping out of my comfort zone and being a public speaker comes natural to me as my 4-H advisors and parents have pushed me to do this my whole life. I want to lead by example because that is what my parents, advisors and grandparents did for me."
Lauren Jones, 16, is a senior at WHHS. She expressed an interest in becoming queen because she relishes the chance to serve as a role model and have a positive impact on younger kids. She said 4-H has helped her overcome her shyness.
"When I first began 4-H, junior fair board and as a camper at Camp Ohio, I was timid and shy," Jones said. "I started to do things outside of my comfort zone. I hope to inspire others to go out of their comfort zone just like I did."
Megan Jones, 16, is a senior at WHHS. She believes her strong leadership skills translate into her being a great fair queen and her dedication to 4-H has prepared her in that capacity.
"I am a strong leader, and being in 4-H and junior fair board (for eight years and four years, respectively) has allowed me to step out of my comfort zone and not be afraid to do things I never thought I would imagine I would do."
Natalie Schlegel, 18, will attend Kent State University this fall. Schlegel said she has adored the fair for many years, where she has honed her leadership skills through her 4-H experience. She said her positive outlook on life is a key trait for a queen.
"Throughout my life I have learned to face challenges with a positive and caring outlook in life," Schlegel said. "With a positive outlook, I am able to see the good and the bad, but I also know how to overcome the bad and make the good even better."
Samantha Kendall, 17, is a senior at WHHS. She wants to inspire younger girls to pick up the 4-H mantle and gain the courage to someday become a queen themselves. She said she would relish the opportunity to make an impact and become heavily involved in promoting her county and fair.
"I am honored to have a chance of becoming more involved and growing, not only as a 4-H member, but as a member of the community," Kendall said. "I know I will be proud of myself for trying and not giving up."
The annual queen and king contest will take place Monday, Aug. 10 on the Stage on the Green near the entrance of the Holmes County Fair, and regardless of who is tabbed as this year's royalty, another strong group ensures the fair and county will be well represented.