Queen retiring, but CitC noodles in good hands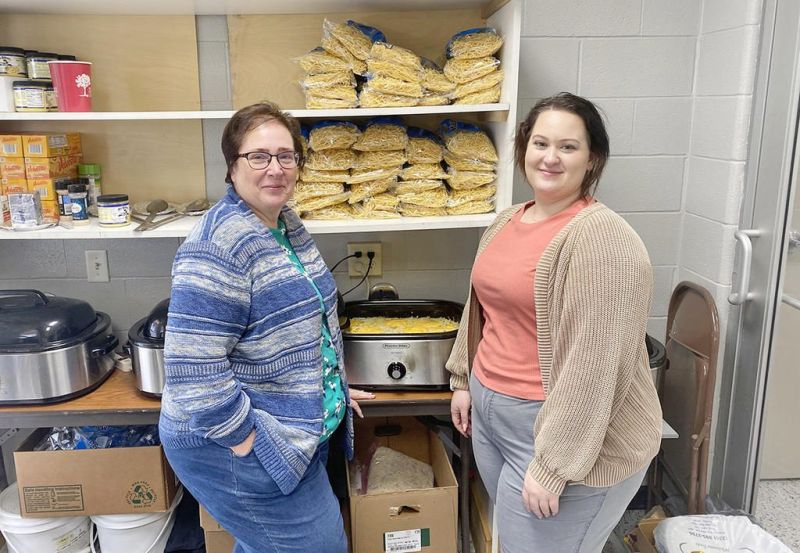 The Classic in the Country was built around some foundational building blocks. Great high school girls basketball, outstanding food and music, and the theme of unity and equality have rung true at CitC since its inception two decades ago.
While noodles weren't among the basic core group, the years have seen this one specific food take on a life of its own, to the point where visitors to the showcase that takes place each year over Martin Luther King, Jr. Weekend circle that date because of Naomi Troyer's special concoction of noodles, chicken and about a dozen other secret ingredients that have been the talk of the town around the Reese Center.
When Troyer recently announced she would step down from her role as queen of the noodles at CitC after holding that title for 18 years, some were concerned this staple of the Classic might go away.
Never fear, for the queen is about to pass along the family tradition and secret recipe to a very trusted source, the princess of noodles, her daughter Morgan Troyer.
"I am always amazed as to why the noodles became such a big deal, but they did kind of take on a life of their own, and now many people make a point of buying noodles, a lot of them," Naomi Troyer said.
Troyer said her life is heading in a new direction, and passing the torch to her daughter has been a topic of discussion for several years, so it seemed an appropriate time to make the move official.
"It was time to move on," Troyer said. "I have other interests in the community now, and I need to pour myself into that 100%. I don't want to do both, so I felt Morgan was ready to take on the leading role, so I feel very comfortable making the move now. She's always said, 'Mom, whenever you're ready to step down, let me know. I'll be ready.' That time is now, and she is ready."
Morgan Troyer is no stranger to the process. As a young girl, she and her brother Thomas would peddle popcorn and noodles inside the Reese Center during games. One might say they were Door Dash before Door Dash was a thing.
"I've been around the noodles for a long time and watched Mom and the way she has done things," Morgan Troyer said. "I know how much work goes into making them, and I will do everything I can to make sure the tradition goes on as usual."
Naomi Troyer said she will return next year to help her daughter walk through the process, but it will be Morgan's show. However, a little advice from the queen never hurts, and Morgan is more than happy to receive more firsthand training.
"She knows a lot of the ins and outs, but there are a few subtle things that need to be ironed out," Naomi Troyer said. "She will find her way through this just as I did when I first started."
In addition to watching her mom firsthand, Morgan Troyer said there also is the Classic in the Country Noodle Bible, with all the ingredients, the process and the game plan on preparation.
"There's a lot of experience in there," Morgan Troyer said. "Growing up, I never really paid attention to how the noodles were made. There's a lot of preparation to do to get ready."
That process has been closely monitored by her the past couple of years.
It's not unusual to see many people milling around the Reese Center foyer area with a bowl of piping hot noodles in the traditional Styrofoam bowl.
For one person who makes the annual trek to CitC, the noodles are a close second to him doing what he was called to do, which is referee one of the games.
Each year referee Joe Hewitt brings four giant tin pans and a giant appetite for the queen's noodles. Once he performs his duties on the floor, where he is always a fan favorite, his next stop is the noodle room, where he picks up a delicacy worth its weight in gold, as far as he's concerned.
"He's got people waiting on him when he gets home," Naomi Troyer said. "They will eat an entire pan before they go to bed, and usually about 10:30 or 11 o' clock that night, my phone will ping, and it's Joe showing me a picture of an empty pan."
Every year the team goes through about 250 bags of Inn Made Noodles over the three-day event. In addition, they use Gerber Chicken because they like to stay local as much as possible when purchasing ingredients.
Kathy and Jim Mullet will continue to work with the Troyers.
Naomi Troyer said she couldn't have done this for 18 years without the support of her family, her friends, her team, the community and the athletic boosters.
It has been an epic run, one that will stay all in the family, much to the joy of noodle fans everywhere.