Rabbi brings a widely diverse background to College of Wooster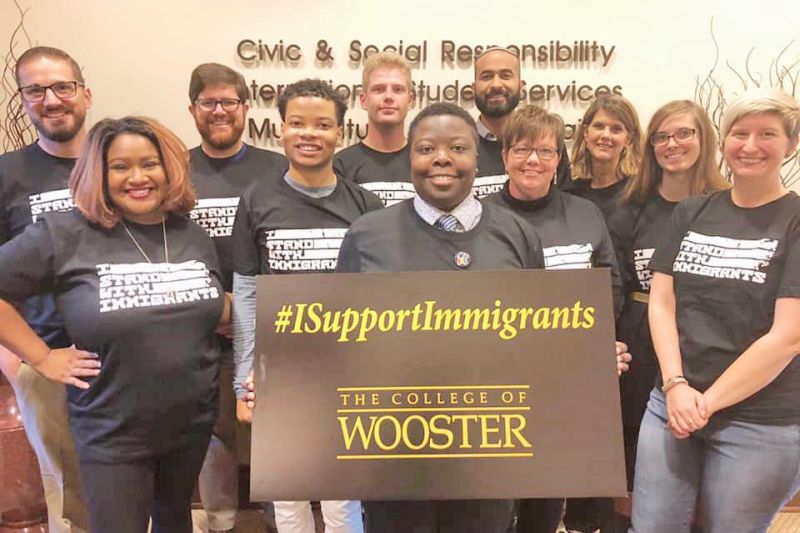 Rabbi Dario Hunter is the new coordinator for Jewish life and intersectional programming at the College of Wooster's Center for Diversity and Inclusion.
The path that brought Hunter to this position is as unexpected and diverse as Hunter.
Originally from New Jersey, Hunter converted to Judaism in 2005. His mother is Christian, and his father is Muslim.
He currently commutes daily to Wooster from his home in Youngstown, where he holds a part-time pulpit position.
Hunter moved to Ohio several years ago, looking for affordable housing, and settled in Youngstown. It was serendipitous when a part-time pulpit position became available at the congregation where he was already a member.
Hunter did not intend to lead a congregation when he became ordained. "As happens with callings," Hunter said, "events lead you naturally to opportunities for service."
Hunter is active in Youngstown, where he serves on the school board and volunteers at the Ohio State Penitentiary. He also participates with a nondenominational group for the purpose of dealing with community issues.
"We put aside barriers for the sake of improving the larger community," Hunter said.
Additionally Hunter is busy meeting and working with a wide variety of local faith communities in Wooster.
In both communities, environmental concerns are often at the forefront of Hunter's efforts. "Judaism speaks to my sense of what's right in terms of protecting and safeguarding the environment," he said. "Our planet's life is so much larger than ourselves. We are part of the cycle of life that our earth experiences. Our religious perspective and our sense of humanity demand that we safeguard and protect that."
Before becoming a rabbi, Hunter's work took him in a variety of directions. He practiced environmental law in Israel and worked as a high school English teacher in a Detroit Yeshiva, an orthodox Jewish school. He also taught college-level paralegal studies.
With all this experience and knowledge, Hunter pursued Rabbinical studies. "I decided I wanted an opportunity to expand my knowledge. I didn't see it as something I would pursue to become a pulpit rabbi," Hunter said.
Hunter's legal training comes in to play. "I feel a law background has a lot of potential social uses. As a school board member, it enhances my ability to understand legal issues that affect education and helps me to advocate for my people on those issues."
Hunter said he enjoys working with students and helping them explore their sense of Jewishness. "I have fond memories myself of exploring Jewish life on a college campus. I enjoy the vibrancy of young people coming together to build community and explore their Judaism."
Part of his role is to make connections with the larger Wooster community. "We all have a common cause: the spiritual upliftment of the community," Hunter said. "We all share an interest in spiritual peace for all of Wooster."
Hunter's whole title is coordinator for Jewish life and intersectional programming.
According to Hunter, intersectionality is a product of society itself. It is coming to terms with many identities, some of which may not have been acknowledged by society in the past such as being openly gay or trans.
"Life involves the intersection of various identities that may affect your experience," Hunter said. "Those identities shape your experience in ways others cannot understand. Particularly if you are a young person and figuring out life in general, it's important to provide service and to craft programming both for those students and to unpack those issues for the larger campus community."
Hunter's personal and work history, perspective, and life experience offer an opportunity to connect with students across a wide variety of backgrounds and needs.
"I honestly don't know too many people with a background like mine," he said. "I've gone from a religious identity as Muslim to becoming Jewish and also having the different identities I posses: black, Persian, Jewish and openly gay."
Hunter described his desire to be there for students who are in a position of identifying and coming to appreciate and fully express their own identity.
"My hope and goal is to be there, to be a comfort for them as they get a larger sense of self and of their own identity, to give them this sense that all of the things that make one unique are not just OK but wonderful."
He described a diverse college population of Jewish students. "We will have students here," Hunter said, "who are Jews of color, Jewish and openly gay, or perhaps Jewish and trans."
Hunter explained how this diversity involves an "intersection of various identities." Hunter is uniquely poised to offer students, the greater college community and the general population of Wooster his expertise, experience and passion for navigating differences, respecting the environment and helping young people to embrace every part of themselves.
In Hunter's words, to offer guidance, comfort and understanding and to help them "navigate being every bit of who they are and who they are meant to be."