Rails-to-Trails of Wayne County's founder takes ride to raise money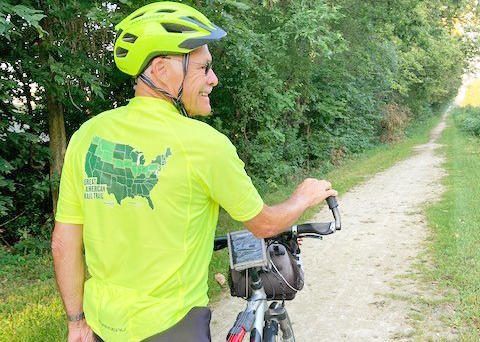 Keith Workman, one of the founders of Rails-to-Trails of Wayne County, recently rode 786 miles in 19 days from Crown Point, Indiana through parts of Illinois and Iowa and ended in Merriman, Nebraska.
In doing so, Workman achieved his goal of riding finished trail portions of the Great American Rail Trail in those three states. Workman planned the adventure not only to fulfill his dream of riding as much of the GART as possible, but also as a fundraiser for RTWC to celebrate its 25-year anniversary. Supporters donated over $4,000 to the organization to celebrate the adventure and the anniversary.
In 1995 three people (Workman, Jerry Felland and Sandra Rowe) held a meeting to share ideas about building a rail-trail in Wayne County, thereby launching the start of Rails-to-Trails of Wayne County. Their initial dream was to build the Sippo Valley Trail from Dalton to Stark County. Progress was made, and the trail opened in 2002. Their commitment continued, and in 2011 the County Line Trail from Rittman to Creston became a reality. In 2019 the first 2.4 miles of the Heartland Trail were dedicated.
The Rails-to-Trails Conservancy, a national nonprofit organization "dedicated to creating a nationwide network of trails from former rail lines and connecting corridors to build healthier places for healthier people," announced plans in 2019 to connect trails from Washington State to Washington, D.C. The Great American Rail Trail is not yet complete, but 52% is open for use. Workman, now 78 years old, had already ridden the finished trails in states east of Iowa. After several months of planning, he and his wife, Carol, headed to Crown Point with their camper in tow.
As if COVID-19 wasn't enough of a deterrent to the trip, a rare storm called a derecho had blown through the Midwest from Nebraska across Iowa and Illinois. This created many challenges with trees down and power outages, leaving many trails blocked and campsites with no electricity. The Workmans had as little contact with people as possible due to COVID-19 cautions.
With a truck and camper full of food and drinks, Carol Workman packed a lunch for Keith every day, and all other meals were in the camper. Carol Workman was the SAG driver and covered many of the details, helping Keith accomplish his daily goals.
One of the highlights of the ride was the well-known Nebraska Cowboy Trail from Norfolk to Merriman. The Cowboy Trail has signs posted, "No Motor Vehicles, No Horses on Trail Surface and No Cattle."
"Well, what do I see coming down the trail but a pickup truck followed by a herd of cattle and three cowboys on horses," Workman said. "Now they and I both know who is and who isn't allowed on the trail. After I passed the truck, I just stopped and waited. I was not going to get off the trail. And the cows were not wanting to pass a strange creature in bright-colored clothes. The cowboys worked them around, and they left the trail and went around me. When I got near the cowboys, one of them said, 'Welcome to the Cowboy Trail.' I replied, 'You never know what you are going to see.' Trying to make light of the situation, one of them said, 'It's a beautiful morning.' I agreed that it was."
Workman encountered all kinds of trail surfaces and environments while traveling through small towns and wide-open spaces. Of when the adventure was complete, he said, "Despite the fact I missed parts of some of the trails due to downed trees and missing bridges, it has been an awesome ride. I enjoyed the challenge. In 2021 I hope, Lord willing, to be able to do the Montana, Idaho and Washington trails."
To read Workman's daily reports, visit the RTWC website at www.waynecountytrails.org.