Rainbow of Hope Benefit Auction keeps kids at its core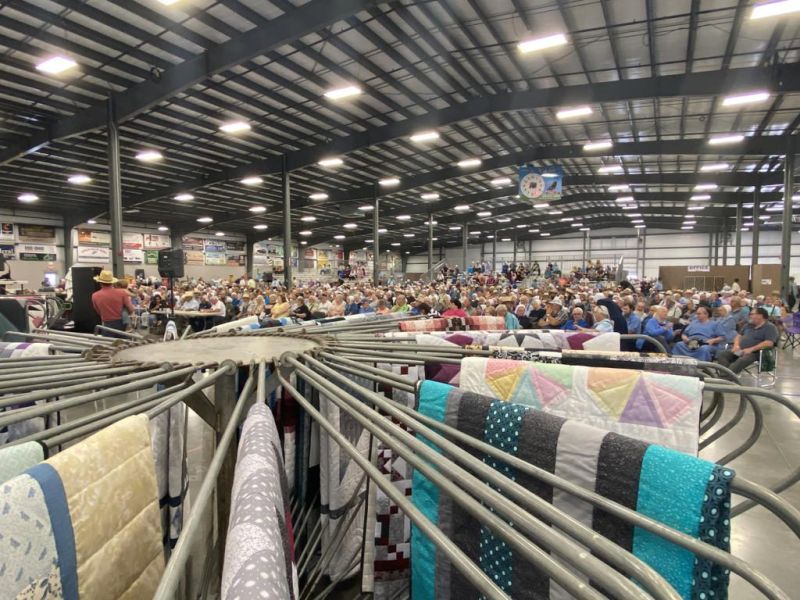 With Noah and his family afloat in the ark amid a 40-day trek that saw them usher countless animals on the ark, God blessed them with a rainbow as a way of giving them hope.
Rainbow of Hope has taken on that mantle, but their hope is for children who are suffering through physical battles and the mountain of financial burden their families face.
The 36th annual Rainbow of Hope Benefit Auction will take place July 22-23 at the Mt. Hope Auction Barn in Mt. Hope, and with some big auctions, plenty of food and all kinds of activities to keep people entertained, the event continues to be a blessing to many families with children who are struggling with physical ailments.
This annual nonprofit benefit auction is to provide financial assistance to area residents who are unable to pay the health costs resulting from catastrophic illnesses affecting infants and children.
Raymond Miller, a Rainbow of Hope board member, said this year's annual event is similar to last year's event, which brought in a record $850,000. He said while the board and volunteers get everything together, it is a total community investment that makes it possible.
"We are humbled and blessed to be a part of a community that is caring and compassionate," Miller said. "People in this community love helping one another. Many here feel blessed, and they want to share that blessing with those less fortunate who have children facing hardships."
Miller said Rainbow of Hope doesn't serve as the primary care funder for families but instead is able to assist in financing some of the expenses that often fall through the cracks and are not covered by insurance. Items like transportation expenses to treatments, remodeling houses, better benefit handicap accessibility and other areas of support have benefited many families.
Last year RoH was able to support 22 different families with children facing hardships.
"Rainbow of Hope is the organization that provides the finances, but it is definitely this community that continues to give to make it possible," Miller said.
The two-day affair will kick off Friday, July 22 at 4 p.m. with a men's and women's volleyball tournament. In addition, there will be plenty of food available including a fish fry and chicken barbecue. There also will be a bake sale with lots of homemade goodies available.
At 5 p.m. the local amateur auctioneer contest will begin, featuring a host of hopefuls who will take the microphone and try to impress a panel of judges with their cadence and command on stage as they rattle of auction items. There also will be a basketball shooting contest in the Dean Beachy Arena that has grown in popularity.
At 7 p.m. there will be a presentation from Sam Stoltzfus, one of the 17 members who were kidnapped in Haiti this past year. Stoltzfus will share insights and give people a glimpse of what the team there representing Christian Aid Ministries went through in surviving the harrowing ordeal.
"It's a unique story that many people may know about but might not know the true story of what they went through, so Sam should provide unique insight into what took place," Miller said.
The auction will begin in earnest Saturday, July 23, beginning with a full-course breakfast at 6 a.m. Food on both days is available for carryout, and Miller said people can stop in and eat or pick up food and take it with them.
The auction will begin promptly at 8:30 a.m., with the furniture and quilt auction starting at 9 a.m. Featured on the docket this year will be a bedroom suite, flat wall hutch, rolltop desk, desks, coffee and end tables, a cedar chest, a corner cupboard, a dry sink, clocks and numerous other donated wood furniture items. There will be approximately 70 handcrafted large quilts in an array of colors and patterns. In addition, there will be wall hangings, crib quilts and afghans.
Also beginning at 9 a.m. will be the miscellaneous item auction, highlighted by plenty of crafts, garden tools and other items. The livestock auction will take center stage at 10 a.m., where dairy heifers, sheep and more will be available for purchase. The highlights auction will take place at noon, where a Studebaker Jr. wagon, Rainbow of Hope commemorative items and specialty items will be on display to purchase.
At 1 p.m. the buggies and horses auction will begin, with plenty of horses, ponies, carts and other equine-related items on the block.
Lawn furniture will be the focal point of the auction starting at 1 p.m., with porch swings, gliders, a storage barn, a gazebo and more ready to sell.
"Everything we receive is donated, and the auction has a little something for everyone, from the large shop building, to a huge amount of wooden furniture and bedroom and dining room sets, to smaller items," Miller said. "Our goal is to find styles and furniture that is in demand and popular now."
While the Rainbow of Hope Benefit Auction may take place only two days of each year, the organization continues reaching out to the community and to children 365 days a year.
For more information on the auction, to request an application or to send donations, write Rainbow of Hope Foundation, P.O. Box 8, Mt. Hope, OH 44660, or call 330-674-5062.
Rainbow of Hope Foundation is a nonprofit organization with its sole purpose to provide funds for needy families that have incurred medical expenses for their children. RoH serves families in Holmes, Coshocton, Wayne and Tuscarawas counties and since 1988 has provided numerous families with funds to help pay children's medical bills.
Whether it is an accident, illness or ongoing care for a handicapped child, the RoH board considers each application with seriousness.
"We encourage families in the area with outstanding medical bills to apply," Miller said.
Applications are available by contacting the Rainbow of Hope office. All information about applicants is kept confidential.