Reign of Pain mountain bike race returns to Tuscazoar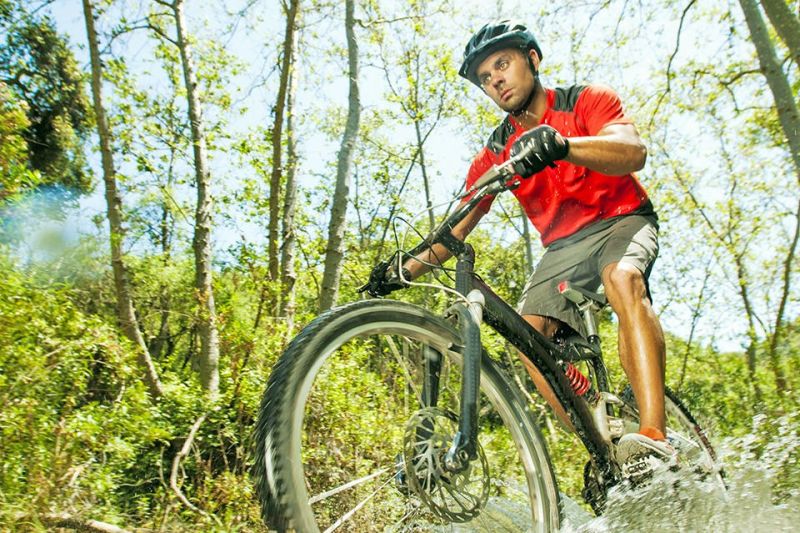 The Reign of Pain Six Hour Mountain Bike Race at Camp Tuscazoar, offered by 331 Racing of Northern Ohio, is scheduled for Saturday, April 27 from 9 a.m. to 4 p.m.
The race's title need not be intimidating, however. Race organizer Kenny Kocarek said everyone who enjoys mountain bike trail riding is welcome to participate, whether they complete the full six-hour run or not.
"It really is a laid-back, fun atmosphere," Kocarek said. "We want people to have a good time and not feel put off or intimidated."
To that end, the group has been refining the race and trails since the beginning. The first race was held about five years ago, and this is the third year in a row for the event.
"At first the trails followed walking trails and were very steep and difficult," Kocarek said. "There are still plenty of climbs because the race trail takes full advantage of the hills of the Tuscarawas Valley, but it's more friendly now, especially for beginners. We took feedback from that first race, took a year off and improved it, though we kept the race name."
The course, which was about 4 miles long in the beginning, is closer to 10 miles now, which is the result of the efforts of the 311 Racing group, which sponsors four races around Ohio, each with the goal of raising funds for the hosting trails and giving back to the community.
"We're able to provide some funds for Camp Tuscazoar, and some of the money helps to fund trail improvements," Kocarek said.
The trails are created and maintained using professionally drafted plans and procedures to ensure sustainability and minimize erosion while also providing a ride for racers.
Kocarek said the 2018 race brought out about 65 riders who were limited to teams of two. This will change for 2019.
"We had a number of people ask about doing solo rides, and we were surprised at that. So we offered solo rides for the first time this year and have been surprised again at the number of single riders we've had sign up," Kocarek said.
Race preregistration is $45 per rider, which rises to $65 on the day of the race. Riders can sign up for the Reign of Pain at www.331racing.com. All riders will receive bags of goodies and a voucher for a free pint at the post-race gathering spot, Lockport Brewery in Bolivar.
Each person to complete the race will get a sampling of Camp Tuscazoar maple syrup. The day's winner will be the biker who completes the most trail laps within the six-hour race window. Race categories are divided into co-ed teams, female teams, male teams, male solo riders and female solo riders.
Though the number of riders is unlimited, "we're really not about getting hundreds of people out to the race," Kocarek said. "331 Racing is based in Northern Ohio, and the races it sponsors are all geared toward raising funds for trails and the communities in which they're based."
According to the 331 Racing website, "A love of wild and beautiful places demands participation in the fight to not only save them, but to develop them responsibly by donating our time and services to grassroots projects through the responsible disbursement of funds and volunteerism to programs and charitable organizations."
Camp Tuscazoar is at 6066 Boy Scout Road NE in Dover.
More information on the race is at the 331 Racing page on Facebook.