Ritz organized Lutheran churches in Wayne County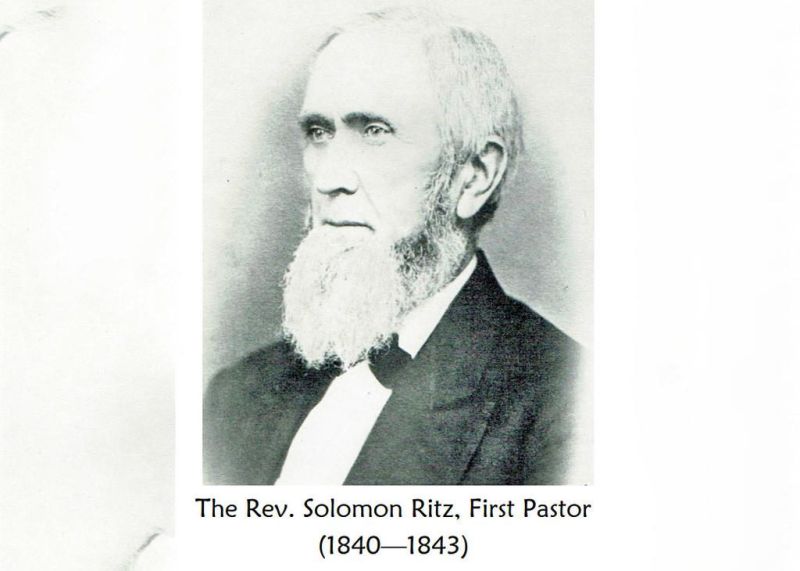 Solomon Ritz was born Feb. 17, 1809, to farming parents, Henry and Mary Wise-Ritz. The next time he shows up in historical records, he was a student at the Lutheran Theological Seminary in Gettysburg, Pennsylvania between 1834 and 1835.
After Ritz graduated from the seminary, he was assigned to Wayne County. There he began organizing congregations. In Wayne County he organized congregations in Smithville, East Union Township, Canaan Township and Wooster. In 1840 he organized the English Evangelical Lutheran Church in Wooster.
It took a while to get this started because, at the time, there was some pushback from the locals. Several stories demonstrate this point.
In 1840 Wooster was, according to one report in the Lutheran Observer, "a great place for drinking, dancing, etcetera."
"I preached earnestly and faithfully against all such folly and wickedness," Ritz said. "This made the devil's children mad, and they sought a way to hurt my feelings."
Ritz received an invitation to a ball that would include the unholy activities. His impulse was to go and do his duty, but his superiors advised against it. Instead, Ritz wrote the group a letter explaining why he could not attend and went on to extend to them an invitation to attend his church service the following Sunday.
"The next Sunday they came in a company to my church, and it was crowded full of the gay and feathery girls and their gallants," Ritz wrote later. "It was a fashionable congregation for once. It had been intimated to me that they would come, and I prepared to preach on the text, 'God forbid that I should glory, save in the cross of our Lord Jesus Christ.' I prayed for a humble, tender heart, that I might not say a hard or unbecoming word that day. The Lord answered my prayer, and I preached with great liberty and power, and I had the satisfaction of seeing some tears in the eyes of the dancers."
There was only one naysayer in the crowd that day. "The young lady who had accompanied him and sat by his side showed him by her looks that his conduct was not satisfactory to her and he desisted," Ritz wrote. "On the way out of the church, she told him that he must learn how to behave, if he wished to accompany her hereafter."
Ritz reported that within the following year, nearly all of those in attendance that Sunday had joined his or one of the other churches in Wooster.
A humorous account of a meeting in Ritz's church came when he was preaching from Isaiah — "For the bed is shorter than that a man can stretch himself on it: and the covering narrower than that he can wrap himself in it." Before he began his sermon, Ritz had noticed a "respectable-looking dog" lying in front of the alter railing, panting and looking up at him.
Ritz wrote, "As he was quiet, I concluded that he might remain. Perhaps he would behave as well as some of the other folks in that neighborhood."
Ritz began his sermon and explained the analogy of the short bed and short cover to personal salvation. Observant of the crowd's level of attention, Ritz would later recall the dog was among his best hearers. "For while some slept and others misbehaved, he watched me closely, and occasionally when I became loud and violent in my gestures, he responded with a slight bark."
One of the deacons was getting annoyed by the dog, and despite Ritz's objections, he was determined to oust the animal. As the deacon approached the dog, it growled and snarled, seemingly cognizant of what was about to happen.
"He savagely grabbed the poor creature by the tail and ran, dragging him backward toward the door, the dog scratching for dear life and trying to hold onto the floor with his claws, but the deacon had the advantage and the dog had to go out," Ritz recalled later. "Poor dog. I wished the uncompromising old deacon no harm, but like many others in the house, I did wish the dog would bite him just a little.
"I stood there looking on, and seeing how the congregation enjoyed it, all the time wondering how I could collect my thoughts and get the attention of the people back again to the sermon. I had noticed a little Irishman in the congregation who was very attentive to the sermon and who paid very little attention to the fuss with the dog, but looked serious all the time. I concluded he was a better man than I, for I was so full of laugh that I could scarcely commence again."
Ritz regained his composure and sought to get the attention of those present. The funny incident had caused him to lose track of where he was in the sermon. The Irishman offered, "If you please sir, ye lift off jist where the bed was too short."
"This started the congregation again worse than ever," Ritz said, "and I was in the same fix with them. But I finally got command of myself and went on with the second division, but made it very short and closed up the meeting."
Ritz resigned his post at Wooster's Lutheran church in March of 1843 and immediately started organizing the Evangelical Lutheran Church in Dover.
Ritz died on Jan. 7, 1874, in Osnaburg, Stark County, where he had been working at the Evangelical Lutheran Church there. The funeral and burial took place in Osnaburg. Several months later his son, C.S. Ritz, had his remains removed to Wooster Cemetery. He is buried there with his two wives.