Rockets end winter sports season with strong showing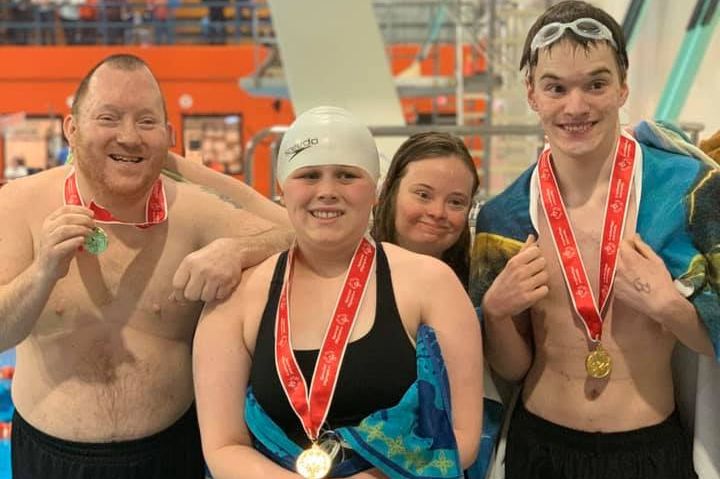 Starting this year, Special Olympics Ohio announced the formation of Indoor Winter Games, designed to bring together the sports of basketball including team and skills, competitive cheerleading, and swimming.
The Tuscarawas County Rockets had 24 athletes and unified partners participate in two sports at the inaugural event held on the campus of Bowling Green State University in Bowling Green.
For its first official year as a sanctioned sport, the Rockets took a competitive cheer squad of nine athletes to Winter Games, where they earned a bronze medal in the largest division in the competition, which included seven teams.
The cheer squad has been practicing parts of their routine since September and used the last three weeks leading up to Winter Games to pull all the elements together. Their routine included two dance passes, three cheers and multiple formations.
"It was great," cheer squad captain Rebekah Rothel said. "I think we did awesome. I really enjoy being a cheerleader."
Other members of the squad include Dolly Alsept, Kaylee Arthurs, Heather Baker, Lauren Cox, Taylor Harding, Lexi Lacheta, Samantha Mastroine and Emma Ward. Coaches for the squad are Kat Arthurs and Rhonda Vanfossen.
Rockets swim team members, under the coaching of Stacy Harlan, secured medals in crowded divisions. Athletes competed in individual events and traditional relays over the course of two days, which includes all Special Olympians and unified, teams made up of two Special Olympians with two unified partners.
The swim team started practicing at the Tuscarawas County YMCA in September for the state event held in February for the first time.
"This is amazing. I am so proud of my Rockets family," athlete-leader Chelsea Lefler said. "You guys rocked. I am so proud of myself and my team and my partners and my coach."
For the first time since 2017, the Rockets did not have a basketball team participating in the state tournament, but the Rockets Maroon and Silver teams had successful seasons.
They hosted their first-ever Basketball Invite at Strasburg High School last December with 13 teams from across the Northeast Region playing a combination of new and familiar opponents.
Rockets Maroon played Stark Public in the opening round of regional tournaments and fell short of advancing. Rockets Silver played Franklin County Comets Black in the opening round and beat them by 18 points but fell just short of advancing when they played Lorain Murray Ridge in the regional finals.
Kayla Hostetler, Chelsea Lefler and Shane York competed at the regional level for Skills Basketball at Lorain County Community College. All three athletes were awarded silver medals.
While the competitive cheer and swim seasons have concluded, the Rockets basketball teams still have some games to play this season. The community is encouraged to attend and support the athletes.
On March 7 players from all over Ohio will join members of the Rockets for the fourth annual Multi-County Friendship Game. Due to the overwhelming response of players, two games will be played at 2 p.m. and 4 p.m. at Strasburg High School.
There is no admission cost. A concession stand and 50/50 raffle will be available to support the athletes.
The annual Spirit of Tuscarawas County and Community Partnership Awards will be distributed with the inaugural Above and Beyond Award. Tuscarawas Valley Local Schools, Advocates for Success LLC, Domino's Pizza, Larry and Patty Russell, and Strasburg-Franklin Local Schools will be honored.
Questions can be directed to Richelle at tuscarawascountyspecialolympic@gmail.com.
On March 26 the Rockets will partner with the Tuscarawas County Board of Developmental Disabilities for their annual Rockets and Community Basketball Game at Tuscarawas Central Catholic as part of Developmental Disabilities Awareness Month with activities planned by the TuscBDD at 6 p.m. Admission is free, and crowd participation is encouraged.
On March 27 the Rockets will partner with Matt McPherson and the Strasburg Fire Department for their second annual Responders vs. Rockets Basketball Game at 7 p.m. at Strasburg High School. Admission is free, but those attending will have the opportunity to make donations at the game. There will be a concession stand and 50/50 raffle.
The Rockets basketball teams are coached by Patrick Dillon and Ashley Metzcar.