Runners compete in Amish Country Half Marathon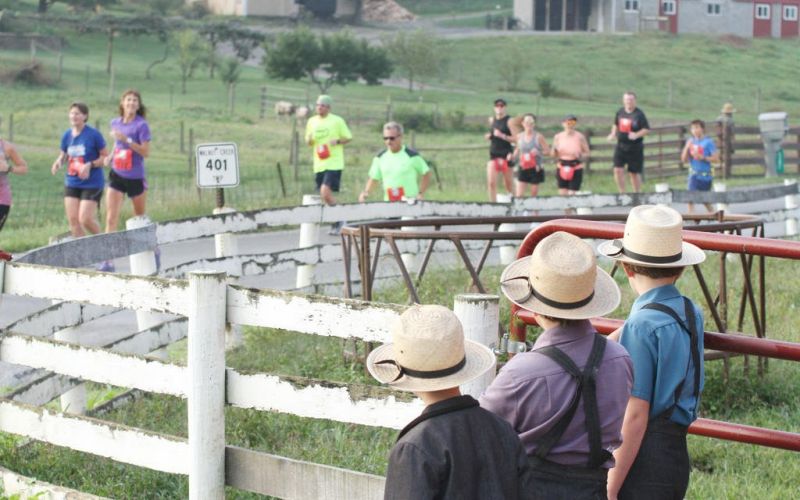 As Doug Polen and his band crooned and countless runners in the 5k and 10k portion of the annual Amish Country Half Marathon began to gear up for the start of their races, event coordinator Brent Miller had to pause and consider how blessed they were to be a part of a competition that was instrumental in sharing the message of adoption.
While there are countless races in which runners can compete, few of them are as focused on sharing the message this Berlin event presents.
The half-marathon runners kicked off the Saturday, Sept. 7 event at 7:30 a.m., and on Friday, Sept. 6 at Grace Community Church in Berlin, a nearly packed house listened to members from 58:12 Global, the adoption agency Pure Gift of God and Ryan Hall, a U.S. Olympian and author of the book, "Run the Race You're In."
The number of runners that competed on Saturday didn't have to battle rain all day like they did last year, and Miller said he couldn't help but feel blessed by the entire weekend with the many people who turned out to the Friday night function.
"It's been a perfect weekend," Miller said. "We created that Friday evening event to try to build more advocacy into the race and also to help build the foundation of why we do the race. The more we can do that, the more we can connect the idea that the Amish Country Half is not just a scenic race, but a race with true purpose. As much as all of us love running, one of our primary hopes is that we are able to share the adoption message with people. The fact that the Friday night event was so full was really meaningful to me."
With Kendra Kauffman of 4:12 Collective and Curt Kaufman of Pure Gift of God talking about their mission, the mainliner for the evening was Hall, Olympian and American half-marathon record-holder.
"It was super-fun being out here in Amish Country," said Hall, who brought his daughter Jasmine with him to run in the 5k portion of the event. "We go to a lot of different races, but they do a lot here to make it extra special. All of those little touches, like having the buggy lead the runners out, are what make this event a unique and neat thing that you aren't going to experience anywhere else."
As for the Friday night portion, Hall and his wife Sara have adopted four children of their own. He said the crowd was very engaged, many of them toting his book, all of which he signed.
"I think this event really speaks to the heart of people here," Hall said. "I can feel the support of the community for not just the race, but for the organizations that were represented. I have not been to very many races that have dedicated themselves to a cause like this one does, and it had a real faith component to the weekend. Most races you sign up or sign your kids up to run, and it goes to them. Knowing that your check isn't going to make money for someone but it is going to help people makes it so much better. I'll sign my kids up for that every time."
As for the race, it again highlighted the natural beauty of Amish Country's hills as runners started out on a fairly chilly morning in the dew and a slight fog and eventually came home under beautiful skies.
There was a freewill offering taken during the Friday evening program, and the race funds were split between Pure Gift of God and the East Holmes Fire and EMS, which volunteers each year to make sure the race runs smoothly and all of the runners are safe.