Ryan Troyer is the bloke with a joke — and a book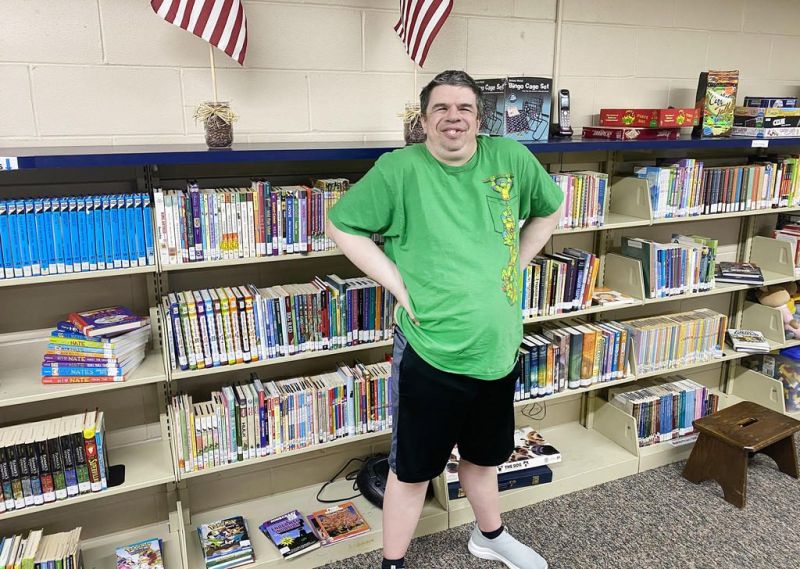 Why did the chicken cross the road?
Because it wanted to get a peek at author Ryan Troyer's latest collection of jokes that he now has in book form.
A longtime staple and entertainer at the Holmes County Board of Developmental Disabilities, as well as a volunteer at the Killbuck Library, Troyer is a whiz at spouting out jokes and one-liners that have amused both clients and staff alike. Troyer's ability to rattle off jokes has made him a fan favorite, and he recently published his inaugural joke book, "Ryan's Joke Book: Walk a Mile in My Shoes," which saw him host signings at Snow Side Restaurant in Holmesville and the Killbuck Library.
"I like to tell jokes," Troyer said. "I like to make people laugh and smile."
"Ryan's Joke Book: Walk a Mile in My Shoes" includes jokes accompanied by photographs of his family because both are near and dear to Troyer's heart. It also is sprinkled with recipes involving chocolate, one of Troyer's favorite treats.
His initial foray into making a book was a simple one on construction paper. This book went far and above that endeavor, being crafted into a true book that qualifies as his first official book.
"I've been telling jokes as long as I can remember," Troyer said. "It makes me happy making other people happy."
Teresa Weigand, Troyer's service provider, was with him at the Killbuck Library, where they volunteer. She said his effort to create a book was inspired by his mother Kathy Smith, along with the encouragement of many friends and staff members at the HCBDD.
Having spent so much time with Troyer, Weigand said his ability to touch people's lives through humor is infectious.
"He loves that he can bring joy and laughs to people's lives through his jokes," Weigand said. "He's a special person who is always thinking of other people before his own needs and obstacles."
Asked if he has a favorite joke, Troyer said he has so many favorites it is difficult to pick out one personal favorite. He did say he is very good at hearing and remembering jokes, which allows him to collect many to repeat later to friends, family and anyone who needs a quick pick-me-up.
He did quickly come up with a recent favorite, that being "What kind of cookies do birds bake? Chocolate chirp."
His book is filled with many knee-slappers like that, but the book not only reveals his heart to bring laughter into other people's lives, but also it reveals a man who has made lightening the burden on others a priority in life while facing daily burdens himself.
And if one of his jokes doesn't make someone break into laughter, his infectious laugh certainly will.
"He loves life, and he loves to laugh," Weigand said.
Troyer admits he has faced plenty of obstacles throughout his life, noting his faith is a big part of dealing with those challenges. He hasn't allowed that to interfere with his effort to bring joy to others through his jokes and his attitude.
Troyer, who doesn't care for loud noises or crowds, prefers to tell his jokes to people one on one or in small settings, where he can light up a room with a joke and a laugh.
He said while a second book isn't in progress, he has been thinking about making a book of inspirational sayings or short stories.
"Ryan's Joke Book: Walk a Mile in My Shoes" is available for purchase for an $8 donation. The books are available at Snowside Restaurant on West Front Street.