Sam Hitchcock retires from Park Place Teen Center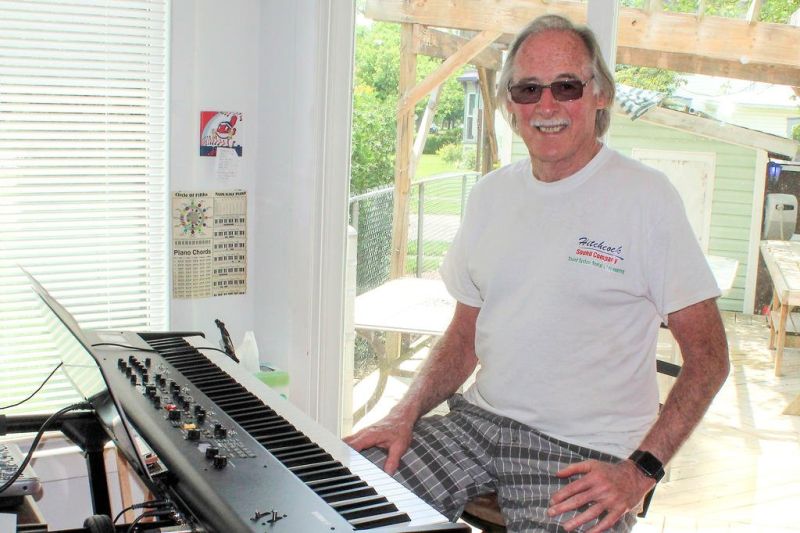 Sam Hitchcock of New Philadelphia can't go anywhere in his home town that he doesn't see someone he knows from the Park Place Teen Center at Tuscora Park. The original director at the center recently retired from the post on May 24, a place where he positively influenced the lives of young people and made many friends.
"It's the second time in my life I felt I've left home," Hitchcock said of leaving the job he's held for the past 20 years. "My goal was to be there long enough for the kids of the kids to become members, and that has happened."
Hitchcock is proud of the many members that after joining the service or completing college went on to lead productive lives. "So many kids still keep in contact with me; Facebook makes it easy," he said.
The friendships are what Hitchcock considers his biggest accomplishment from his years at the center. "I had a foster daughter there. Travis Green came in with a middle school field trip," he said.
Hitchcock later hired Green to work in his sound business. "I gave him the manuals to learn from, and now I learn from him. He has become a second son to me," he said.
The teen center was funded by the late Max Miller of Miller Studios, who truly cared about area youth. "Max didn't worry about costs; he always said 'do it right,'" Hitchcock said, recalling the time he went to Miller about the need to add a stage to the teen center. "I would get a conservative estimate and then one with all the bells and whistles. He always went for the one with the bells and whistles and just wrote a check."
Miller set up an endowment fund for the center, which helps offset its operational costs. Hitchcock later added Oldies Nights concerts to raise donations and give adults who enjoy the Sunday evening Summer Showcase concerts an opportunity to hear music during the colder months. Teen center members also sell refreshments at the Summer Showcase concerts.
Miller also was adamant the dues to the teen center never be more than $12. If a teen couldn't afford a membership, Miller said to give them one.
When the center was originally organized, it was for high school freshmen through seniors. Members joined from a total of 10 different school districts.
"Then we found when sophomores started driving, they didn't come in anymore," Hitchcock said.
In the meantime they received many requests by the parents of middle school students, asking if their children could join. The center currently admits members grade 6-12. "Now the majority of kids attending are middle school students," Hitchcock said.
Hitchcock listened to the kids and what they wanted when others thought the teen center should have a structured program. "We surveyed the kids, and most kids just wanted a place to hang out. They told me they had enough structure at school," he said. "It became a safe place for kids to hang out."
When the center opened at 3 p.m., many students came in directly from school. It was a convenience for single parents who wanted a safe place for their children to stay until they were off work.
The teen center provides a place to study, games, a pool table, computers and inexpensive food to its members. The favorite activity was the Saturday night dances. "Once Steve Kelly got involved, that's when the dances really took off," Hitchcock said. "We would have 160 kids there on a Saturday night."
Open mic night was another favorite.
Hitchcock tried to make the center special for the members. He bought fancy glasses and concocted a variety of ice-cream drinks. They had a Strawberry Cooler, an orange-flavored Carousel Cooler, and once when algae became a problem at the park's pond, a lemon-lime drink called Pond Scum was popular. By far the favorite drink was a raspberry-flavored drink called the Pink Panther.
Hitchcock's experience as a police officer and as a musician helped him at the teen center. "As a retired detective, I was already tuned in to what some kids would pull," he said.
Once a young man denied using an illegal drug when it was clear that he had. "I said to him, 'You are talking to the wrong guy,'" Hitchcock said.
As a musician, his contacts and knowledge helped him schedule bands for both the Summer Showcase series and at the teen center.
"We were bringing band shows in, Christian rock bands. Some of these bands you couldn't even touch now," Hitchcock said.
Hitchcock would set up his sound equipment so bands would only have to bring their instruments. "They enjoyed doing it for the kids, and they could sell their merchandise. I would often buy merchandise for the kids who didn't have money," he said.
Hitchcock will miss many of the fun activities with the members, especially the Halloween party when the center was decorated as a graveyard complete with foggers and spotlights.
On trick-or-treat night, a teen center member would escort an older trick-or-treater to the stage, where Dracula's coffin was located. The member would knock on the coffin's lid. Another teen center volunteer would rise up to say good evening and give them candy. Younger trick-or-treaters were given their treats outside the center.
Having recently celebrated the "three quarters of a century" mark, Hitchcock is looking forward to spending more time on his hobbies including playing the keyboard, riding his Harley Davidson motorcycle and driving his '66 Mustang convertible.
Hitchcock calls his work at the teen center a "labor of love."
"It was a great experience; I don't regret it at all," he said.