Save & Serve keeps helping people during COVID-19 scare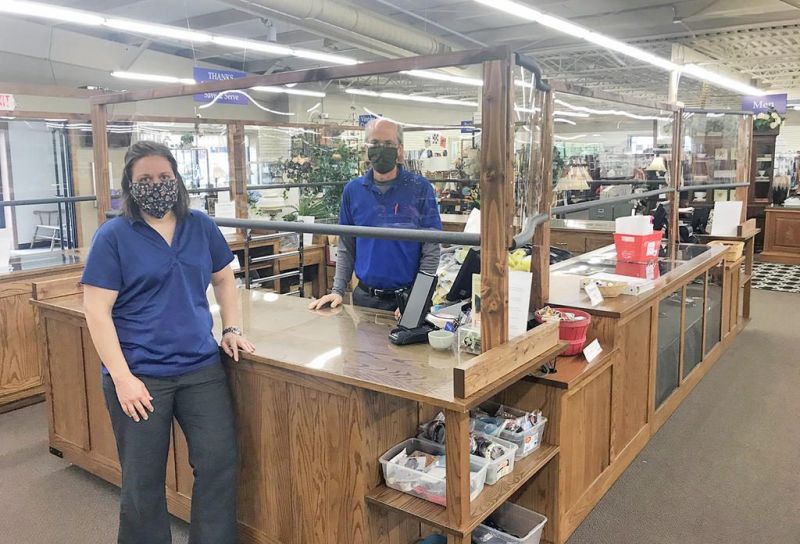 Close to home or far away, COVID-19 has not been able to derail Save & Serve Thrift Shop's ability to help meet the needs of people.
Save & Serve's mission is to help those in need, and that mission stayed the course even when the store closed its doors to the pandemic. While Save & Serve was able to use reserve funds to stay on target for its donation to MCC for the month of April, it worked in collaboration with MCC to stay closer to home to share its donations during May.
For the first four days the thrift store will reopen between Tuesday, May 26 and Friday, May 29, and it will share half of its proceeds each day to a handful of local community-based organizations.
Tuesday, May 26 will see donations being equally distributed to a trio of local food pantries including Love Center Food Pantry, The Pantry at the Church of God and Glenmont Food Pantry.
On Wednesday, May 27 half of the proceeds will go to Love INC and the Salvation Army.
On Thursday, May 28 half of the proceeds will be given to Little Lambs Childcare LLC.
The final day of local giving on Friday, May 29 will see a donation being made to the Darb Snyder Holmes County Senior Center.
Save & Serve general manager Eric Raber said reaching out locally is something the store board believes is every bit as important as touching people's lives globally.
"We feel it is important, especially right now, to support all of those basic-needs types of industries in our communities," Raber said. "Food pantries, those supporting those dealing with utility assistance, supporting those who are allowed to provide childcare during the pandemic and our distressed seniors who may be put in a vulnerable position, it is critical to support all of those people. MCC really encourages local giving, and in responding to meeting a local need, we aren't going against the wishes of MCC. They are actually encouraging it."
While the possibility of losing funding on both the global and local fronts may have been avoided, one overlooked part of Save & Serve's ability to make a difference in people's lives is those who rely on the store as shoppers.
Raber said many people have talked to their staff about how shopping there has allowed them to invest much-needed funds in other areas of their lives.
With their doors being closed, that aspect has not been available to those shoppers over the past many weeks.
"We don't know peoples' specific stories or needs when they come in to shop. We just know that we want to be here for them, and many people don't recognize that as a significant way of serving the community," Raber said. "Every day we are open, people coming in and shopping are meeting some kind of specific need. Shopping and saving here for necessities may allow someone to pay an electric bill for the month or to be able to stay at home with their children. That often gets overlooked. Not all of our shoppers see that as a gift to the community, but I feel like that is one of our most significant gifts in easing the financial burden on families."
The S&S board has not taken that lightly in keeping the doors closed. However, as the state begins opening up, the store is taking major steps to ensure health and safety issues are met including having all patrons and volunteers wear masks for the time being.
The organization has taken steps to create a safer shopping and volunteer environment. New safety glass has been constructed around the check-out counter. It is adding separate entry and exit doors into and out of the store, and there will be plenty of cleaning and disinfecting taking place each day.
Raber said perhaps one of the biggest undertakings has been updating the restrooms, where they have gone totally touch-free.
"That was probably our biggest project," Raber said. "We have gone to great lengths to follow every protocol set forth by government recommendations."
Save & Serve began accepting donations on May 20, and since then it has been busy preparing to reopen its doors with some new improvements, focusing on safety and health of patrons and volunteers.
After being closed on Memorial Day, May 25, Save & Serve will begin accepting donations again on Tuesday, May 26 from noon to 4:30 p.m. The limited donation hours are put in place to allow time for each day's donations to be properly quarantined for up to three days, as well as for the staff to be available in training volunteers in the new sanitizing practices.
"This is not our normal way of handling donations. However, our number-one priority is to make sure Save & Serve is a safe environment for our volunteers, customers, staff and donors," Raber said. "When people are donating your items, our drive-through volunteers will be available to assist them."
Raber said the practice of quarantining items will be re-evaluated as time goes on, but for now they will side with safety.
Raber said there will be a 60-person limit of visitors allowed in the store at any one time to allow social distancing.
What these early days of reopening will bring is anyone's guess, but the team of managers are preparing for big things in the early going.
Soft goods manager Jenny Hofstetter has done much of the organizational work in preparing the store's reopening. She said scheduling the return of volunteers and the preparation of welcoming patrons is an undertaking. With many people stashing their donations until they could bring items in, what they expect to see in one or two weeks, in terms of donations, could be a mountain of items.
"We've had people contacting us and asking when they will be able to donate, so we do expect to see a lot of activity," Hofstetter said. "Things are going to be hectic and unusual for a while until we get our feet under us and get back to a normal routine."
With a list of guidelines in place for volunteers and staff, it may take time for all to get used to new changes, whether temporary or not. Raber said extending grace to everyone is a good way to view the world as things continue to reopen, not just for Save & Serve, but also for the community and even globally.
Those with questions may call Save & Serve at 330-674-1323. The store is located at 1108 S. Washington St. in Millersburg.