Scout refurbishes Glenmont watering trough to earn Eagle rank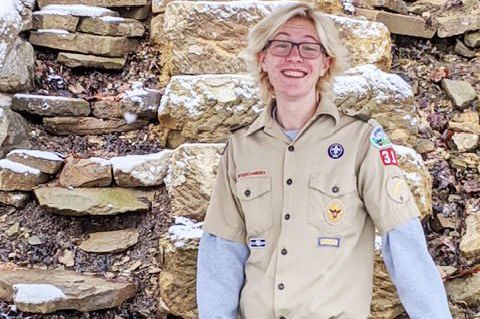 Longtime Glenmont residents have been making trips to the village's natural spring watering trough a tradition for decades. Throughout its existence the trough has rarely been maintained, weathering the conditions of the area's climate and still being a favorite spot for people to stop and refill their empty jugs with the taste of natural spring water, taking as much as they'd like for free.
Local Boy Scout Haeden Wolfe of Killbuck Troop 315 has been visiting the watering hole since he was a young boy, often making it a family affair. The West Holmes High School junior said he remembers family stories told to him about his relatives' memories of visiting the Glenmont landmark.
"My dad and my grandpa always told me stories of their childhood in which they would go get drinks out of the trough or even hide things in the spring box," Wolfe said.
As the time drew near for him to pick a project in order to earn his Eagle Scout ranking, the decision was simple.
"When I was starting to think of ideas to do for my project, it was suggested by my grandpa [to remodel the trough], and I knew it was going to be a very beneficial project for the community, so I knew we had to try and accomplish it," Wolfe said.
Plans for the rebuild began in the fall 2018, but Wolfe, the son of Heath and Jenny Wolfe of Glenmont, said ground on the project wasn't broken until mid-August 2019. It took working pretty steady with plenty of help for Wolfe to get the project complete by this past December.
He said when he and his fellow volunteers first approached the site, which is located on state Route 520 West, just outside of the village, they knew reconstruction was going to be a huge undertaking, but he and everyone else were up for the challenge.
"The first steps we took were to completely deconstruct what remained of the trough and clean the area up for the new structure," Wolfe said. "We then poured a new base and developed the spring. We built a new roof for the trough, installed plumbing and a steel liner to ensure the problems that decimated the first trough wouldn't occur again. The rest of the improvements we made were purely aesthetic to pretty up the trough."
In addition to the countless family and friends who volunteered their time to help with the labor of the project, many people also donated the supplies needed to rebuild the trough. Wolfe said for all the work people gave to him — both manual and financial — he is truly indebted.
"Their gracious donations of time and resources helped make this thought into a reality, and for that I will be forever grateful," Wolfe said.
After Wolfe graduates from high school, he will pursue a degree in marketing and hopes to eventually work for FEMA as a first responder.
"I feel like working for FEMA could open me up to a lot of great mentors and a lot of great opportunities to better myself," Wolfe said. "It could be my chance to give back to the small-town communities raising kids like me. I hope the skills I have learned through Scouting can help me get myself to where I want to be."
But for now Wolfe can relish in the success of his project and enjoy the remainder of his time left in Scouts.
"Not only does the trough help provide safe, clean drinking water, but the watering trough is certainly an important symbol of the community and a landmark for the area," Wolfe said. "Numerous people have commented on it and have said that they are happy that someone finally restored it. The focus of Scouts itself is to help mold you into a better leader. I hope that my experience in Scouts and my trail to becoming an Eagle will influence my life and my ability to lead for many years to come."