Senior Center remains busy while encouraging seniors to stay active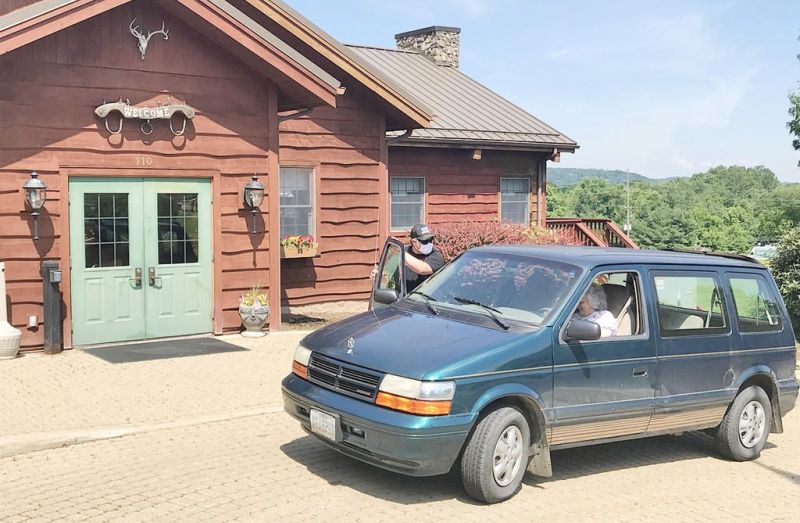 While the Darb Snyder Holmes County Senior Center remains silent, its doors locked and its floors quiet from the normal chatter of activity due to the coronavirus, general manager Georgie Cool and business manager Penny Hamilton have one key message for Holmes County seniors: stay active.
"It's been really tough to see our seniors struggling through this," Cool said. "I have visited a few of them that I am very concerned about because they aren't getting much activity. They are basically staying inside, and they need to take an opportunity every day to do something active."
Cool said even the role of going shopping or visiting allows them to get out and about and stay mentally and physically fitter.
Cool said one place where seniors gathered to get some physical activity was exercise programs at the senior center, but those have been shut down.
"Even just getting out and walking by themselves or with their spouse is so important," Cool said. "Because of the virus, most of our seniors are not getting visits and are shut in at home, which can impair them both physically and mentally. Please, get out of the house and sit in the fresh air and sunshine."
While they wait to get back to a normal routine, area seniors continue to receive a few of the benefits the center has to offer, despite not being able to enter the front doors.
According to Cool, she and Hamilton actually decided to close the doors to the center even before Gov. Mike DeWine made the announcement for such facilities to do so.
"The Friday afternoon when the COVID-19 fear just started to hit us, Penny and I took it upon ourselves to go ahead and shut it down just to be safe," Cool said. "The following week, the governor said to shut it down."
That additional week allowed the managers to figure out some programs and to put into place several ways to continue to serve the seniors in the community as best as they could.
One of their main concerns was developing the best possible plan to continue the home-delivery service of meals to seniors in need.
The new plan included home-delivered meals to some seniors and a grab-and-go plan in which seniors could drive to the center to pick up meals at the front door of the center.
The grab-and-go meals came several weeks into the pandemic shut-down, but once they started the program, it was well received.
They also have provided transportation for seniors who need rides to medical facilities and checkups. They also are providing transportation for seniors who don't feel comfortable going out in public to get groceries and other sundries.
"We have been making deliveries of groceries from Rodhe's every Tuesday and Thursday," Cool said. "We were able to pick up some extra funding for that through the area agency, and we were able to keep the lights on thanks to that."
Cool said the number of dinners and drop-offs they have made for the meal program has dropped drastically, and it has nothing to do with the coronavirus. She said the county has experienced the passing of quite a few senior citizens over the past year, meaning fewer opportunities to provide their services.
"It has been unreal, the number of seniors we have lost this year," Cool said. "We are down to serving about 80 meals per day right now, which is incredibly low for us."
Cool said they continue to make and freeze between 25 and 30 meals a day that they have on hand for those who call in and drive in to pick up meals.
Cool said while the center is closed, two of the staff members volunteered to take a leave of absence to benefit the center.
Cool said both she and Hamilton have taken on extra duties, many of those coming in the kitchen preparing meals and doing some deliveries. She said on an average day, both are in the kitchen until 12:30-1 p.m., making sure meals are delivered before heading downstairs to take care of the business end of the center.
"I think we are both sleeping really well at night because we are bushed by the end of the day," Cool said.
With the long layoff, Cool said the inability to get together and converse and connect with other seniors has taken a back seat to playing it cautious with COVID-19, which has hit seniors hard. She said one senior who came in to pick up a grab-and-go meal expressed a real concern as to what it might be like at the center once they are able to return.
"It's been really hard on our seniors from a social standpoint," Cool said. "This woman's fear was how will they go into the room at the center and pick up where they left off. There will be restrictions, and some things will be different, but hopefully, once we do get back, everyone will quickly fall back into that comfort zone that allowed the social part of being involved with the center to take place."
Cool said the days of having seniors come in and serve themselves at a food bar are probably over, noting they will probably go to a restaurant-style of ordering and bringing out food from the kitchen. She said they will probably also eliminate the salad bar and provide salads from the kitchen.
If anyone would like meals delivered, they can call Cool during working hours at the senior center at 330-674-0580.