Sevens are lucky for 15 area families this Thanksgiving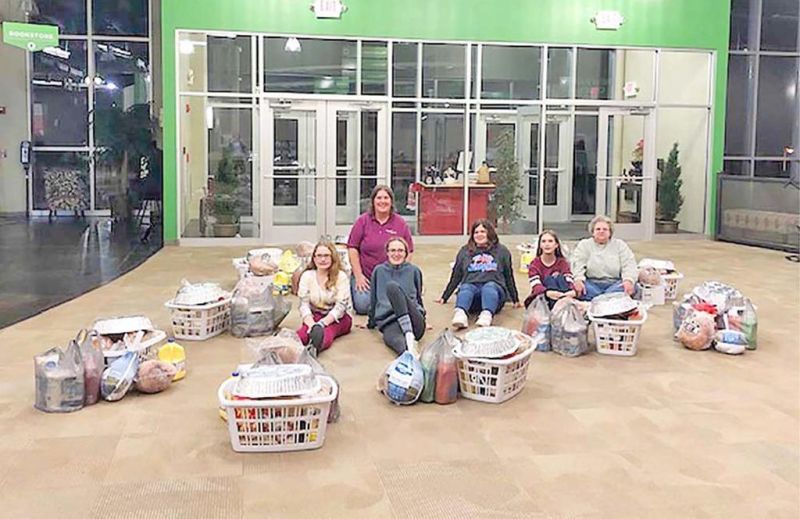 The number seven has always held a special meaning to many, whether it is through religious beliefs, civilization or just plain luck. Seven is often seen as the perfect landing spot between heaven and earth, finding a place between the two worlds, the world of life and the world of death. It refers to completeness and the aspect of things well done.
Recently, sevens came up lucky and proved to be a step toward something done very well when Girl Scout Troop 777 completed its annual Blessings Gift Basket project.
"This year was our seventh year, and every year it has grown," troop leader April Parks said. "We started small by serving two families, and this year we served 15 families throughout Holmes County."
Parks said it was quite the undertaking for the small troop of just four girls. She said they couldn't have done it without the help of many supporting the troop by providing baked goods, hosting yard sale items to raise funds, and donating food items and monetary donations. That support humbled her and her troop members.
"I'm overwhelmed by the generosity of others," Parks said.
Parks said thanks to family, friends, former Troop 4220 Girl Scout sisters, Killbuck Valley Market, Scheetz Recycling, WH Farm, Buckeye Seating, The Biltz Family, Trail Side Deli, 39 Bakery, Sweethaven, the Love Center Food Pantry and New Pointe Church.
As the troop has done in past years, it partnered with Love INC again this year. The local nonprofit group helped with finding families who could use a little less stress throughout the Thanksgiving season, allowing the girls to map out a game plan in creating and delivering the baskets personally to each family.
The members of GS Troop 777 include leaders April Parks and Lola Yeater and members Sierra Parks, an Ambassador Scout in her 13th year as a Girl Scout; Peyton Parks, who is a Cadette Scout in her eighth year as a Girl Scout; Kamy Cronin, who is a Cadette Scout in her ninth year as a Girl Scout; and Ryleigh Zickefoose, who is a Junior Scout in her fifth year as a Girl Scout.
Each basket contained everything they needed for a traditional Thanksgiving meal, plus some household items. Parks said after the girls gathered and sorted and packed the items, each basket was overflowing with goods.
They loaded four separate vehicles with three different routes and spent the morning of Saturday, Nov. 20 delivering to each family personally.
"This was our fifth year having the opportunity to deliver in person," Parks said. "It is such a great way to get out and personal within the community. We are so honored to be able to make a small impact in someone's life. To bring a smile to someone's face or perhaps give them a hug is just as rewarding for us as it is to be the one on the receiving end. I'm so proud of my troop and their hard work. A special thanks to my Scout moms. We rock too."
With this project now in the rearview mirror, it is now time for Troop 777 to set its sights on its next service project, one that will lessen the burden a little at Christmastime.