Share-a-Christmas tree project gets to the heart of Christmas giving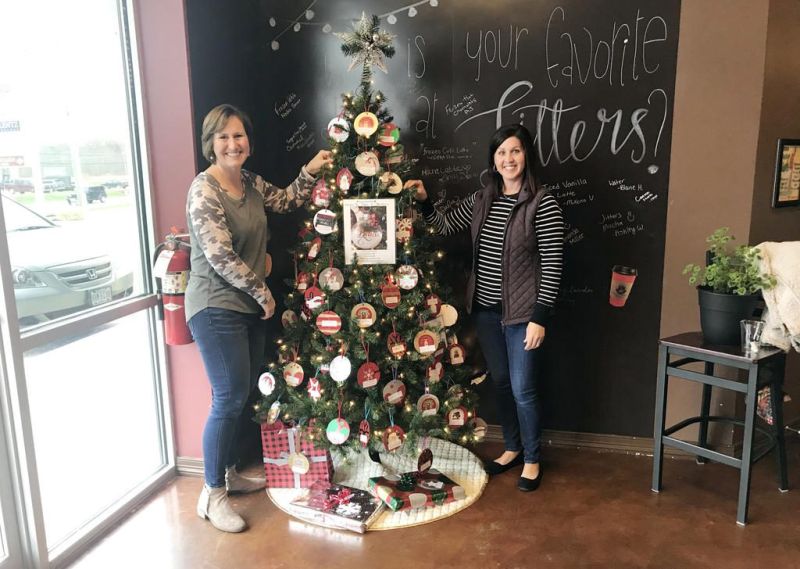 Every year, parents, grandparents and their excited children plant a Christmas tree in their living room, foyer, basement or somewhere special and go through the tedious project of hanging Christmas tree ornaments, some store-bought, some tenderly and lovingly hand-made by the kids, who proudly display their creations front and center.
This Christmas season, there will be ornaments hung with care that will take an even greater meaning for a large number of area children.
The annual Holmes County Share-a-Christmas trees will be placed in their respective homes for the season and the ornaments hanging from the branches will contain the hopes and dreams of many area children who might not be getting a whole lot of presents this year.
For years, the SAC Christmas tree on the west side of the county was placed in Walmart in Millersburg, but it has found a new home this year in Jitter's Coffee House, located at 1545 South Washington Street by the traffic light south on the south end of Millersburg.
The tree has found a new home after many years at Walmart after the corporate rules no longer allowed the tree to be placed there.
"We realized we had to find a new home for the tree somewhere in Millersburg, and we looked around and felt we had a nice option at Jitter's Coffee House," said SAC president Bob Porter. "They were very gracious in allowing us to put the tree there."
This year the Christmas tree was put up Wednesday, Nov. 6 at Jitter's, so people could begin pulling off tags then.
Nikki Roach has headed up the ASAC Christmas tree project for nearly 15 years, and she said it continues to be a huge blessing for the children who receive the gifts as well as those who take the time and invest in purchasing the gifts.
"It is something special for each of the kids because these are the items that they really, really want," Roach said. "Plus, it is very gratifying for those who get involved because they are doing something that is so meaningful."
The tags on the trees will include the gender and age of each child, but their names are anonymous. The tags also include the wish list for each child and the gift request are as varied as the kids are different and unique.
Roach said the requests include items like bicycles, video games, dolls, dinosaurs, Legos, superhero toys, princesses, unicorns, art sets, Barbie's and athletic gear. Requests also might include items that are necessities, such as boots, jackets, diapers or other items.
In addition to the tree at Jitter's, Pomerene Hospital also provides a tree with names and many employees there take joy in plucking a name from the tree to provide a toy for a child.
The tree project began in the east in Berlin in 2016, and after a year near the square it found a new home on the stage area near the entrance to German Village. This year the tree will go up Nov. 11.
"This has definitely been a great blessing to a lot of people having a tree in the east," said Andrea Povik, who is heading up the east portion of the SAC Christmas tree project. "I think it is exciting for people who give to the project seeing their gifts stay right here in Holmes County where they will bring plenty of smiles and happiness to kids."
Povick said the instructions on the tree will help guide people as to how to purchase the gifts and where to deliver them. The drop-off spot is located on the stage inside of German Village.
Povick added that if people have more than one gift, they can simply put them in a bag and attach the ornament tag to the bag.
Each year, Amy Rohr's West Holmes Middle School students create and design the ornament tags, with the number of tags usually around 400.
Roach said that each year area businesses, churches and organizations are invited to come in and take as many tags as they like. In the past businesses like Crow Works and Berlin Grande Hotel have brought employees in to choose tags.
"That is an important part of the process," Roach said. "It's fun to see businesses and churches invest in this and it is a great team-building exercise for companies."
She said it is also neat to see parents bring their own children in to pick a name, and said seeing other children finding great joy in helping another child is always inspirational.
"What a great way to teach our children about the importance of giving to others and service in the community," Roach said.
Anyone purchasing items from the trees is asked to wrap the gifts and return them to each tree location.
Those pulling a tag should have the gifts gift-wrapped and returned to either Jitter's or German Village by Dec. 9, which will allow the team at SAC to get them ready to send out on delivery day Saturday, Dec. 14.
If a business, church or organization would like to take advantage of this unique opportunity, they can stop by or call Roach at 330-231-0409 or Steph Baker at 330-231-3771 for more information or simply to let them know they are interested in joining the fun time of giving.
While people might zero in on fulfilling their own family's Santa list this Christmas season, the SAC Christmas tree project provides a perfect chance to extend a family by a child or two, in order to help make for some very happy children in Holmes County this Christmas.
Porter said the project has become one of the most important parts of providing children with Christmas toys who may not otherwise receive them, noting that both Amish and English families are recipients of the giving tree project.
"We have a lot of area churches, organizations and businesses that get involved with Share-a-Christmas, but the Christmas tree project is crucial to our being able to provide toys for kids," Porter said. "It's a great chance for others to put a smile on a child's face during the holiday season."