Shreve pantry gets permanent home in village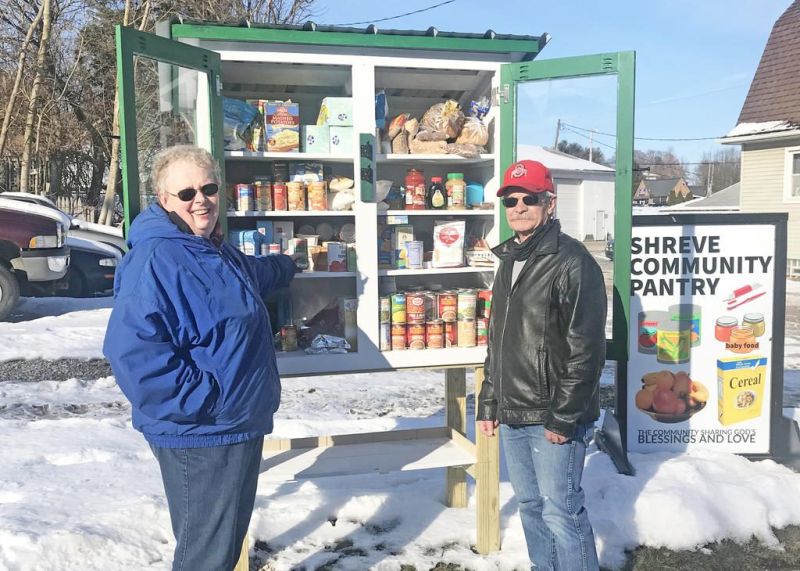 It's been said, "It takes a village," and in the case of the Shreve Community Food Pantry, several groups came together to make sure the pantry has a permanent home.
Shreve Village Council approved the pantry's new location at the edge of the village hall's parking lot along McConkey Street across from the Shreve branch of the Wayne County Public Library.
The Shreve Business Association agreed to pay for the supplies and will handle the insurance.
Opened last year at the start of the pandemic, the pantry had operated outside of M&M Roofing along Market Street until November. The building's owner, Troy Miller Agency, had given permission for temporary operation. The three churches in the village — Shreve United Methodist, Shreve Presbyterian and Shreve Christian — maintained the pantry and now will have the responsibility for keeping the permanent site stocked as well.
Shreve Presbyterian member Deb Lilley, who oversees the pantry's inventory, called the new location a perfect site. "It's on a beaten path, and it's well lit," Lilley said.
Paul McMillen, co-chair of the SUMC Mission Committee, constructed the box, 40 inches wide, 48 inches long and 20 inches deep, at a local cabinet shop. He said the owners allowed him to work in their shop. "I had a nice, warm place to build it," he said.
McMillen said the box could be enlarged in the future if necessary.
As soon as the pantry was put in place, volunteers from the Wooster Community Kitchen filled it. Volunteers with the nonprofit group travel around Wayne County stocking pantry boxes.
"That was unexpected," Lilley said, describing her surprise at finding the pantry stocked immediately. People also quickly began using the pantry.
During the cold-weather months, the pantry will mainly house dried goods such as pasta, box mixes, cereal, dried soups and personal-care items.
"The focus is on giving to help others," said Gretchen Van Lieu, SUMC mission co-chair.
Tim Markley of Shreve said he visits the pantry to get food for him and his dad, who can't work due to a disability. "It helps you when you don't have food or are running low," Markley said.
Markley said it's especially important for him right now as he's trying to recover from an injury and find work.
Shreve Village Council member Heidi Garst said she could see people were using the pantry all the time from an office where she worked in Shreve last year. "It's a great idea," she said.
There's a definite need, Shreve Business Association President Marty Hershberger said. "I'm just glad that, as an association, we were able to help take care of it," making sure it found a place in the village.