Skyview Ranch Rough and Rugged 5k offers challenge and some fun in the mud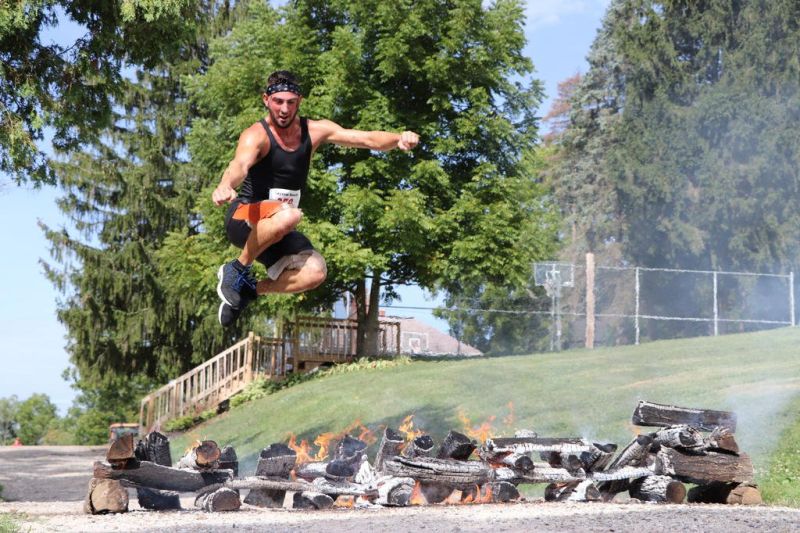 The seventh annual Skyview Ranch Rough and Rugged 5k Mud Run will be Aug. 31. Unlike most 5ks, this one requires more than simply running.
"We definitely go out of our way to make this challenge something that is well beyond what a normal 5k looks like," said Josh Witrey, Skyview Ranch camp administrative director. "Whether people are very serious competitors who like to push hard and get in under 20 minutes or whether they walk the event and enjoy the challenges without worrying about their time, it is a lot of fun for everyone."
The Skyview Ranch Rough and Rugged course is littered with natural obstacles in addition to man-made ones. The list of obstacles includes the mud cave, where participants must dive in the mire and emerge muddy.
A wobbly rope bridge across the river, plunging through one of the many creeks on the route, rock climbing, a vertical wooden ties stair climb, a trek through tires, a wet-and-wild sprint downhill into a pond, a tunnel crawl, the challenge of Holmes County's rolling hills, a cargo net challenge, the Mud Pit of Despair, traversing a giant mountain of hay bales, navigating through the heat of a fire and finally the slip-and-slide finish will challenge competitors.
Skyview Ranch is full of members who come up with obstacles and challenges that are often added at the last minute.
"We get a lot of people who come out to support the race and participate just to get together with friends and get muddy and dirty, and they have an absolute blast," Witrey said. "We first began this event because we saw a lot of obesity and wanted to create something that would not only be a fundraiser for us, but it would be a fun way to challenge people to get in shape. It's a way to promote a better lifestyle change, and this course is as fun as it is adventurous."
Signs will be posted at each obstacle, giving competitors an idea of how they need to complete each challenge.
"People are determined to complete the course, but they have to remember that above all this event is all about having fun and pushing themselves," Witrey said. "If they feel uncomfortable doing any of the obstacles in their way, they can feel free to run past them without feeling guilty."
All proceeds from the race go toward the Skyview Ranch Scholarship Program. Skyview Ranch is a Christian camp and retreat. Witrey said those funds have been crucial in providing avenues to attend camp for kids who might not otherwise be able to come.
He said each year Skyview Ranch has more than 1,000 campers attend, and more than 10 percent of those campers receive scholarships, thanks to support through the race and other fundraising avenues.
"That's more than 100 individuals who are able to come to camp and have a life-changing experience who might not otherwise get that opportunity," Witrey said. "We are seeing lives changed for the better every summer. People are coming to Skyview, and they are leaving as changed individuals. While people don't have to make that profession, I will say that everyone who comes to Skyview gets to experience God firsthand."
Parking for the event is free at the ranch, and visitors and supporters of the participants are encouraged to come and cheer them on. There will postrace refreshments and an award ceremony in the air-conditioned dining hall following the race.
Skyview Ranch is located at 7241 Township Road 319, just east of Millersburg.
Anyone interested in the event may sign up at www.roughandruggedrace.com.