Small-scale food producers support local farms, jobs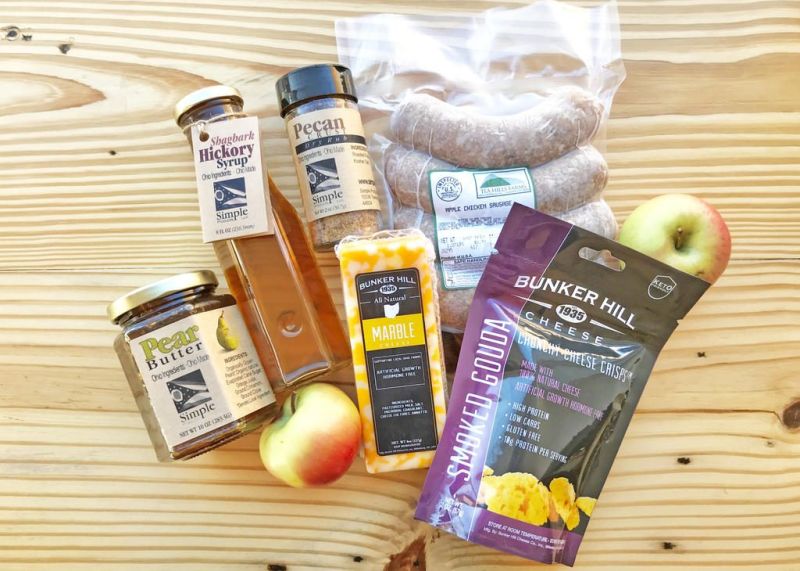 After multiple out-of-stock issues around meat and other food products early in the pandemic, consumers have shown an increased interest in where their food comes from. Holmes County is home to many small-scale food producers who source their ingredients directly from local farms. These producers play an important role in the local economy and in the food supply chains.
Three producers, covering a range of food products — cheese, meat, and syrups, jams and vinegars —share how they got started, what differentiates them, and what is going well.
Bunker Hill Cheese Co. in Millersburg has grown to 70 employees in its 85 years of existence. Yet, the business still does small-batch, artisan cheese processing the traditional way from Switzerland, where the owners' family originated.
"My dad learned from his dad and his great uncle. My sister LeeAnne (Heath) and I are third generation owners. We're still a small family business that is multi-generational with a focus on utilizing local milk and a desire to continue strengthening the agriculture in Holmes and surrounding counties," said Lisa Troyer, co-owner of the business.
Bunker Hill Cheese has been an innovator for decades. "Our dad, Peter, was a pioneer in developing new cheeses back in 1960s and 70s, and one of the first to put peppers and other inclusions in cheese. We now see he was about 50 years ahead of his time," said Troyer.
The spirit of innovation has continued, their most recent example being cheese crisps. "We created our own recipe … and we now sell nationally. It's been the fastest growing product introduction that we've had since the beginning of our company," said Troyer.
Troyer continues to hold the same sustainability and community-oriented values her father brought to the company. "We like knowing where the milk comes from," she said.
Tea Hills Farm, a sixth-generation family farm, offers a variety of meats, including chicken, pork, duck and turkey, as well as 100% grass-fed lamb and beef. While all the products have done well this year, the most popular have been the gourmet meat patties and other convenience products.
Not all farms are able to have a meat processing facility on site, but Tea Hills was fortunate to have been forward thinking, building a facility two decades ago. When the family invested in the facility, it was a tremendous up-front cost, and they didn't even fill the space at first. Fortunately, Tea Hills had a vision for how its business could grow – and it did.
"We've grown so much that we've expanded the facility," said Cara Tipton, who owns Tea Hills with husband Jason. "Then, we started online shipping earlier this year. We definitely have a moment of panic when pandemic first hit and everything shut down,"
Thanks to a fortuitous decision to start shipping online, the business has continued to grow this year. "Even just that first week (of the pandemic), we put out a message on social media and in one week had shipped over 150 boxes," said Tipton.
Tipton explained what differentiates the quality of her meats. "The way that we raise the animals on pasture. We don't try to grow them as fast as possible. We want them to mature slowly so they have time to develop the flavor and the marbling of the meat — and that's all flavor," she said.
Finally, Simple Products, LLC sells 35 varieties of syrups. Mike Jaeb started Simple Products in 2008 and handcrafts all the products himself in a commercial kitchen on his property.
Although his start was with maple syrup, "Having been in product development, I knew I couldn't have a single product to get into retail, so I had to diversify," Jaeb said. "I chose items that I knew I could procure from local growers. I found some research from Cornell University and started tapping Walnut trees; that syrup is similar to maple but lower sugar content."
It turns out producing walnut syrup is uncommon. "A professor from Cornell actually contacted me and said 'Mike, you're the only commercial producer of walnut syrup that I could find in the U.S,' so I made it into a book of his, and a few other publications picked up the story. Now, I sell across the U.S.," said Jaeb.
"Although 2020 has been an unusual year for all of us, I've found that my wholesale and online business have increased," added Jaeb, who also sells jams and infused vinegars.
That seems to be a theme across the board – even with the challenges this year, businesses continue to innovate, pivot and adapt.
In some lucky cases, those businesses continue to grow. "There are only so many animals that can fit on the pasture, but we'll grow as much as we can continue to meet demand," said Tipton.