Smith is on a journey to recovery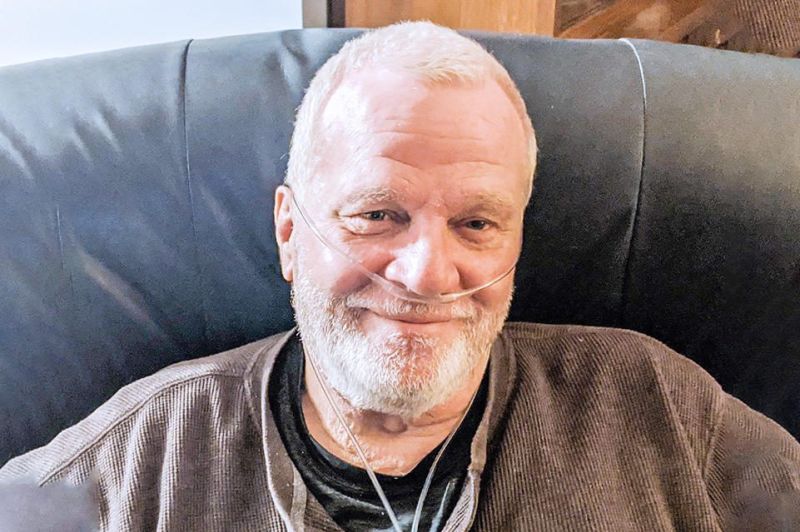 A pasta dinner will raise money to help with expenses associated with a double lung transplant for Eric J. Smith of Dover, who remains in the Intensive Care Unit at Cleveland Clinic. The dinner, which will be held at the New Philadelphia Elks club, is set for Saturday, Feb. 29 from 1-5 p.m.
It began in autumn 2017 when Smith went to the ER at Cleveland Clinic Union Hospital for an unrelated ailment. The attending physician noticed his fingertips were thickened, a condition known as "clubbing," which is an indicator of lung distress. Asked if he worked in any kind of dusty environment, he said he worked at a brickyard.
Tests were ordered, and Smith and his wife, Terri, learned he had developed idiopathic pulmonary fibrosis. He was instructed to stop working immediately.
"It's a serious disease which causes the lungs to slowly harden and interfere with breathing," Terri Smith said. "He thought he was experiencing a little shortness of breath because of his age at 60, but it was much more serious."
The diagnosis was completely unexpected, but Eric Smith continued to function fairly normally until last year when he needed assistance with getting enough air into his body. "First he needed oxygen at night, then during part of the day, then pretty much all the time," Terri Smith said.
Medications and treatments failed to bring about any improvement, and he became a candidate for a full replacement of both lungs. Then on the night of Dec. 4, 2019, he was unable to breathe.
"It was bad enough that I called 9-1-1," Terri Smith said. "He went to Cleveland Clinic Union Hospital and then to the main hospital in Cleveland. They kept him sedated while we waited for lungs to become available."
In the meantime his body received oxygen via a machine to keep him alive.
Lungs are fragile things, and there were two preparations for surgery that came to nothing. "We were ready to go, and then we learned that the lungs weren't suitable. They were not a good match, or they were diseased," Terri Smith said.
Then came the double transplant on Dec. 28, a 13-hour surgical procedure. All seemed well, but then there was another blow.
"Three days after the surgery, tests showed that the lungs he had received were infected with pneumonia," Terri Smith said. "And he has been in the ICU ever since."
Though the pneumonia has complicated recovery considerably, Eric Smith has been slowly making progress.
"He has to rebuild his breathing function from scratch," Terri Smith said. "He had assistance breathing for so long that he has to teach his body that he can in fact breathe again. Lungs, diaphragm and brain all have to learn to work together again."
But two milestones came about in mid-February: Eric Smith stood on his own and took breaths on his own for several hours. Tests also showed the pneumonia was gone. He may be moved to a step-down unit of the hospital in the coming days.
All this has, of course, been trying for Terri Smith, a woman who laughs easily and often and speaks of a happy relationship with her husband in 30 years together during which they welcomed three children, now grown.
"Eric has always treated me like a princess our whole life together. On my own I've had to learn so much. I didn't know how to pump my own gas. He has always spoiled me," Terri Smith said.
Still, she admits to being "a little exhausted."
Such a major life-saving procedure is not without expense. "The hospital told us in the beginning that we needed to have $15,000 in the bank to even think about moving forward," Terri Smith said.
The Smiths, as most people, did not have such a large sum at hand, and fundraising became an immediate necessity. There also are additional expenses like food, lodging for family, travel and lost work days.
Eric's brother, Jeff Smith and his wife Lareine, went to work with raising money in every way they could think of. The pasta dinner at the Elks is a key part of their effort. Tickets are $20 each and available at Williams Furniture, Mary Zifer's Pizza in New Philadelphia, Kennedy Insurance and Gor-Con Construction in Dover. Terri Smith stressed the need to get tickets in advance to allow the Elks club to prepare adequately.
"The community has been so helpful and supportive," Terri Smith said. "It's overwhelming. I don't know how on earth we will ever be able to thank everyone."
The New Philadelphia Elks is located at 1180 Union Ave. NW in New Philadelphia.