Softball event helps those in recovery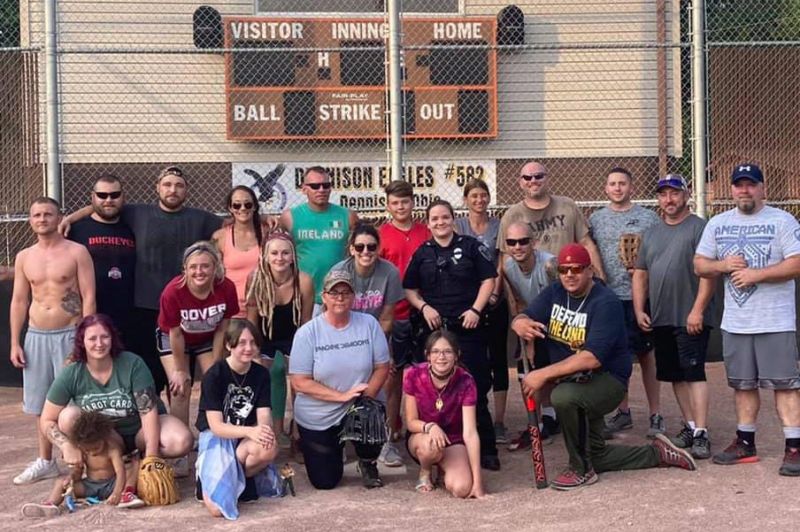 Meeting of the Minds, a group to help people and families with substance-abuse problems, is having its second annual softball tournament fundraiser on Aug. 28 and 29 at Midvale Community Park.
The round robin tournament will be held on the two large fields there, and the proceeds will go to help those in recovery in the community.
There are five teams signed up so far, and more are welcome to join. The cost is $200 per team. Two of the teams are completely made up of men and women who are all in recovery, and the group meets weekly to play.
The group also will raffle a 55-inch Smart TV donated by Rent-2-Own of New Philadelphia. Tickets, available in advance or at the event, are one for $5 or three for $10. The winner will be drawn at the tournament. For raffle tickets prior to the event, call 330-340-1948.
To make a donation or for more information on entering the tournament, call 234-228-3273. For more information about the group, visit the Facebook page at www.facebook.com/Meeting-of-the-Minds-107076060851013.
During the softball tournament, resources will be available in the park's pavilion including treatment center and outpatient care representatives and others people can talk with and get their questions answered.
A loved one's substance abuse led Brenda Stafford of Midvale to create the new grassroots organization, Meeting of the Minds, to help families combat addiction problems and get them on the road to recovery.
"I don't want anybody to have to go through what I did to finally get some help for my loved one because I knew nothing. I didn't know what to do or where to turn," Stafford said. "Now I want to dedicate all my time to helping the families and the children."
She feels so strongly about helping others that she quit dying her hair because she thought the money could go to a better use.
In her own family, Stafford didn't want to get involved, but no one else was stepping in.
"I'm not going to give up. I am going to do what I can," Stafford said.
She later got her loved one into a treatment program. "I'm not ashamed now to talk about it because I think if what I've gone through can help someone else, then I'm going to share," she said.
The saddest thing is how substance abuse affects children. Children born to mothers who are addicted can suffer ill effects at birth, even requiring drugs for a time until they can be weaned from them. Problems can occur in childhood too.
"That's why it's so on my heart. I'm going to do what I can to help families," Stafford said.
The Meeting of the Minds group is open to anyone who is struggling with substance abuse and their families. The group meets twice per month on the first and third Monday at 7 p.m. at the pavilion at Midvale Community Park.
"If they need help or need advice, they are welcome to come to our meetings," Stafford said. "We gather and put our minds together to think of what we need to do to help someone."
The organization is overseen by a volunteer board, and everyone involved is a volunteer.
The Meeting of the Minds group will work to help anyone.
"We will do absolutely everything for anyone in the community that's attached to someone or something related to addiction," said Rebecca LeMasters, treasurer.
At the Meeting of the Minds group, there are no prerequisites required to obtain services.
"We go beyond the addict to help the families, children and anyone who has been touched by addiction," said LeMasters, who is in recovery herself. "I have worked in this industry for almost 10 years, so I know what it is like to get resources."
The group's variety of backgrounds helps them in their mission. The Meeting of the Minds board includes Stafford, executor; Lynette Kopp, secretary; LeMasters, treasurer; Travis Garrett, community liaison; Lindsey Smith, community educator; and Kari Barnhart, media specialist.
"Anyone who needs help can just come to the Meeting of the Minds group, and we will help them as much as we can," LeMasters said.
The meetings are not limited to area residents. Anyone can attend and get help. The group thanks the Village of Midvale Council for its support of the program in providing the park amenities at no charge for the meetings and the softball tournament.
Anyone needing help may attend one or more meetings for support.
"There is no question that anyone could ask us thus far that we haven't been able to answer, and if we can't answer it, we'll find the answer," said LeMasters, who noted the importance of just having someone "open a door" when she needed help.
They promote a lifestyle of recovery.
"You cannot ever stop doing something to fulfill your recovery," LeMasters said. "When you start to recover, you start to get better jobs, you start to become career-oriented and you look at where you were to where you are. It's pretty amazing."
The group wants to help people not relapse.
"We want to help people, but we don't want them to come back unless they are giving testament or good news or if they just want to be a part of it to help others. You don't want them to come back because of relapse and recidivism, but it happens so often," LeMasters said. "How many times are you going to have to relapse before you hit the nail on the head and say I figured it out? If you do relapse, you're not living the lifestyle to retain the recovery, and it's hard for people to talk about."
A pastor is available to counsel those who request it. Many in the program feel belief in God is an important part of recovery, but Meeting of the Minds is not a faith-based program.
"You are not going to be judged if you are not serving God. We don't do that," Stafford said.
Getting people who are suffering from substance abuse and their families back on track is the most important goal of Meeting of the Minds.
"Building relationships is more important than money. You also want to see someone living a life where their relationships are intact, their home is intact, their family is intact, their career and their finances are all intact, and that's what we promote," LeMasters said.
In the past year and a half, the program has served 23 women and seven men.
"We helped them get into detox, inpatient residential programs and then into sober living," LeMasters said. "We do hear back from them and learn their outcome. There are some of them that are successful and some of them that have relapsed."
The group is all volunteer, and their reward is seeing people get well.
"I don't want anybody else to struggle with having no hope and not knowing where to go," Stafford said. "We offer hope and help to those struggling with substance abuse as well as those struggling with depression and thoughts of suicide."