Sonnenberg Maple Syrup Festival truly a team effort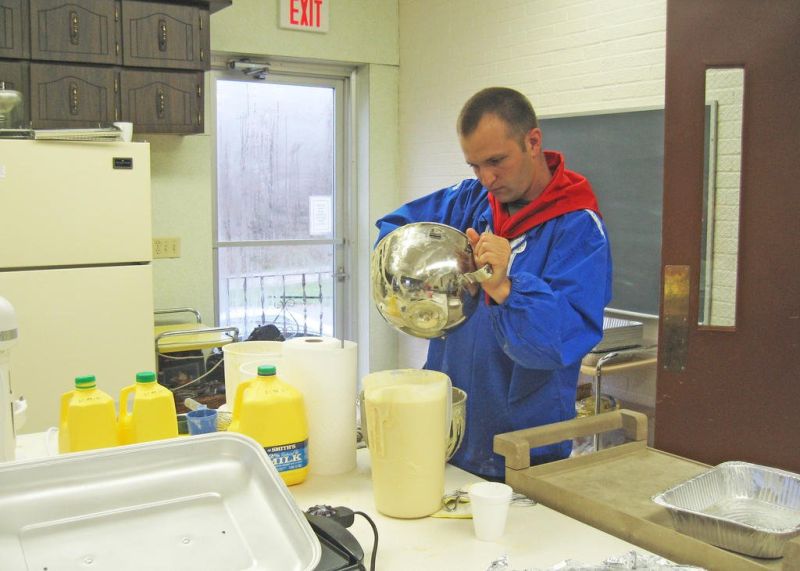 Made-from-scratch pancakes and sausage, syrup homemade from local maple sap, hot coffee and orange juice — Supporting local and worldwide missions can be scrumptious, and all in the comfort of one's vehicle.
Sonnenberg Mennonite Church in Kidron will have its 23rd annual Maple Syrup Festival Drive Thru on April 24 from 7-10:30 a.m. at 14367 Hackett Road in Kidron. Last spring the church had to cancel due to COVID-19. This year church members hope people will come out to support their missions fundraiser.
"This is a worldwide pandemic, and people are calling out for help more than ever," said Ken Neuenschwander, chair of Sonnenberg's outreach and service committee. "Fundraisers have been hard to come by because of it as well since many organizations had less because of fundraisers that had to be canceled. The needs are just high because of the loss of jobs of people worldwide. Since it's a drive-thru, it can't be an all-you-can-eat, but meals of three pancakes and two pieces of sausage will be served."
The cost of the meals will be by donation.
In 2019 the fundraiser served a total of 906 people.
The pancakes are made using a buttermilk recipe from Cook's Illustrated 1996 edition.
"I add a little more sugar and vanilla than what's called for," said Ned Mast, the man behind the pancakes. "This year I'm getting 24-dozen eggs. I'll go through at least 100 pounds of flour. I scale the ingredients out so it fits in the mixer bowl. I use my grandma's 20-quart mixer, and it's scaled up to making 24 batches of the original recipe that feeds four people."
Mast not only whips up the pancakes, but also does the same with his main ingredient. "I started making the buttermilk on my own five or six years ago," he said. "I buy gallons of milk and add cheese culture. We separate all the eggs because I mix the yolks in with melted butter so the fat disperses. I always make about 10% more per year. I always like to have more than enough mix. Then people at church will buy the leftover mix."
There will be three griddles going to fry the pancakes. One is a 4-foot griddle that holds 48 at a time, and all can be smothered in the maple syrup, the making of which is a project in itself as it takes 40 gallons of sap to make 1 gallon of syrup.
"We have permission to tap trees from other community members, although all the sap comes from our own work," Neuenschwander said. "Dave Ross and his crew collect it, and he does all the cooking and canning."
"We collect sap from about 12 places," Ross said. "Yard trees give about twice as much as woodland trees, and this year we collected 2,360 gallons. I cook with a gas evaporator so I don't have to work around the clock feeding wood into the fire. Once every 24 hours, I take a batch off. I can cook about 200 gallons in 24 hours. Generally, I'm cooking around the clock for about a month."
The sausage is a secret mix of seasonings of beef and pork. Keith Sommerfeld, a member of the church, was formerly a butcher and was on the outreach and service committee. A few years into the fundraiser, the church group started serving his sausage at the meals.
"It's a mix of beef and pork and his particular amount of seasonings from when he was in the meat business," Neuenschwander said. "He brought that to the table, and we started mixing the sausage. This year Kidron Town & Country store is making the links, and we are doing the patties."
When a church member became a missionary in Thailand about 23 years ago, the outreach and service committee tried to think of ways to raise funds. Church member Bob Kapper and his team had a pancake Sunday noon meal fundraiser.
"People enjoyed it, and we changed it to Saturday morning," Neuenschwander said. "For two years it was at Camp Luz, but it worked better at the church and we switched it back to Sonnenberg. About 10-12 years ago, we expanded and did more advertising, and it's grown since then."
"I like helping out because it's a good church activity that gets everyone involved," Mast said. "We are excited every year to see everyone with a good-quality pancake to go along with the syrup. Invite friends and family to join us. We need people to come."
The event will be a bit different this year as a drive-thru. No blueberry topping will be offered, and the orange juice will be in cartons. Served in Styrofoam containers, the meals should stay warm until people get home. The suggested donation for extra sausage is $4.50 a package, and maple syrup is $10 a pint and $18 a quart.
"We don't want the pancakes to get soggy, so we are trying to not get too far ahead but not slow the line down either. We will be trying to keep up with the line as good as we can," Neuenschwander said. "It's really helped us on our sponsoring missions. It's just such a good community event. This year people won't get a chance to visit, but it's great because lots of people come together to do something good for others."